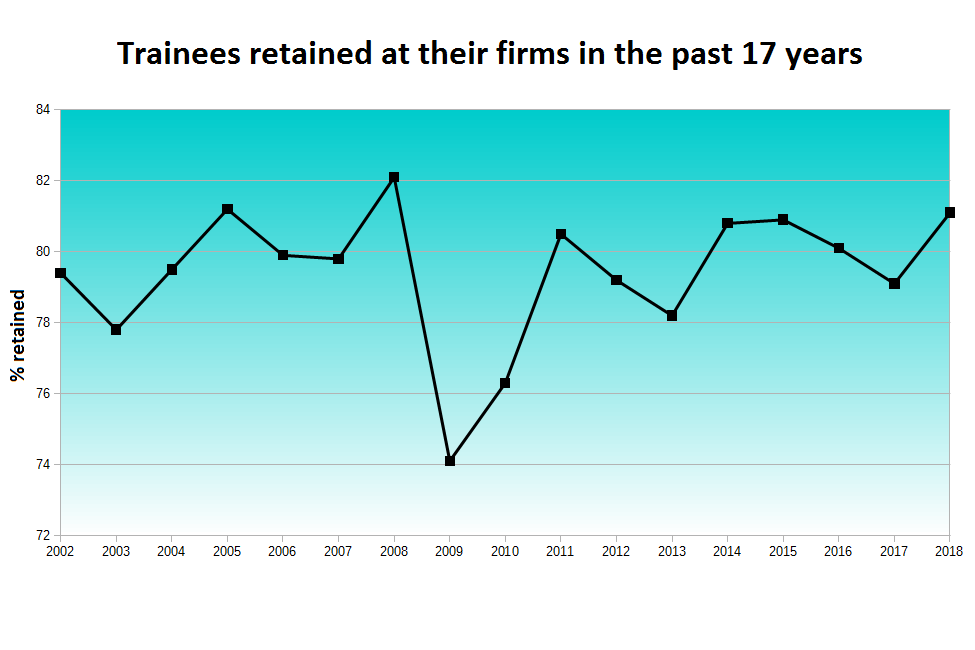 In the largest survey of its kind, we weigh up trainee retention rates across the legal market – how likely is it you'll score an NQ position at your firm?
The retention rate is the highest it's been since 2008.
Retention of NQ solicitors has been stable in the past decade and remains unaffected by Brexit.

City firms and mid-size firms are the best bet for securing an NQ position.
What does it matter to EU?
Rather boringly for us, but happily for NQs, retention at the leading law firms has held stable at around 80% for eight years now. In 2018 the 120-odd firms which we surveyed retained a total of 1,737 out of 2,141 qualifiers, a rate of 81.1%, a slight increase on 2017.
This comes after two years of minor falls in the overall retention rate, but things have remained stable even with the Brexit-shaped elephant in the room. If firms had Brexit jitters, retention is one place you'd see it, but the numbers point to a confident market. This chimes with the message from law firm managing partners who are telling us that they're prepared for Brexit and far from worried; many expect an increase in advisory work as it unfolds.
Click here for the retention stats for all firms
You might think there's a universal formula for law firms: culling a fifth of trainees is surely the sweet spot for staffing at the junior end, balancing the need to pump out work in volume and ensuring the firm's future strength and immediate profitability. But 80% is just the market-wide figure: many firms might retain 90% or even 100% of their qualifiers, while others keep on as few as two-thirds or half their crop. The interesting stories are where this variance lies. Split firms up by region, type or the NQ salary they offer and you'll see that retention isn't one size fits all...
A fulfilling, successful career is governed principally by the culture of the firms you work at, and retention rates offer a window on a firm's culture.
Why should you care about retention rates?
You're a student. NQ retention is an abstract thing that's several years in the future. The important thing is that you get a training contract at a decent firm, right? Perhaps, but a fulfilling, successful career is governed principally by the culture of the firms you work at, and retention rates offer a window on a firm's culture. First, you can tell whether a firm's investing in you and recruiting future partners or hiring for low-level grunt work. Second, high retention rates mean you're not spending two years competing with your fellow trainees like some job interview from hell, so the culture is likely to be more collaborative and less back-stabby.
Why NQs leave law firms

There are no NQ jobs in the trainee's favoured area of practice. Rather than stay in a second-choice department, they look towards other firms.

The firm has more qualifying trainees than jobs available. This is especially likely to happen at a firm which has recently undergone a major merger or is in some financial difficulty.

Maintaining a pyramid-shaped workforce. Large firms need a lot of manpower at the junior end, but can't provide long-term careers and commensurate salaries to all their recruits.

Personality clash. For some personal reason you don't gel with the firm or its people. No biggie. Move on.

Personal reasons. Trainees might fall out of love with the firm, with the law, or the city they work in.

How firms performed in 2018
As a general rule, the bigger the firm the higher its retention rate will be. The larger the business the more resources it has to play the long game and plan for future business needs; big firms can absorb market fluctuations more easily than small ones, where even minor financial blips can lead to lower retention.
However, as this year's figures demonstrate, some of the largest firms can suffer more trainee attrition than mid-sizers, perhaps because they hire in the expectation of not taking on all qualifiers. And – as in 2017 – medium-sized firms outperformed the swaggering intakes of the largest firms in 2018, as you can see in the table below.
| | | | | |
| --- | --- | --- | --- | --- |
|        |   |   Total retained   |   Total qualifiers   | % |
|   |   |   |   |   |
|   | Firms with 1-10 qualifiers | 235 | 312 |     75.3%     |
|   |   |   |   |   |
|   | Firms with 11-25 qualifiers | 416 | 510 | 81.6% |
|   |   |   |   |   |
|   | Firms with 26+ qualifiers | 1,036 | 1,319 | 78.5% |
Are there any firms in particular which stand out for high retention? Well, kudos to Travers Smith – a mid-size firm which always does well on retention – which this year was the largest firm to keep hold of all its qualifiers. Other members of the 100% Club for 2018 include Birketts, TLT – both also mid-size firms and both outside London – and a number of other firms with smaller intakes.
The 100% club

Firms with ten or more qualifiers: Birketts, Bristows, Kirkland & Ellis, TLT, Travers Smith 

Firms with fewer than five qualifiers: Akin Gump, Boodle Hatfield, Brabners, Cooley, Fried Frank, Gibson Dunn, Hewitsons, Kingsley Napley, Lewis Silkin, Maples Teesdale, Simkins, Thomas Cooper, Winckworth Sherwood

At a small firm one qualifier will make a huge difference to the percentage retention a firm can report; scoring either 0% or 100% is not all that dramatic when you have only a few qualifiers. For that reason we don't think praising or exposing a small firm with a 100% or 25% retention rate is worthwhile. The retention rate of a larger firm is a far more bankable indicator; for smaller firms, be especially sure to take a look at long-term retention rates. We'll sometimes report on these in the True Picture or you can find retention rates for all firms going back nearly 20 years here.
In some cases, low retention rates can indicate trouble on the horizon: King & Wood Mallesons posted several low scores before its European arm went under and its trainee scheme was halted at the start of 2017. Firms at the lower end may therefore seem like a less safe bet come qualification, but one year's figures won't tell the whole story: Mishcon de Reya was one of 2018's weaker performers, but just a couple of years ago posted a perfect 100% retention score. Consistently strong firms include Travers Smith, Burges Salmon and Slaughter and May (the strongest magic circle firm for retention by some distance in recent years).
But there's something you should bear in mind about big City firms like this with high retention rates: they tend to have high attrition rates for junior lawyers post qualification. We don't have hard numbers on this, but anecdotally we know it's pretty common for solicitors who are two, three or fours years PQE at big City firms to leave to go in-house or to a smaller firm.
Different firms for different folks
The type of firm you join will determine the likelihood of you staying, as shown below:
We've explored retention from the position of the firm, which is limited by staffing budgets and the variety of junior and mid-level work it can offer qualified solicitors. Now let's look at the table above from the perspective of the qualifier: finally they have the opportunity to move, why not hop over to a more desirable location, maybe join their buddies in the City? Qualification is the moment a lawyer realises their value to the market, so retention is far from a one-sided decision by the firm. At last trainees have some power, and the less docile will use this to their advantage and move. We see this employee empowerment at its starkest when we look at the NQ salaries offered and whether they're high enough to retain talent.
At last trainees have some power, and the less docile will use this to their advantage and move.
The firms which did best for retention in 2018 were London firms outside the magic circle and megabucks US players. So it's interesting to note that though US firms typically offer higher salaries than their English City rivals, on average UK firms beat their American counterparts on retention. This could be indicative of a more aggressive US 'up or out' culture, or just a runoff from the fact that American firms in London have smaller trainee intakes.
One notable thing about about retention at the magic circle: this was the first year in a while in which both the number of magic circle qualifiers and the number that they retained increased.
Show me the money
It's worth considering the financial incentives that qualifiers are presented with to hang around. Qualifiers are at liberty to seek employment elsewhere once they are finished with their training contract. They'd stick around for a good salary though, wouldn't they?
Well, if you look at retention rates and lay those besides the NQ salaries at different firms, that will give a picture of how pay correlates with retention.
The lowest retention rate came, as you might expect, from firms paying NQs less than £40,000. This is a bit of a shift from 2017, when it was one of the better-performing brackets. It's easy to simply write this off as smaller, low-paying firms with less to offer NQs losing their qualifiers to better-paying rivals. But it's worth remembering that we already know that non-London firms – which pay less – have lower retention than London firms, and this may be for reasons other than salary. Of the eight firms in this salary bracket, only Hewitsons kept all its NQs, but four of the remaining seven only lost one or two.
The best retention rates can be found at firms which pay in the £70,000 to £89,000 range. That's a handsome pay package, and the magic circle and most other English City firms sit within this bracket. Somewhat surprisingly, firms paying NQs £100,000 or more – all of them Americans – typically have lower retention rates than firms paying £60,000 to £99,000. It's interesting that home-grown firms are keeping hold of trainees better than high-paying American rivals. Perhaps we could chalk this up to Brexit fears: transatlantic titans rely more on international and cross-border matters to bring in their revenue, and do less domestic work in Blighty. Interestingly, within the magic circle it's Slaughter and May – the only member without a sprawling global network – that keeps most NQs despite paying less than rivals. On the other hand, some of the American giants with salaries pegged to the dollar kept hold of all of their qualifiers – who'd want to leave Akin Gump or Kirkland & Ellis if you were getting $190,000 a year on qualification?
The key take-home point is that money isn't everything. US law firms with small intakes don't shield their young'uns from the intensity of their high-stakes work. Many firms are upfront about the benefits, and sacrifices, this brings. If the balance is off for one or two of the chosen few – who, anecdotally, we know to be extremely aware of their alternative opportunities – the firm's results will suffer.
There's a lot to consider when qualification time comes rolling around, but stable retention rates (for now) should give trainees some peace of mind.
 
This feature was first published in March 2019.