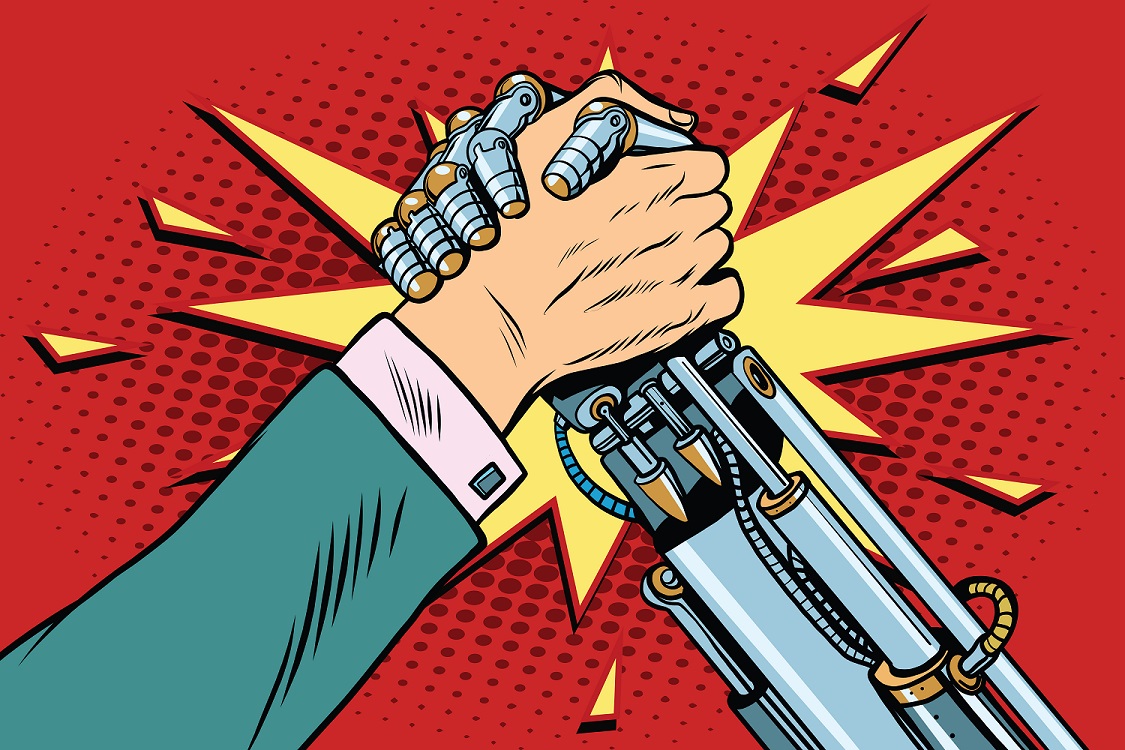 With the help of global firm Clifford Chance, we discover how a background in science, technology, engineering or maths could be the golden ticket to a challenging and rewarding legal career.

The year is 2118. Man has colonised Mars, hoverboards have finally been invented, and The Simpsons has reached season 106. Human lawyers, meanwhile, have been replaced completely by artificial intelligence – disputes are now resolved within seconds with purely rational outcomes, and corporate mergers are a seamless fusion of computer systems.
Okay, that's only one of a million possible futures, but in the here and now human lawyers are still very much needed and in demand. Technology is evolving fast, though, and having the skills to get to grips with it is invaluable for lawyers. "The potential opportunities for science and mathematics-minded lawyers seem limitless right now" according to Clifford Chance graduate recruitment partner Karen Hodson. "People think of lawyers as people wearing wigs in book-filled offices, but in fact commercial law is right at the vanguard of all sorts of new technologies."

"Opportunities for science and mathematics-minded lawyers seem limitless."

Who better to lead the charge than STEM graduates? Historically the majority of legal trainees have come into the profession with a degree in law (obvs), English or a humanities subject, but the tide is turning. "There's a real shortage of people with tech, science and mathematics experience coming into the profession," Clifford Chance innovation manager Rob Clay suggests, "being able to apply legal knowledge to areas like how software operates and automation will really improve how law firms perform in future." With the help of this most forward-thinking firm, we're delving into the "myriad" reasons why STEM-qualified lawyers are the future. Fire up the flux capacitor...
Zero degrees of separation
Although the range of degrees under the STEM umbrella endows students with a huge range of skills, there's one highly desirable skill they share: "Most scientists are naturally inquisitive and don't take things on face value," CC life sciences co-head Stephen Reese points out. "Challenging theories is what we do day to day as lawyers." Whether you're a software engineer coding takeaway apps, a data analyst mapping customer purchase trends, or an astrophysicist exploring the cosmos, what you've learned along the way is more easily transferable to the law than you might expect.
"Challenging theories is what we do day to day as lawyers."
Take Clifford Chance senior associate Laura Douglas, for example. She studied physics and philosophy at university before even considering law as a career option. "I thought about doing a PhD in quantum physics," she reveals, "but after dabbling in some legal work experience I decided to do a law conversion course." Her motivation to become a legal eagle came down to "the fact it's an area that's both intellectually challenging and involves human interaction, plus there's still breadth to specialise in various different areas."
Traditionally, intellectual property (IP) has been the natural home of science-minded lawyers, who can keep up with pharmaceutical or software clients when they're running through the USP of their product. As technology now creeps into every sector of law, STEM graduates are becoming a more appealing prospect across the board. "I qualified into IP but found I preferred commercial work," Karen Hodson tells us, "my background remained valuable because scientific education lends itself to City law."

"I wanted a new challenge in a faster-paced area."
Clifford Chance associate Lisa Fogarty did her degree in physics with astrophysics before picking up a PhD in astrophysics; she worked in a particle physics research lab, in quality control for a pharmaceuticals manufacturer and as a research fellow for the University of Sydney, all before turning to the law. "I wanted a new challenge in a faster-paced area," Lisa reveals – she considered finance and consulting but plumped for law because of the "technical aspect. It requires good technical and analytical skills and I felt relatively well prepared coming from a research background." Experience in research of some kind will certainly stand potential lawyers in good stead, but there are various skills that come with science and maths degrees which transfer tidily over to the law.
In an interview with the Harvard Crimson, clinical professor Christopher T. Bavitz pointed out that "a lot of law practice is explaining complicated concepts to people...and people with science and tech backgrounds do that well. I think they're great analytical thinkers in ways that map on to the thinking lawyers do." A law firm can show immense value to a client in breaking down the jargon of market regulations and legal precedent into something any Tom, Dick or Harry could understand. "The main transferable skill I've brought to law is being able to take a step back and see the big picture," engineering graduate Rob Clay suggests. "At the same time, in engineering you need patience and an eye for detail. Having the ability to view both the macro and the minutiae is invaluable in the law."
In some respects, science and maths graduates have the edge over their law and humanities degree counterparts. "I'm no expert in the use of considered arguments or structuring a thesis, but the truth is you rarely need those skills in commercial law," Karen Hodson points out. "Our job is reading the cases in depth and drilling down to find the core message, then applying that to other facts. That's what scientists do." Law firms' clients don't want legal advice in Shakespearean prose – they want the bare bones argument in its simplest form. "Clients appreciate you tailoring advice to the ultimate goal" according to Stephen Reese. "There's no point giving them legal theory in isolation."
To be able to grasp – or even design – the absurdly complex financial structures in the City, a technical mind is an asset. CC graduate recruitment partner Dan Neidle nonetheless advises "I wouldn't overly focus on numeracy" when considering a legal career. "The ability to think algorithmically is the really important legal skill. What are contracts but algorithms set into words?" Data and spreadsheets are pivotal to every corporate deal, so any experience with Excel will serve you well.
"What are contracts but algorithms set into words?"

We're not going to pretend that transitioning from STEM to the law is a breeze. "The transition was odd, starting from zero with no legal knowledge," Laura Douglas remembers. "But having the ability to quickly get up to speed is something you pick up from science and is a key advantage long-term." Don't worry about being at a disadvantage when applying for training contracts – graduate recruitment departments insist that assessments and vacation schemes are geared towards the potential of candidates, not their legal knowledge. Lisa Fogarty raises "the usual worry everyone tells you about is long working hours, but I felt relatively prepared having done a PhD! As for the work – the training contract is an opportunity to 'learn by doing'. You're given real, exciting work from the outset and the tools that you need to succeed."
Tech, tech, tech, tech boom!
But today we're in the midst of a tech boom; the moment for STEM students has rarely been better. New science is revolutionising the law both internally (as firms race to implement programs that will speed up efficiency and bring down cost) and externally. Clifford Chance has found "that more and more of the firm's clients are adopting new technologies" according to Laura Douglas, "and being technologically literate is a huge advantage for us." Stephen Reese agrees: "My degree helped me feel more comfortable than other lawyers talking to clients about what they're doing. A lot of people are intimidated by the science behind the law."
Consider financial regulation – perhaps the hottest topic in the sector right now is cryptocurrencies and how they'll be regulated differently to old-school money. "As a firm we've invested in raising internal awareness on key issues like blockchain," Robert Clay reveals. Even if you've never studied cryptography or digital currencies before, having a scientific mind means you'll be able to get up to speed far faster than someone without a STEM background. "It's surprising how many people talking about blockchain don't actually understand it," Dan Neidle laughs, "but clients can tell the difference if you understand their business. Given that law is a personal industry, being able to relate to people and speak the language of their business is important."

"Clients can tell the difference if you understand their business."

Many typical 'trainee tasks' are being revolutionised by technology. 'Discovery', a pre-litigation procedure that involves getting as much information from the other side as possible and picking out what useful, has already become a largely electronic affair. A 2017 Law Society report estimated that Robotic Process Automation (RPA) could bring between 20 and 40% cost savings to firms in future. The trainees of tomorrow will need to be able to understand technology and utilise it effectively, and what better preparation than a degree in science?
Clifford Chance has embraced technology with both (cybernetically enhanced) hands. The firm's Innovation and Best Delivery strategy has been in the headlines recently, with the launch of Clifford Chance Create, where we share and develop innovation ideas; Clifford Chance Applied Solutions, the new home of our digital products and our Best Delivery Hubs which support client teams on process improvement, Legal Project Management and Legal Technology. "Coming up with a logical framework for a contract is not that different to writing a computer code" according to Laura Douglas.
Setting a new precedent in the UK, CC launched a distinct tech-oriented training contract in 2018, excitingly titled 'IGNITE'. This training contract gives commercially and technologically-minded students the space to drive forward CC's use of legal tech both internally and with clients. The trainees recruited were from a range of STEM and non-STEM backgrounds, including physicists, computer sciences, and biomedical sciences graduates.
In the fintech space, Laura and the team "are doing a lot of thought leadership in terms of smart contracts and virtual currencies – hot topics which lend themselves to people with STEM backgrounds. We're able to get up to speed with these things much faster." Robert Clay highlights the firm's Applied Solutions digital products unit. "We're looking to start developing cloud-based innovations that both existing and new clients can sign up to as a means of keeping up with new and existing regulations," he says. "In future I'd imagine there will only be more cases of us diversifying how we provide legal advice."

"In future I'd imagine there will only be more cases of us diversifying how we provide legal advice."

Robert's story is a good example of the opportunities available at Clifford Chance. While studying for his engineering degree "a lecturer suggested I look into IP law as my background would be helpful. I've never done any IP work but it brought me into the profession." After completing a training contract, Robert slotted into CC's capital markets group. "I saw a lot of room for automation and took it upon myself to map the processes we follow in an effort to save time and money. That gave me a taste of the legal regulatory technology world." These talents were noticed by his supervising partner, and Robert transferred to the firm's then new innovation team in early 2018.
You don't have to fuse yourself into the computer mainframe to be part of CC's charge into the future. "If you only want to code, don't come to Clifford Chance," Dan Neidle clarifies, "if you want to combine skills like coding with other things you're good at – especially people skills – this is one of the few places which will allow you to do that." As we've (hopefully) made clear, one of the most valuable things that applicants with STEM backgrounds can bring to the law is their approach to problem solving; if you're able to save the firm some money with a flashy new computer programme, that's a bonus.
Welcome to the machine
By now it should be clear that bringing a STEM degree to the law will help you stand out from the crowd and may take your career in exciting directions. CC have also designed an exclusive insight day for STEM students, named INTERFACE, which they launched last year. It gives aspiring lawyers a glimpse of life at the firm, whilst providing practical advice on how to secure a training contract as a STEM student.To round things out, we asked the Clifford Chance team if they had any advice for STEM graduates interested in dipping their toes in the legal ocean, and they were more than happy to oblige...
Karen Hodson: "Nowadays, about half of trainees are non-law graduates and the training before starting is great. You'll quickly realise that you're not at a disadvantage."
Dan Neidle: "Read the business press for legal issues. Brexit's an amazing topic to begin your search with."
Lisa Fogarty: "Talk to lawyers – it sounds hard and scary, and it is, but the more people you speak to the more you'll learn by osmosis. Talking to trainees in particular is useful for understanding what we do day to day."
Laura Douglas: "This is a different environment to any other: it's client-facing and a lot of it comes down to human interaction. The best way to build experience is getting work experience and trying vacation schemes."
Stephen Reese: "Make sure you've carefully thought through a career in the law: it can be all encompassing and should be a calling for you. It's a very rewarding choice of career because every day is different."
Robert Clay: "Speaking from experience, dare to be bold. Be confident that a STEM background stands you in good stead and when opportunities come along, be prepared to take them."
See what your career would look like at Clifford Chance >>>
This feature was first published in October 2018 and refreshed in May 2020.