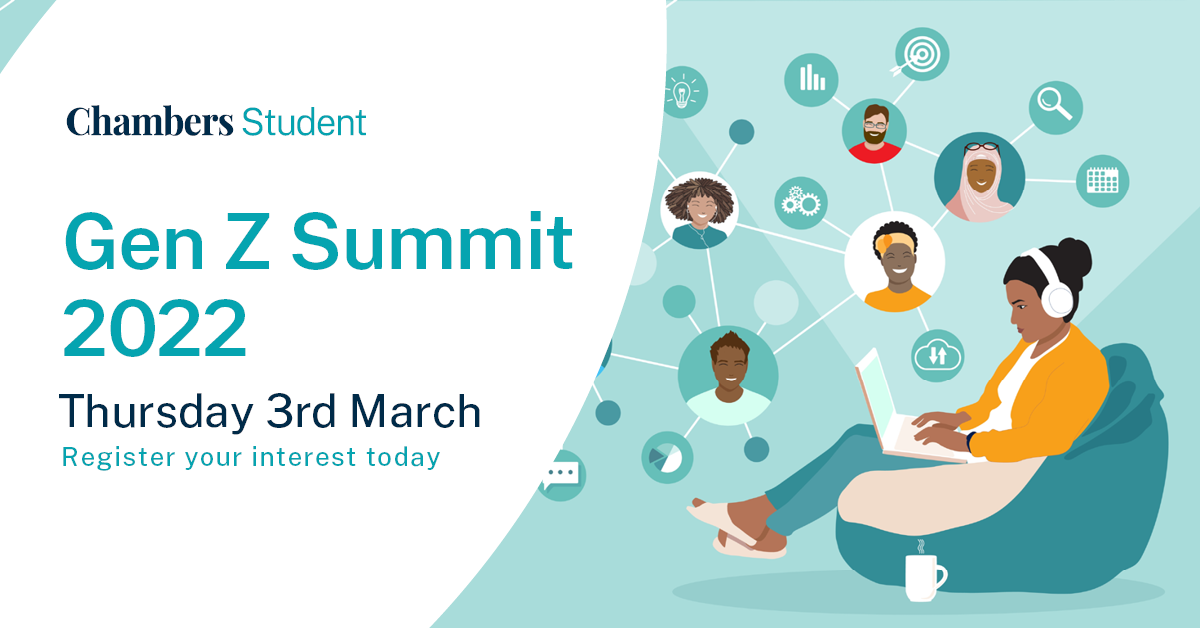 Chambers Student invites you to the Gen Z Summit 2022
Chambers Student's inaugural Gen Z Summit is launching on Thursday 3 March: a must-attend virtual event for any student who wants to find out more about becoming a lawyer and build their knowledge of the legal profession. The event is free to attend and open to students from all universities.
How important is legal work experience?

What can I do to boost my employability?

What is it like to work at a global law firm?

How has the pandemic changed the legal profession?

What are law firms doing to promote diversity and inclusion?
You'll get answers to all of these questions and more from lawyers and expert speakers from top law firms and universities in a series of panels and networking sessions at the Gen Z Summit.
Don't miss out – sign up to attend here.
Gen Z Summit Agenda
On the day you'll be able to tune in to as many sessions as you like. You'll also get the chance to ask questions at the end of each panel and mingle with lawyers (and the Chambers Student team) throughout the day during networking breaks. Keep an eye on this page for updates to the agenda, including additional details about the sessions and speakers. 
9.00 - 9.15am
Welcome from Chambers Student
9.15 - 10.15am
Applications and interviews: how to market yourself and stand out from the competition 
Our first session will tackle the most commonly asked questions when it comes to making applications and succeeding in interviews. How important is it to have legal work experience on your CV? What is commercial awareness and why is it important? When the competition is so fierce, what makes a candidate memorable? 
Speakers: Annabel Hale (Wedlake Bell), Claire Livingstone (Wiggin), David Hopkins (39 Essex Chambers), Rhia Lyon (Chambers Student)
10.15 - 10.30am
Networking break
10.30 - 11.30am
Covid-19 and the legal profession 
Everyone knows the pandemic has profoundly impacted the legal industry, but what does this mean for those embarking on their careers in law? How has virtual working affected training and law firm culture? How has retention and salary changed? Which practice areas have been most affected, and what opportunities has this created for junior lawyers? 
Speakers: Jeremy Coleman (Norton Rose Fulbright), Sarah Cowlishaw (Covington & Burling), Natalie Bertram (Chambers Student)
11.30 - 11.45am
Networking break
11.45am - 12.45pm
Diversity & Inclusion: where is the legal profession now? 
D&I in the legal profession is one of the biggest talking points in the industry and a key focus for law firms and barristers' chambers. In this session, we'll be discussing some of the latest data from Chambers Student research around gender, ethnicity, LGBTQ+, disability and socioeconomics to show you where the legal profession is now and where it still has to go. Our guest speakers will also share their expert insight into how firms and chambers can play their part in promoting representation across the industry.  
Speakers: Bernadette Smith (1MCB), Conway Blake (Debevoise & Plimpton), Jerry Gallagher (Sidley Austin), James Shaw (Gatehouse Chambers), Paul Rance (Chambers Student)
12.35 - 1.15pm
Lunch / Networking break
1.15 - 2.15pm
Becoming a lawyer at a global firm 
'International lawyer' is one of those jobs that oozes cool - but what does it actually involve on a Monday morning? How much travel is there? How tough is it to juggle different time zones? What sort of person is suited to the job, and how can you show that to an employer? Should you sign up for Mandarin night classes? If you've got international ambitions, this is one for you. 
Speakers: Arjun Dhar (Goodwin), Ben Perry (Sullivan & Cromwell), Ester Toumpouris (Ince), Rebecca Bothamley (Mayer Brown), Leah Henderson (Chambers Student)
2.15 - 2.30pm
Networking break
2.30 - 3.30pm
How to boost your employability as a 1st year student 
One of the most common questions we're asked at Chambers Student is 'I'm a first year - what can I do now?' In our final session of the day, we'll be answering this question with expert speakers from the careers services at BPP, Cardiff University, King's College London, and the University of Law. We'll also hear from a trainee lawyer who (when she's not busy with the day job) is sharing her experiences and tips with aspiring lawyers.
Speakers: Catherine Morgan (University of Law), Helen McNally (Cardiff University), Imogen Hanson (King's College London), Kate Bassett (BPP), Megan Hulme (Trowers & Hamlins), Harry Cerasale (Chambers Student)
3.30 - 3.45pm
Close
---