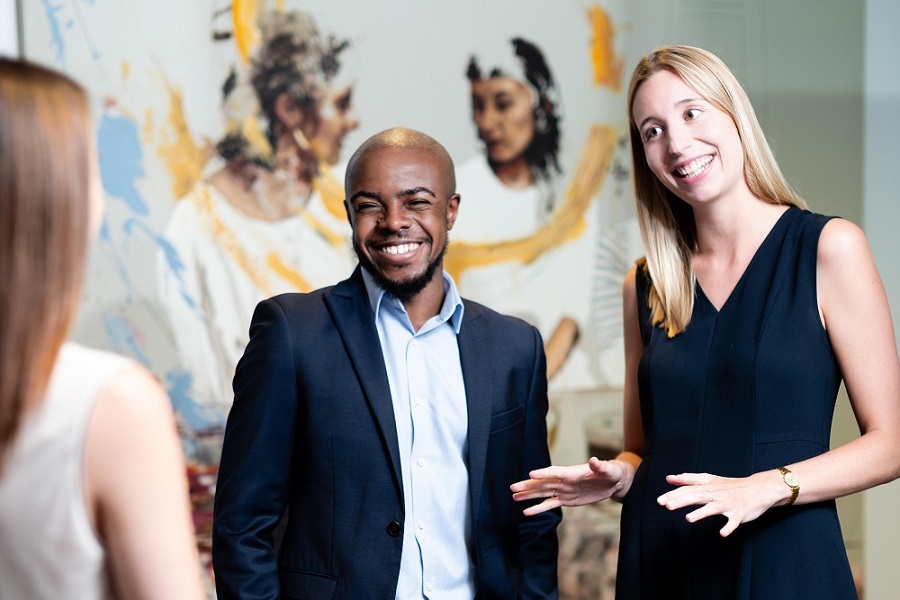 Travers Smith shows us how a City firm can break the mould and become a model for diversity – but "diversity is the easy bit!" lawyers tell us…

Diversity might seem like a hot topic right now, but even in our first ever edition of Chambers Student in 1998, we were talking about diversity and how well firms were tackling the diversity deficit.
This was what tax partner Emily Clark observed on joining Travers Smith in 1998: "There was a real wave of optimism – the intakes were finally 50% women, and we were thinking 'in 20 years this will have changed and my generation will be up there as partners.'" Fast forward to 2018, and despite Travers' putting forward an all female partner promotion round in 2017, only 21% of Travers' partners are women – which is typical for a City firm. Emily reflects "we thought we had an effective meritocracy when I joined, but it became clear that what we thought was fair was not getting us where we wanted and needed to be."
"The objective is very simple – to make Travers a leading firm for diversity and inclusion."
So it was time for a serious rethink. The number of women in partnership reflects the wider diversity and inclusion problem that City firms face together, and Travers chose to attack the problem from all angles. Its approach has been getting results, says partner and Head of Incentives and Remuneration Mahesh Varia: "When I started here, I knew the reputation, so I spent a lot of my time fitting in as opposed to standing out. Now people want me to stand out! From a BAME perspective, people are saying 'it's great that you're up there, but do something with it.'"
<----- Travers trainee, Nneka Cummins, on Travers' own rainbow stairs

Partner Daniel Gerring, Head of Pensions, tells us that "the objective is very simple – to make Travers a leading firm for diversity and inclusion." The firm has a board that creates "a safe space for working on inclusion. We have members of our networking groups come into meetings to get their perspectives directly as well. We bring everyone together to ensure we're promoting intersectionality and not working on anything in isolation." (Intersectionality, by the way, is a term that you'll probably be hearing more of as it gains currency; the concept focuses on how various forms of social categorisation – like race, gender and sexual orientation – combine to amplify the effects of any single form of discrimination).
Diversity: Everyone's Business
Before we go into detail about how exactly Travers Smith is becoming a model for diversity and inclusion, let's examine why all law firms should be paying attention to this topic and taking the necessary action.
A person coming into the law who is not white, straight, cisgender, non-disabled, privately-educated, male or otherwise privileged (who we'll refer to with the imperfect umbrella term 'diverse person/people') is more likely to have a "confidence barrier before you even get to the firm," Emily explains. "I thought the law and the City would never be for me. The barrier was there before I even got to Travers Smith." The causes of this are so deeply embedded in society that any firm alone would have a tough time tackling it – getting diverse people through the door is hurdle number one. It's therefore vital that firms promote a convincing message of inclusivity to the broadest possible pool of people it's aiming to recruit. Once at a firm, it's then essential that diverse people feel able to confidently be themselves and strive for the same opportunities as their 'non-diverse' colleagues.
"The end goal [for the firm] is to create and maintain a supportive environment for everyone."
Failing to make diverse people feel comfortable and confident will have negative effects – both for those individuals and the firm more broadly. Each employee at a law firm (or indeed at any workplace) has "a pot of energy they can bring to work with them," tax associate Angela Tang explains. "If you're a minority, you can spend that energy trying to fit in as someone you're not. In a work environment, which is not inclusive, your emotional energy can be wasted." Everyone wants to get the most out of their employees, but staff who are "expending all of their energy pretending or worrying aren't going to be performing at their best." Newly qualified associate Michelle Anderson elaborates that "there's a tangible business impact: people who don't feel comfortable might be reluctant to voice any game-changing, out-of-the-box ideas, out of fear of adding to the list of things against them."
The business impact goes beyond not receiving great ideas from diverse people though: it can affect a firm's ability to win and retain clients, as finance associate Nihaal Khanna explains: "When pitching for new work, clients are interested in knowing more about our diversity initiatives, and this is an increasingly important element of the decision-making process for clients in selecting which law firms to partner with."
This reveals the shift in thinking about diversity in recent years. It's fair to say that in the past many firms concentrated on just trying to boost diversity numbers – especially at the junior levels – and letting the rest take care of itself, without giving too much thought to retention and ongoing career support. As Chris Edwards, CSR and Diversity Manager candidly explains, "diversity is the easy bit; anybody can go and hire ten people of colour and then say 'there we go, we've ticked the race box.' That's not our approach." While we don't want to underestimate the role that improving diversity statistics has to play (and Travers' figures have improved through various active recruitment strategies), we do want to draw attention to the point that numbers shouldn't be the sole objective. Travers has broadened its efforts in this respect, and, as Angela makes clear, "the end goal [for the firm] is to create and maintain a supportive environment for everyone."
"Diversity is the easy bit; anybody can go and hire ten people of colour and then say 'there we go, we've ticked the race box.' That's not our approach."
And this is where the word 'inclusion' gains significance. It sums up the direction and form that diversity efforts are taking today – it means making widespread changes to law firms' cultures and practices so that everyone in them can be themselves and be invested in. This more attentive approach fosters diversity at all levels, bringing benefits for the individuals and the firm. Michelle describes it as "more of a feeling" that permeates every aspect of life at the firm, from office layout to overarching policies to the firm's smaller office details: "I was in a meeting in a room with a piece of art about natural hair," recalls trainee Nneka Cummins. "I was sat there with my dreadlocks and an image of a black person with natural hair on the wall and I was thinking 'wow, this is great!'"
Creating a diverse culture
Establishing policies to shape this environment is "fundamental," says Daniel, as "they underpin the way you've got to behave." Emily agrees that policies "send out an important signal: we've thought about this, we take this seriously." For example, Travers has formalised non-binary and trans policies of late to improve LGBTQ inclusion; alongside introducing gender neutral toilets for staff, clients and visiting Chambers Student researchers, the firm also formulated a universal dress code. These policies weren't "put in place in response to anyone specifically," says Chris. "We're being smarter and having them in place beforehand, so we're not putting the onus on any diverse person to have to say what they need."
But policies "can seem like a dry thing," Emily comments, while Daniel agrees that "a good policy on its own can only take you so far – the proof is in the pudding." To be successful they need to be embraced by people within the organisation – at which point they become culture.
"A good policy on its own can only take you so far – the proof is in the pudding."
Travers' flexible working policy has been a success. It was introduced in 2015, expanded upon in 2017 with the introduction of agile working, and applies to all employees (although trainees do have to meet certain supervision requirements that can limit flexibility). While flexible and agile working are nothing revolutionary, they can be key factors in fostering an inclusive atmosphere if implemented in the right way. Allowing true flexibility is essential here, and at Travers no official 'sign-off' is required for employees who need to structure their schedules differently to accommodate their needs. This can have benefits for many people, including those with mental and/or physical health issues; parents who have young children; and those who follow a faith and participate in religious festivals and observances. Khanna tells us that "even during peak periods, the team makes a conscious effort to balance the workload and ensure we attend the events and fulfil the holidays in our religious calendars, such as Diwali." Others making use of the flexible schedule including employment partner Tim Gilbert – who works a nine-day fortnight in order to spend more time with his family – and Michelle, who started her training contract as a mother with two young children at home.
The firm wanted to create platforms for those like Khanna, Gilbert and Michelle to talk about their experiences, so Travers' intranet became home to 'Spotlight profiles' – blog posts written by various people across the firm, including partners, trainees and business services teams. "There are Spotlight profiles written by people in senior positions who are talking about the human aspects of their lives – about things like mental health and what it's like to be unwell. These posts are massively powerful," says Chris, adding: "They make us understand that we have more in common than we think."
Michelle wrote a profile on her experience of raising children while completing a training contract: "I've found it difficult at times balancing that side of my life with the expectations of being a trainee in a City law firm, but flexible working turned out to be a completely positive aspect of my interaction with the firm, so I wrote the Spotlight profile to share that." After the profile was published, she was "amazed by the support – I received lovely responses, even from people I'd never interacted with, including partners. I was touched that people went out of their way to send a nice email after reading it!" Though some of the content of Spotlight profiles can be difficult to read, "they're certainly a popular read on the intranet," Nihaal informs us. "Chris [Edwards] asked me early on when I joined the firm if I'd be interested in writing one,"  and, as a lateral to the firm, Nihaal was "pleasantly surprised by the number of colleagues who read it! I received a number of emails saying it was an interesting read and showing a genuine interest in my background. It also proved to be a fantastic way to introduce myself to the wider firm."
It's good to talk

Good communication is fundamental to inclusion, and Travers' Spotlight profiles are just one example of the firm's bid to "keep the conversation going," as Michelle points out. "There's a lot of focus on it now, especially among partners." A culture of openness has also helped challenge colleagues' behaviour when it falls short of the mark, such as "that bit of banter that one person thinks is funny, but someone else might be upset by,"  Daniel explains.


"You're aware of making sure everyone can join in the conversation; you're asking yourself things like, 'have we been talking about football too much?'"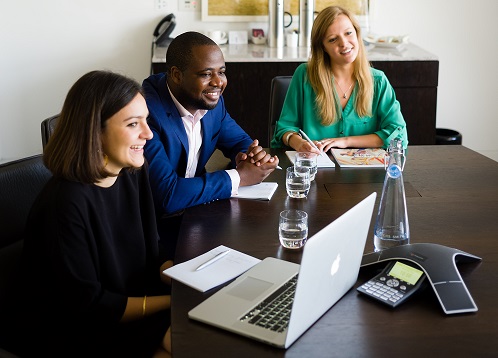 As those at Travers have discovered, even office layout can have a real impact on inclusion. The firm places four or five people of varying seniorities in each room, which "helps to break down barriers," Mahesh tells us. "It lets juniors see that the partner is a human being just like them." It also gives partners the responsibility of balancing the room and involving everyone. As a partner, Emily tells us that "you're aware of making sure everyone can join in the conversation; you're asking yourself things like, 'have we been talking about football too much?'"  That level of attentiveness hasn't gone unnoticed by Travers' associates, as Angela tells us: "The partners are listening to people and figuring out what they can do to get the best out of people as individuals. They have an open, communicative relationship with us, and that approach filters down."
"Recently in my room I opened up about being non-binary. It's a conversation I felt able to have and it has been welcomed."
Another positive step for any City firm: people in each room are encouraged to keep an eye on each other for problems like signs of overworking or changes in behaviour. One of the firm's goals is to "create a culture of mentoring, for both professional coaching and therapeutic support," says Chris. Nneka tells us that "recently in my room I opened up about being non-binary. It's a conversation I felt able to have and it has been welcomed. People have been receptive to hearing, understanding and learning about my experience." Travers wants to ensure that people know the various channels of support available to them. This gives those who need support the choice of how they receive it – whether that's through informal 'room mentoring' structures or more official pastoral setups like mental health 'first aiders' and external counsellors.
Choose a law firm for its culture
Reporting on the Travers diversity model is all well and good, but what should you, the student, do to make sure that you're joining a workplace that values inclusivity? Well, Emily underlines the importance of actually visiting the firms: "Dip your toe in! Unless you go there, it's hard to know. You could even read a piece like this and cynically think, 'of course they're going to say that, aren't they!' So it's key to do day placements, vac schemes, and otherwise get insight by talking to the people already there – are they living and breathing inclusion? Does the marketing material ring true?"
Whether you class yourself as a diverse person or not, the benefits of seeking out a firm that takes inclusion seriously is likely to boost your chances of future success. Mahesh tells us that an emphasis on inclusion in the workplace leads to "happiness and longevity, which in turn causes teams to win more and better business: if you have a genuinely happy team that communicates well then that tends to feed into good retention rates; that then produces a team that's in place for longer, so it delivers better client service and work can be done at a more cost efficient level." Simply by virtue of being trained and mentored in the right environment, you'll pick up skills that will be of huge value as you build a network of colleagues and clients.
So what's next for Travers? "We're going to target specific areas to see how we can do better," Daniel explains. Examples include a review of the physical nature of the office building to make it more accessible and "an increased focus on intersectionality." However, "most importantly," Daniel states, "we're not going to be complacent and allow things to slip backwards. Reinforcement is really important in order to maintain momentum. We've had hundreds of years of things being one way, so if anyone's thinking that just a good stride in the right direction is going to stick on its own...well, it doesn't work like that!" And if you are a diverse person reading this with reservations about pursuing a legal career, then the resounding message we want to send to you is summed up perfectly in Mahesh's words here: "The advice I'd give to myself 20 years ago is that you actually do belong here and it's OK to be yourself."
And finally...
If you're gonna do it, do it right: what to consider when creating diverse teams.
"If you have homogeneous teams where everyone looks same, they're easy to manage but unlikely to give good client service," Daniel explains. And unsurprisingly, when 'diverse' groups are led by managers who are used to working with one kind of person (read: typically those with a privileged status), difficulties can arise.
Chris tells us that "a lot of the work we're doing revolves around raising awareness that diverse teams have diverse needs. And you need skills to manage that." This means that if firms aren't careful, they can end up with a dip in productivity as 'diverse' members of the team aren't heard in the dynamic group environment. Daniel tells us that "good leaders find people's strengths and find the common ground, but it takes more work to do that successfully." Emily adds that "there's always going to be a 'bedding in' process, but in the long term, if you've figured that out in the beginning, you'll always be soaring." So the "tricky" part, as Chris tells us, is learning how to give managers "the ability to give lots of different types of people the opportunity to shine."
Find out about joining Travers as a trainee by reading the True Picture 

This feature was first published in October 2018.