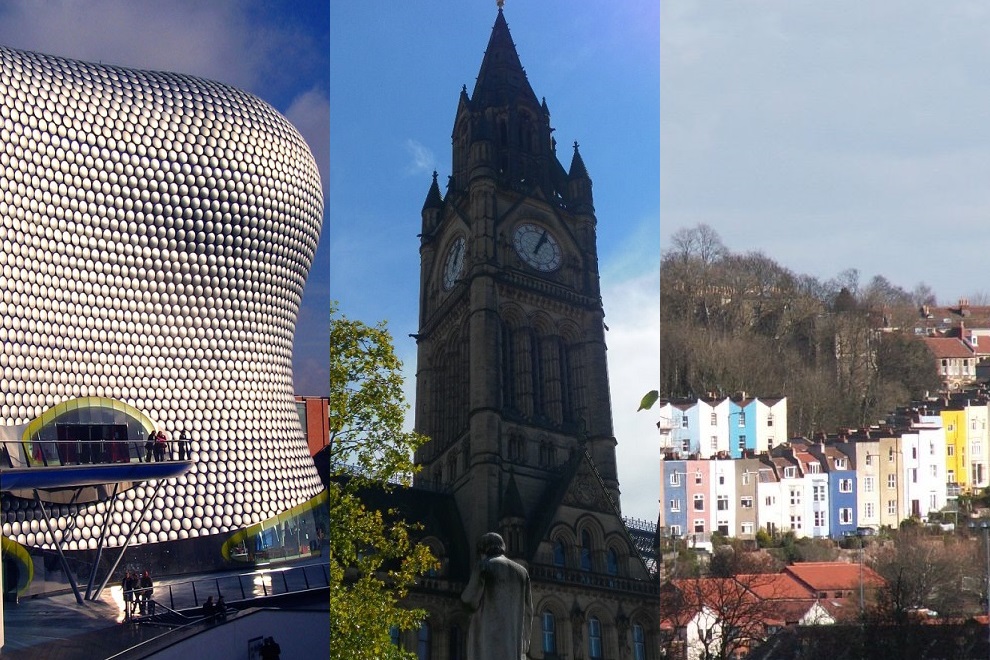 Once again, you cram yourself into the heaving rush-hour tube. Suddenly something hits you – is it a commuter's laptop? No, it's the realisation that London just might not be that great...

The myth of the capital was seductive: its prestige, its power, its buzz. In the law it was London and then the rest of the world, and you were destined to be there in the thick of it all, masterminding megadeals and peering out from your 30th floor window over the night city below, marvelling at its twinkly lights. It's dark now. Why is it dark? Why is everybody else in bed? Why have I spent 13 hours of the day bundling? What was I even bundling? Why do I live in a very expensive cupboard? Why is this not quite the glitzy life I imagined?
There is an alternative reality. We interviewed some trainees at national firm Irwin Mitchell and delved into the lives of lawyers in the commercial centres outside London. We compare lifestyles, learn about the opportunities, and smash some of the stereotypes.
Tech-style industries
The first myth to bust is this: only London does international work. It's easy to overlook how each of Britain's cities has contributed to making this a global trading nation. Their economies might be less about the textiles and more tech-style these days, but these cities rely on international trade. Birmingham's economy is the same size as Copenhagen's; Manchester can easily square up to Vancouver, Zurich, Johannesburg and Berlin. Leeds and Las Vegas are economic peers. In fact the Birmingham team has just been dealing with a case in Vegas over a BA aircraft engine fire. One of Irwin Mitchell's trainees was adamant that the "quality of work available here is just as good as it is in London." This boast merits some inspection: let's look closer at the work of Irwin Mitchell's Birmingham aviation group. The team has recently brought the case against Germanwings after the 2015 disaster in the Alps. It's also handling other air tragedies in Nigeria and Afghanistan, bringing cases against the airlines.
More than ever, legal services are not confined by location. New business structures, outsourcing and technology all help firms deliver better value to clients. Irwin Mitchell's international work outside London is an example of a firm using its network to good effect. "There's a view that London is the corporate hub of the UK, and while a lot of the work does come out of there, a lot of it is actually handled by the firm's regional offices," one Irwin Mitchell trainee told us. But to claim that there's little difference between a lawyer's work in London and elsewhere would be misleading; there are clear distinctions if you look at the whole UK legal market (Chambers has a 1,800-page guide devoted to it). City work is more likely to involve multiple jurisdictions and higher transactional sums, but there comes a point where London finance turns quite abstract, both in value and activity. Derivatives, securitisations or bond issuances – just a few classic City activities – are not easily traced back to something with meaning that you can tell your parents about.
"You are able to make decisions without constant supervision."
The finance teams at Irwin Mitchell are not doing anything radically different to the City firms, but a glance at the firm's caseload shows transactions "that you can really sink your teeth into," a trainee reflected. We're talking projects like the Manchester team's advice to Deutsche Hypothekenbank on a £53 million loan for the acquisition of a retail park in Swansea, or the Yorkshire corporate group's support to the Business Growth Fund (which invests in small and medium enterprises) as it looked to pour £25 million into Sheffield-based leisure operator Coppergreen Developments.
Working on projects you can see with your own eyes and sums of money you can just about grasp should never be underestimated. We've interviewed tens of thousands of trainees here at Chambers Student, and we can confidently say that work on this scale is quite satisfying and a great learning experience. "As some deals aren't as complex, you are able to make decisions without constant supervision," an Irwin Mitchell trainee told us. Another mused: "You're not doing discrete pieces of work on huge international matters, so the journey to independence is a lot quicker. You're allocated tasks that enable you to hit the ground running upon qualification." This opportunity to contribute significantly is an experience that's harder to get in some of the City's biggest players, where trainees perform more of a project management role. Some might argue that work outside the capital lacks complexity, but one look at Irwin Mitchell's technology work would tell you otherwise. Machine learning, data security, licensing, Swiss clients, Dutch start-ups – the intellectual challenge is undoubtedly there.
Irwin Mitchell provides its new joiners the opportunity to work in Business Legal Services (BLS) or Personal Legal Services (PLS). "If you want to focus on personal law, there are few big firms that offer a training contract exclusively in the area," a trainee told us. If you have your heart set on working in areas like family, private client, clinical negligence and personal injury, opportunities to do this at City firms are less common that at national or regional firms, mainly because of the cost of being in London. A regional firm will put more weight behind them; a trainee made a point of telling us "our UK head of medical negligence is based in Birmingham rather than London."
Irwin Mitchell is famous for its personal injury, Court of Protection and clinical negligence practices, and tops the Chambers UK rankings in those areas. "It's a side of the law that comes with a lot more client contact, as well as the benefit of feeling like you're genuinely helping people." Dealing with people rather than businesses ensures that "no two cases are ever the same," said another interviewee. Recent matters have seen Irwin Mitchell's PLS lawyers represent an 11-year-old girl who'd suffered brain damage at birth; act for a 73-year-old woman with Alzheimer's during a Court of Protection case that determined whether or not she could be cared for at home; assist a tree surgeon who'd fallen 30 feet while working and sustained serious spinal injuries; and advise multiple families of victims of a 2013 terrorist attack on a gas plant in Algeria. Every year, trainees tell us how deeply rewarding this kind of work is.
The firm's high-end private wealth work shows the same trusts, wills and contested inheritances that you'll see from a London private client firm, although with a little more agricultural estates work than in London. The exclusivity – and often eccentricity – of this practice area makes it quite desirable to trainees.
But there's a certain type of private wealth we can't overlook, and that's trainee salaries. Yes, you will earn less in the regions than in London, but the headlines you might read about six-figure NQ salaries in the capital represent a minor portion of a market that pays much more sober figures.
Before you get seduced by big numbers, let's consider a more important message we tell students all the time: you've chosen to be a lawyer, your income is likely to be high and very secure for your entire life. The more you progress, the more your earnings are down to your own nous. And salary should never be the reason you choose a firm.
NQ salaries outside London are normally around £40k. London NQ salaries start around the £60k mark, City firms average £73k, and if you include the gratuitous US-firm figures in the City, the average gets closer to £90k. But what you have to do to earn these salaries varies almost as much as the money: hours at the highest payers are very demanding. There's a relationship between salary and hours, and, while this is only a casual estimate, we reckon NQs outside London are earning about £20 an hour, while at the London firms it's more like £25-£30 an hour.
A salary value is a strong indicator of how much of your personal life a law firm takes from you. "In national firms you're not expected to burn out," an Irwin Mitchell insider concluded. Typical of firms outside London, "there's a big emphasis on a healthy work/life balance," a trainee thought. Indeed, the average day for most of our Irwin Mitchell interviewees fell between 9am and 6.30pm, and there were no reports of any lost weekends. It means your existence is more than just 'lawyer' – it gives you "a real chance to pursue hobbies," insiders highlighted. However, don't take kinder working hours as a sign that you won't be pushed. "Things can get really busy as you come up to a trial or a deal closing, and you might be working until midnight for a week," sources noted. Luckily, they reassured us that these late night stints "don't occur as frequently as they do in the City."
"It's a lot easier to put down roots in the regions."
Who cares about hours when you're earning a City salary? Well, as anyone who's bought a pint in London will know, funding a normal existence is tricky. That extra tenner an hour quickly gets swallowed up: estimates suggest that the cost of living in cities like Manchester, Sheffield and Bristol is between 20% and 40% cheaper than in the capital. In London, £200 a month is likely to go on transport alone. And when the average property in Yorkshire is £160k and £190k in the West Midlands, buying your own place is actually within your grasp, whereas in London the average stands at around £490k, according to government figures. "It's a lot easier to put down roots in the regions," concluded an Irwin Mitchell trainee.
Your money may go further outside of the Big Smoke, but is the atmosphere as buzzing? Our sources highlighted that all of the big cities outside of London have multiple universities which "give them a youthful and cosmopolitan feel" (as well as a plenty of places to complete the LPC). Many in the north were especially keen to flag their city's atmosphere as a major benefit, with one telling us: "I think the culture in Manchester is very different. It's a much friendlier city and it's really growing."
Looking ahead, the potential for business to be divvied up more evenly across the UK is promising. The government's Northern Powerhouse project of 'investing in skills, innovation, transport and culture,' is seen as a necessary measure towards building a stronger country; in a post-Brexit UK, London's role as a European finance hub will be challenged heavily. And developments like HS2 will forge ever-closer connections between cities. We might have to wait until 2033 for the completion of this rail project, but when it's all up and running we'll be able to journey between London and Manchester in just over an hour.
Where everybody knows your name...
Lawyers who develop a career outside London typically become pivotal figures of the local business community. Job satisfaction comes from helping a city's or a region's economy develop, and shaping that city's role in the international marketplace. One Irwin Mitchell insider felt "the ties you can make here are potentially stronger. We have three or four sets of chambers we consistently use, which is beneficial both for our clients and the firm itself. That's diluted in London, where a number of firms could be vying for the same sets." Sources thought that the scale of their surroundings enhanced their "networking abilities, as everything is more concentrated here. In London you could be drinking coffee for an eternity trying to get to know everyone, whereas here it's easier to hone in on certain contacts and make solid relationships with people."
"We're engaging directly with the community. It helps give the firm a more approachable feel."
"A big part of regional firm culture is about contributing to the local community," we heard. Every office in the Irwin Mitchell network chooses a charity to support for a year; the Manchester base has been supporting the Mustard Tree Foundation, dedicated to tackling poverty and homelessness in the area. Across Irwin Mitchell's offices we also heard of trainees painting local care homes, organising LGBT events, liaising with local universities and participating in business awards. "These initiatives are not conducted from behind a desk," trainees stressed. "We're engaging directly with the community. It helps give the firm a more approachable feel."
The thought of being a bigger fish in a smaller pond is no doubt appealing, but don't get complacent and assume that securing a training contract at a regional or national firm is a walk in the park. Remember, many of these firms will have fewer training places available compared to the big City outfits. In addition, these firms continue to attract Russell Group grads in droves – our latest survey results showed that 74.4% of the national/regional firm trainees that we interviewed hailed from a Russell Group university. If you're gunning for a training contract at one of these firms, you'll still be up against some of the brightest and most ambitious graduates in the UK, so do your homework.
At certain City firms, an uncompromising, unaddressed hours culture takes its toll on a lawyer's personal life. Doing things like raising a family are that much harder as a City lawyer, which is partly why regional firms do better than City firms at promoting women to partner. Irwin Mitchell, for example, has 38% female partners; the average for firms in this guide is 27%, and at City firms it's 20%. This issue is being challenged and addressed by law firms with varying degrees of success, but before applying we'd urge you to take a look at the culture and support structures in place.
What we hope to have shown you, is that starting a career outside London is worth serious consideration. Why not try out a vac scheme to see what we say holds true?

This feature was first published in January 2018.