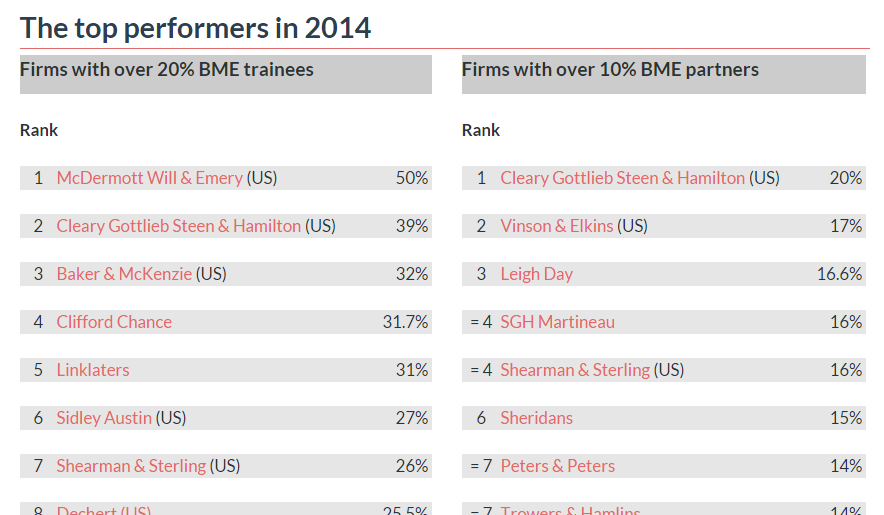 We report on ethnic minority recruitment and promotion rates, what the trends tell us, and how some firms are responding.
Linklaters and Clifford Chance lead the UK firms for standard-setting in ethnicity

US firms dominate the top of the survey for both hiring and promoting BME lawyers

London middle market making slow progress on ethnicity
Students from minority ethnic groups made up 36.3% of law BAs in 2013 – the highest recorded number of any year so far. Comparing this figure to the proportion of BME candidates landing training contracts at commercial firms (13.8%) is very revealing, but it's not a like-for-like comparison; not all LLBers aim to become solicitors. Nevertheless, the LLB indicates intention into the profession so we can assume that broadly a third of training contract applications will be made by ethnic minority students.
Get all the stats on ethnic minority lawyers by firm
The UK market at a glance
We asked 116 leading firms for 2014 percentages of BME trainees, associates and partners.
 
 
Trainees
 
Associates
 
Partners
 
 
 
 
 
 
 
  Magic circle firms
 

23.9

%
 

17.7

%
 

6.7

%
 
 
 
 
 
 
 
  US firms
 

22.6

%
 

17.9

%
 

7.4

%
 
 
 
 
 
 
 
  Other London firms
 

12.2

%
 

11.8

%
 

5.1

%
 
 
 
 
 
 
 
  Regional/national firms
 

8.8

%
 

6.4

%
 

3.4

%
 
 
 
 
 
 
 
  Overall average
 
13.8

%

 

11%

 
5.1

%
Reporting methods
The figures aren't perfect. All law firms are required to collect diversity stats by the Solicitors Regulation Authority, but the SRA offers a handy get-out-of-jail-free card to firms who don't have data to shout about: they can withhold their figures if they have confidentiality concerns. Several of the large firms we surveyed used these privacy issues as a reason not to report their data.
86 firms provided data. Of those, 77 provided all figures for all three levels at the firm. But even within this group, not all surveyed lawyers responded. Nevertheless, the non-participators have an immaterial impact for the purpose of drawing broad conclusions: the trends are clear regardless. Reasons for not wanting to specify ethnicity include a sense of not fitting into the categories listed, fear of their answer being used against them at their firm, or a sense that their answer is irrelevant.
Across all the 77 firms that played ball, the highest proportion of ethnic minority lawyers can be found at the lower levels of the firm, among the ranks of trainees and associates. Figures for ethnic minority partners tend to languish in the low single figures at most firms, and a flabbergasting 11 firms we surveyed have no ethnic minority partners at all. The ratio of trainees to partners across all four groups of firms is relatively constant at around 3:1. However, the actual numbers vary substantially within groups.
Magic circle
The magic circle firms stand ahead of their smaller City rivals. Linklaters is the leader of the pack for promoting BME partners, but Clifford Chance has the edge for hiring at the lower end. All firms surpass the national averages (although they ought to, being London-based) for trainees and associates, however Freshfields didn't give trainee figures and they fall behind with only a 3% ethnic minority showing at partnership. While the Freshfields figures indicate a conservative legacy, our research with their trainees this year revealed a cultural shift and some of the most progressive initiatives to be found anywhere within this elite group. 
London firms
Set against the multicultural backdrop of the capital, the figures from London's employers are striking: a large number of City outfits are lurking at the lower end of the survey. London's dominant role in graduate recruitment paints a lacklustre picture for BME candidates. The City's middle-tier firms were the most likely to withhold their ethnicity figures, and the middle tier is generally where the lowest numbers come from in London. Some smaller firms feature no minority partners at all, and generally the higher you go in size, the more prospects improve for ethnic minorities. However a few top firms stick out, such as Herbert Smith Freehills with a 1% BME partnership yet hiring a healthy 21% at trainee level. Equally, Simmons & Simmons hiring 4% BME trainees but featuring 12% at associate level hints at year-on-year fluctuations – our interviewees assure us that the culture at Simmons is progressive for the City, especially in its LGBT efforts.
The trainee hiring data among large commercial outfits in London varies hugely (Dentons 24.5%; RPC 2.7%). And for firms promoting BME lawyers to partnership, only an elite bunch can claim over 5% in London. While Norton Rose Fulbright doesn't top the leader boards, it's the largest non-magic circle firm to produce consistently promising stats at every level, reflecting an established diversity culture. A glance at the firm's measures in place reveals unconscious bias training, social group networking opportunities, and comparative data analysis – that the firm is benchmarking itself against rivals is perhaps the most telling indicator that diversity is taken seriously at Norton.
Although based in Clerkenwell, Leigh Day is very much not a City firm in almost every respect. It stands head and shoulders above the London market not just for promoting minorities (16.6% partners), but also for supporting its women lawyers. The firm's managing partner Frances Swaine tells us: "hiring from a wide range of ethnicities is at our central core. We're a very forward thinking practice and we like to reflect the population we're based in."
US firms
The top 20 firms for hiring ethnic minority trainees contains 12 US entries and a further four with a transatlantic network. US firms also lead the survey for hiring BME partners, and three American firms feature in the top five at partner level: Cleary Gottlieb; Vinson & Elkins; and Shearman & Sterling. Without wanting to downplay their individual achievements, across the pond devoting resources to ethnic diversity is an expectation at big firms, whereas here in the UK, healthy diversity is more reliant on the firms' internal cultures.
Coupled with a less hidebound approach to personnel, we can see the importation of US-style practice here. American firms have the edge on the magic circle at partner level, and keep up with them at entry level too. Exceptions do exist, although Curtis' lonely London partner who happens to be white is hardly a fair comparison. So perhaps it's no surprise that the only two big commercial firms in the UK with black managing partners – Trevor James of MoFo, and Solomon Wifa of O'Melveny & Myers – turn out to be American firms.
Regional and national firms
Seven of the regional firms we surveyed had no ethnic minority partners at all, but they didn't necessarily stand out among the cohort, whose partners average 3.5%. To a large extent, the lower levels of ethnic minority employees at regional firms can be explained by their local demographics. Newcastle headquartered firm Muckle reports no ethnic minority partners, but if only 1.5% of the population of the county of Northumbria are from an ethnic minority, the figure isn't too shocking – and their 6% figure for their associates suggests a much more promising picture.
At the other end of the spectrum, Birmingham-based firm SGH Martineau has 16% ethnic minority partners – the best performer among regional firms, and one which reflects Birmingham's diverse population. But as well as echoing the regions they hire from, organisational culture counts for a lot; national firm DLA Piper scores highly across the board for diversity.
The top performers in 2014
The background
Ethnic minorities make up 14% of the UK's population – a figure that isn't miles off the trainee national average (13.8%). But although migration to the UK has been going on for centuries, it has accelerated over the past few decades, meaning that this population is skewed towards younger age ranges: ethnic minorities make up a quarter of British children aged under ten. With BME candidates accounting for 36.3% of 2013's law BAs, it's clear that recruiters at the country's leading law firms aren't reflecting the diversity of their applicant base. Only two firms we surveyed matched or exceeded this percentage: Cleary Gottlieb (39%) and McDermott Will & Emery (50%).
Male ethnic minority lawyers have been practising in the UK for well over a century (1919 for women), with no specific legal obstacles in their way. After graduating from Oxford University, Christian Frederick Cole was the first black African to be called to the Bar in 1883. Over a hundred Indian men were called to the Bar in the same decade, including Mahatma Gandhi in 1888. But most of these lawyers went on to practise overseas, as social discrimination in the UK made joining existing firms tough.
The 1968 Race Relations Act rendered workplace discrimination illegal, but subsequent progress in real terms was slow in the legal sector. And although figures for the following few decades are hard to come by, events in the 1990s including the Stephen Lawrence trial put a new focus on racial discrimination, while increased levels of integration caused a widespread shift in social attitudes.
It's worth bearing in mind that some minority groups are more represented in the legal profession than others. Law Society statistics show that Asian lawyers are relatively over-represented, while black lawyers are under-represented.
A Law Society report has found that ethnic minority lawyers have a disproportionately high representation in practice areas such as personal injury, family, and immigration. These areas are generally lower paid, and tend to be less prestigious within full-service firms, as after years of cuts to legal aid, they account for a dwindling proportion of total revenues.
"There's a lot of chat here about what school you went to, and what holidays you went on. There are firm things like ski trips which I can't go to because I never learnt to ski; it's a whole world that I didn't have access to when I was growing up."
Bias
Conscious bias is a fact of recruitment. CV scanning for the right fit at law firms inevitably favours established indicators – Russell Group degrees, worthy gap-year ventures, orchestras, long periods of unpaid work experience – so much of which is the territory of the privileged. That ethnic minorities are over-represented in the lower income brackets excludes many from being able to fill their CVs in this way. Here we could start listing all the blatant and nuanced social injustices, so let's just move onto unconscious bias – harder to detect and harder to overcome, and perhaps a greater problem facing ethnic minorities once they arrive at a firm. The bias originates from a person's instinct to associate and grow bonds with those who seem most like themselves. A lawyer's success at a firm is tied into relationship building with recruiters, mentors, partners and clients, which means that this bias pervades so much of life at a firm.
Relationship-building in law firms is so often tainted with the 'old boys' club' stereotype, and lawyers who don't share the prevailing experiences can end up being left out. One City law firm trainee told us, "there's a lot of chat here about what school you went to, and what holidays you went on. There are firm things like ski trips which I can't go to because I never learnt to ski; it's a whole world that I didn't have access to when I was growing up."
Socialising most often means drinking, which can be a problem for ethnic minority lawyers who don't drink for cultural or religious reasons. Almost every firm we survey has a local pub where trainees and their seniors socialise – whether the same bonds can be grown over a diet coke as a pint of bitter depends on the culture within the firm.
Ethnic minority lawyers who are made to feel unwelcome at firms may simply choose to go elsewhere, or to leave the profession entirely. Ethnic minority lawyers are disproportionately likely to leave practice compared to their white peers.
What are firms doing to change?
Replacing a qualified lawyer is costly, so law firms are realising they can't afford to have high attrition rates even at the most basic financial level. But, more crucially, escaping the social stigma, appealing to a forward-thinking, globalised clientele, and promoting the most talented people mean that on all levels firms are acknowledging the urgency of change.
One emerging policy is CV blind recruiting, which was recently introduced by Macfarlanes (20% BME trainees), Mayer Brown (16%) and Clifford Chance (31.7%). This involves recruitment teams whittling applications down by CVs and online forms in the usual way, but then partners interview the candidate with no prior knowledge of their background. According to CC's hiring partner Laura King, this method "prevents the interviewer from forming preconceptions before they meet the candidate."
Large UK firms are learning lessons from their American cousins, who are becoming adept at running scholarship and pipeline programmes for promising underprivileged students. In the US, three years at a top law school will cost $150K, so 'underprivileged' is probably the wrong word, but this does mean the profession is inundated with rich kids who can afford to fail. Equally, the UK market is heaving with privately educated lawyers. So with an industry image change being the priority, addressing social mobility in the law tackles the ethnicity issue, too. In the UK, Herbert Smith Freehills (21% BME trainees) is offering a scholarship programme designed to up its numbers of ethnic minority trainees. They'll give two candidates a year scholarships worth £9,000 each over the course of a three year degree, as well as offering work experience and an interview for the firm's vac scheme.
Other firms are seeking to scoop up potential talent even earlier in their educational careers, and this movement has gained momentum since tuition fees rocketed and university became even less accessible. Magic circle firms have long been running schemes to offer work experience to school and college students from disadvantaged backgrounds. Clifford Chance also works with specialists such as Rare Recruitment, which help source candidates from a wider range of universities than the firm is able to visit. But City firm Mishcon de Reya has gone one step further, luring spotty seventeen year-olds straight into full time employment courtesy of its apprenticeships. Two placements a year will put school-leavers on a long, but fully funded, training route which could see them qualifying as paralegals after two years, but could lead all the way up to trainee lawyer status. It's worth noting that the measures that Norton Rose has in place are very simple but clearly paying off; progress can be easily made when firms recognise the need to change.
For now your job is to get a training contract at a firm where you'll thrive; if the issues we've covered above concern or motivate you, pay attention to our reviews of firms' cultural aspects, their internal attitudes and efforts to modernise.