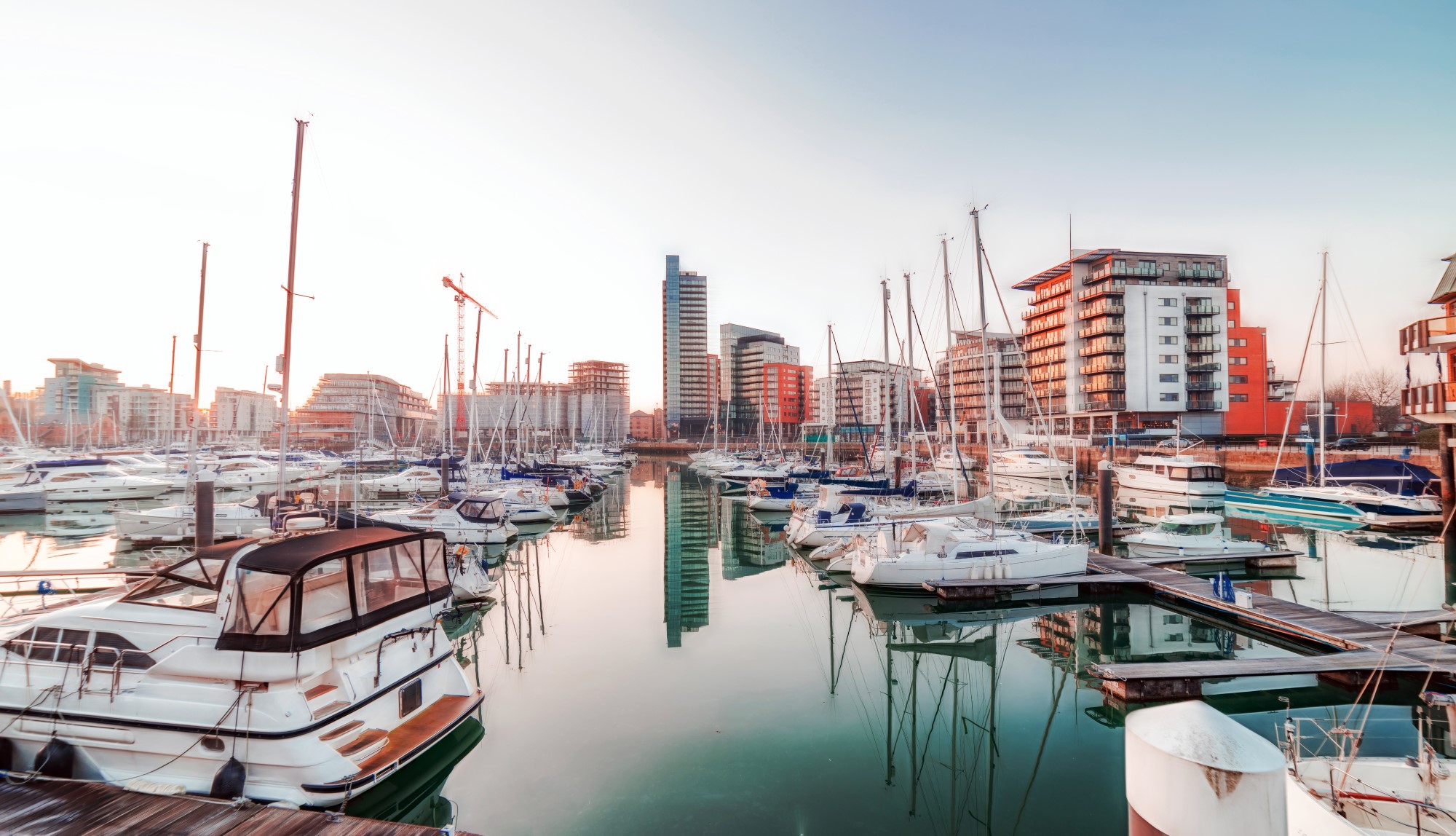 Next on our journey around the UK with WBD, we learn about being a lawyer in Southampton and the South Coast.
Womble Bond Dickinson has a strong presence regionally in the UK. Dickinson Dees and Bond Pearce merged to create Bond Dickinson in 2013, and in 2017, it combined with Womble Carlyle Sandridge and Rice to create Womble Bond Dickinson. The firm now operates across 27 offices in both the UK and the US. The firm is rather unique in its focus on the local and the global markets, and incoming trainees are given access to all of this. Across this series, we've spoken with partners and solicitors practising at various UK offices to dive deeper into the firm's 'local, national, and international' mantra, and to help students learn about life as a lawyer across the UK regions. On this occasion, we look south with Joanne Beattie-Edwards and Krish Dholakia – legal director and corporate associate respectively – who both work in the firm's Southampton office.
"It's important we have a strong footing in the local market as well as making sure our national clients are looked after."
"I think it's because they'll be happy," tells Krish Dholakia when I ask why someone should chose to work in the Southampton office. "That's not something you can often say about a lawyer or prospective lawyer." It's a "lively city," says Dholakia. "I think it's got a really good mix of everything you need," chips in Beattie-Edwards. The city combines a "really excellent" shopping scene and thriving commercial ports – those infamous ports from which the RMS Titanic infamously set sail. Dholakia adds: "While it's not known for entertainment and media, the theatre opposite the office is brilliant! Plus there's a large variety of restaurants and pubs, and two large universities on the doorstep." And if the heady thrills of university life colouring the city aren't your bag, Beattie-Edwards also speaks to the region's pastoral appeal. With quick access to the New Forest, "beautiful villages," and Winchester and Chichester, "there are lots of opportunities for downtime here," she finds.
"I'd say the firm is the main heavyweight player in the region"
At the risk of becoming a Wildlife Trust advertisement, it's important to talk shop: namely, the office's strengths in the financial and retail sectors. "Although we're not limited solely to that," Dholakia adds. "We have a range of property work for a large number of clients across the UK – same for the corporate team." Beattie-Edwards adds: "The docks are also really important for many things. It's not just the goods coming in and out but also the surrounding occupier space, with thriving businesses."
And its reputation? "I'd say the firm is the main heavyweight player in the region," tells Dholakia. "We're the largest national office for any law firm, and the only properly national and international law firm, in the area." This blend of the local, national, and international permeates the whole WBD network. "We work for a lot of national and local clients," Beattie-Edwards notes. "It's important we have a strong footing in the local market as well as making sure our national clients are looked after." There are clients on the national stage, such as Kingfisher, or clients with a more localised focus, such as the firm's advice to Rentplus-UK on its collaboration agreement with Winchester Housing Trust. "We service a large number of top-tier clients in the region and that's why we call ourselves a heavyweight player," Dholakia concludes.
"We're organised across the country by teams and sectors and that naturally shapes the office."
For both Beattie-Edwards and Dholakia, the firm makes good use of its structure – that of multiple bases across the UK and US – to complement the localised efforts. "We're a strong part of the national network," finds Beattie-Edwards. "We're organised across the country by teams and sectors and that naturally shapes the office." Regular teamwide phone-calls and networking bolster this collaborative approach. "I see a high level of collaboration between the offices," affirms Dholakia. "For example, the most recent property support I've had has been from Bristol, and I regularly seek IP assistance from Newcastle and Leeds."
Following its transatlantic tie-up, colleagues in the US also pitch in. "There's a strong energy focus in America," Beattie-Edwards finds. "I've picked up the phone to ask for help on projects more embedded in the States." She also adds: "It's just about knowing that someone's there to ask a question to, which helps erase the border and gives us further insight." This integrated style isn't limited solely to fee-paying clients either, as Dholakia notes. "We have a diversity and inclusion committee which liaises with our US counterparts to learn from them and each other." She adds: "We're aware of that resource and tap into it."
"…makes it easy to spend time and work in London, but you're able to get back quickly to the greenery and calmness of Southampton."
While a wide national and international network helps keep colleagues supported, a defining characteristic of regional firms – and of WBD in particular – is its commitment to local communities as well as the economy. The junior end of the firm is especially involved in initiatives such as reading groups with local schools, doing interview practice sessions, supporting the Roberts Centre in Portsmouth in providing children's gifts for Christmas, supporting the Southampton City Mission, and doing events with the University of Southampton, as well as contributing to the Hampshire Chamber of Commerce. "It's about reminding everyone that we're still here and even though we've combined with Womble Carlyle, we're still dedicated to our local relationships and care about them," Dholakia notes.
But beyond the work and the city itself, what's the Southampton office really like to work in? "It's a really friendly office," tells Beattie-Edwards. "There's a really good vibe here with people genuinely wanting to get along with each other." She also adds that the office is less than an hour and a half away from Waterloo, which, "makes it easy to spend time and work in London, but you're able to get back quickly to the greenery and calmness of Southampton." For Beattie-Edwards, the benefits are clear. "The quality of work is on par with London," she finds. "But you get to work from a much greener area."
"I wanted closer relationships with colleagues, rather than just working hierarchically, and wanted direct relationships with partners instead of working with intermediaries."
"There's a much better work-life balance here," Dholakia finds. "But I would also say that's taken into consideration when you find out your salary," she laughs, "which is unavoidable." Ultimately, though, it's about weighing up competing priorities. "I have a better balance, I get paid less, but the quality of work is comparable if not better."
Dholakia, who herself trained in the City, considers the other dynamics that drew her away: "I wanted closer relationships with colleagues, rather than just working hierarchically, and wanted direct relationships with partners instead of working with intermediaries." She adds: "Where you have a slightly lower salary and work in a place with people dedicated to maintaining a healthy work-life balance, that encourages more positive and fruitful relationships, because you respect each other."
"It's big enough as a cosmopolitan city to experience life that is still rooted in community."
And for Edwards and Dholakia, the Southampton office ticks these boxes and then some. "If you want quality of work and quality of life in the same place, then coming to a place like Southampton gives you that opportunity," Edwards finds. "Trainees are really integrated here, too. We don't expect them to come and sit in the corner, bill so many hours, and go home; we want to pull them into the life of the firm and that's a really important part of training and retaining."
Dholakia concludes: "It's big enough as a cosmopolitan city to experience life that is still rooted in community, while working in a place that attracts others who want a healthy work-life balance, and who actively encourage positive communication within the office and care about your wellbeing."