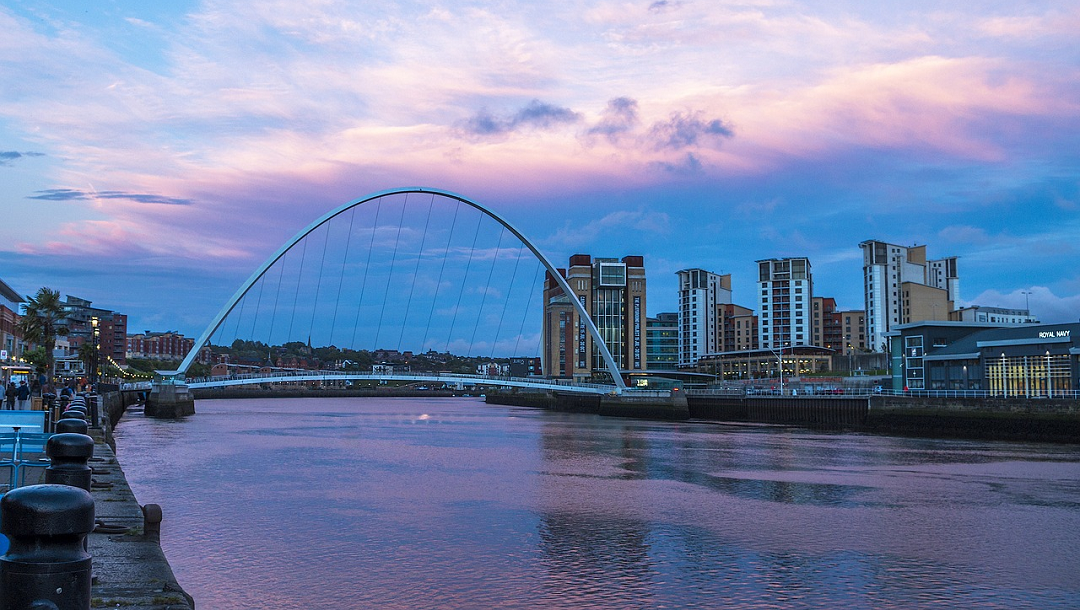 With the help of Womble Bond Dickinson partner Kevin Bell, we delve into legal life in the North East's biggest city.
Joel Poultney, October 2020
Womble Bond Dickinson is a firm with sprawling roots. The firm operates across 27 offices in both the UK and the US, Dickinson Dees and Bond Pearce having merged to create Bond Dickinson in 2013 and then in 2017 forming a combination with Womble Carlyle Sandridge and Rice to create Womble Bond Dickinson. Its purview is now wide, with incoming trainees given access to a range of work encouraging both local and global thinking. Across this series, we've spoken with partners and solicitors practising at various UK offices to dive deeper into the firm's 'local, national, and international' mantra and to gain a greater understanding of what life is like in the UK regions. And what better place to start than where it all began in Newcastle, the firm's largest office, with Kevin Bell who is a partner in the Transport and Infrastructure team.
"Newcastle is no longer the backwater place it was once seen as," tells Bell. Where once unfairly viewed "as a place of just coal mines and shipyards," thankfully, he reveals while dismissing such stereotypes, "it's a really developed region." Developments momentarily aside, one Newcastle stereotype still stands firm; and no, not necessarily its love for Greggs bakery. "What sets it apart," says Bell, "is the people, the warmth, and friendliness of the city." While no means scientific nor scholarly, Big Seven Travel last year concluded from a question posed to its 1.5million social media followers that Newcastle was the UK's friendliest city, evidencing that Bell's claim – who himself is "a local lad" – carries weight without bias.
"the people, the warmth, and friendliness of the city."
"It's a big city," he also adds, "but not big enough where you feel you don't have a handle on things." Bell points to the professional network cultivated by proximity within the region. "As a trainee, I had good relationships with my peer group in the firm, but also had ample opportunities to mix and mingle with other lawyers, accountants and similar professionals." Unlike bigger cities, connections across Newcastle and the surrounding regions are there to be made through its size and sociability. "It's a really good city to be growing up in your profession," Bell concludes. He also adds: "There's lots on your doorstep, both workwise and socially, and you are ten minutes away from beaches and national parks."
The firm has two offices in the city: St Ann's and Trinity. "We're the largest law firm in Newcastle by some way," tells Bell. "I think we are seen as the pre-eminent law firm in the North East." Again without bias, Bell's perception echoes that of Chambers UK who award seven top-tier rankings for the firm's work in the region. The firm is also dubbed a National Leader outside London by Chambers, pointing to a whole host of highly commended practices. "We do great work for lots of clients in the region," Bell notes. "We continue to serve the North East as well as being home to a number of strong teams who serve our national and international client base too."
"Our commitment is to continue to serve the region as best we can."
For Bell, the twin focus of the local and the national is something characterising working life for him in Newcastle. Whether advice on highly significant localised matters for the likes of Newcastle City Council on its £45 million refurbishment of the Civic Centre, or work for national clients across various practice areas – such as the Department of Education, IBM, or the various transport sector clients that Bell works with – the scope is broad for WBD solicitors in Newcastle.
Despite the allure of working with nationally renowned clients, Bell speaks to the importance of serving the locale. "We have a significant focus on how our firm can have a strong impact and shape developments in Newcastle." He adds: "Our commitment is to continue to serve the region as best we can." And crucial to bolstering this commitment is the expertise drawn from the firm's national and international scope. Bell finds: "We're not ashamed to say we work for some big national and international clients because it allows us to bring that expertise and apply it equally to the regions and support our regional client base." He points to local partnerships and collaborations – like the NewcastleGateshead Initiative or work with North East England Chamber of Commerce – as evidence of his practice having a more tangible impact, rather than much of the abstract nature of work characterising life in City firms. Bell similarly notes that "manufacturing, energy and renewables, emerging technologies, life sciences, and pharmaceutical work are all areas that we're leading from the front in Newcastle."
He goes on to add that, "we are quite vocal in promoting the North East and wanting the region to do well. We're a big business within the North Eastern market ourselves, with around 450 employees, so it's important to see the region succeed." For Bell, these locally-centric deals – such as his team's advice on the procurement of new trains for the Tyne and Wear Metro – evidence the importance of being connected to the region and "being able to work on deals that have a community element, too."
"We're not ashamed to say we work for some big national and international clients because it allows us to bring that expertise and apply it equally to the regions and support our regional client base."
Beyond the practical benefits that come from working outside of cities like London, like "not having to work until midnight every night as a rule" or "getting a bit more house or flat for your money," for Bell, born and raised in the North East, connection to his region continues to be part of the appeal. "Prior to lockdown, there was never a better feeling than spending a week in London working on a high-profile deal but then coming back home over the Tyne Bridge and coming back to your city." The opportunity to do "high quality work for high caliber clients" and "live in a fantastic region" is at the heart of things for Bell. "I'm not wanting to put myself on a pedestal," Bell muses. "But it's important to show to would-be trainees that you can be a local lad and get to the top and become a partner at a very successful law firm. Thankfully it's happened to me and hopefully a good example that it can happen to you, too."
Learn more about Womble Bond Dickinson's practice in Newcastle.