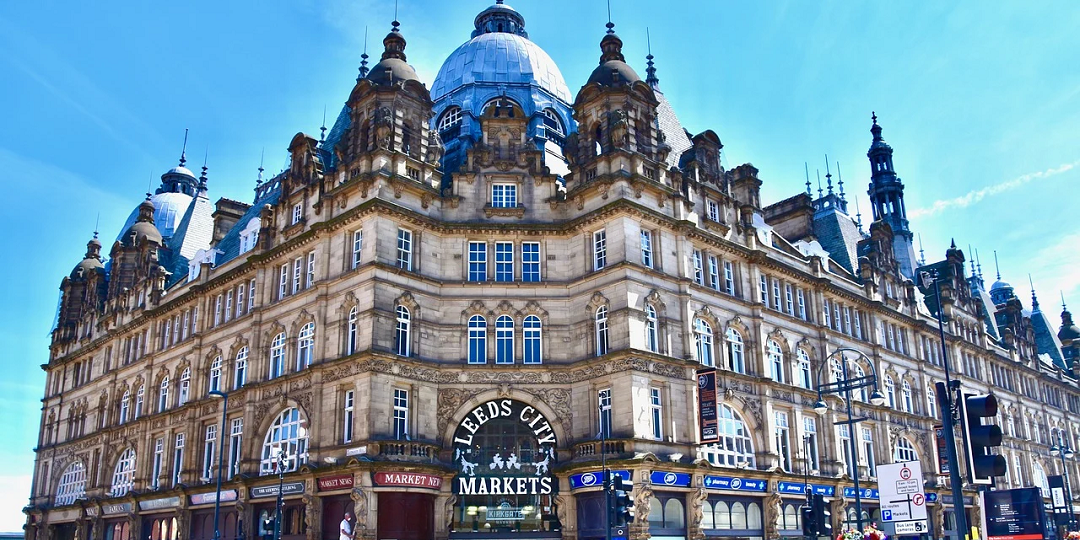 One of the UK's fastest growing cities, Leeds is an increasingly bright beacon for the lawyers of tomorrow.
Joel Poultney, February 2021 
Law firm mergers have only become more common in recent years, creating firms with sprawling roots like Womble Bond Dickinson. Let's trace their family history: Dickinson Dees and Bond Pearce merged to form Bond Dickinson in 2013. Then in 2017, that tie-up combined with Womble Carlyle Sandridge and Rice to create Womble Bond Dickinson. WBD operates across 27 offices and incoming trainees are given access to work that requires both local and global thinking. Across this series we've spoken with partners and solicitors practising at various UK offices to dive deeper into the firm's 'local, national, and international' mantra, and to gain a greater understanding of what life is like in the UK regions. On this occasion we caught up with partner Andy Stirk and associate Beth Kalischer, both based in the firm's office in Leeds.
In the Leeds City Region, there are more than 1,560 legal companies – including 28 of the UK's top 100 law firms – all generating nearly £1 billion per year for the locality. WBD's Andy Stirk doesn't find this surprising. "Leeds has always been a strong legal sector," he says, "and it still attracts quality candidates." Where historically the city was dominated by the so-called 'Big Six' firms, WBD arrived in Leeds less than a decade ago and now sits at the table of a thriving legal market. "We have a positive reputation here," notes Beth Kalischer. "You have the traditional 'Big Six' but we compete with them for all work." Stirk adds that where once Womble Bond was perceived as "a challenger brand," the firm has now established itself as "a full legal service provider in Leeds." The firm garners praise in the Yorkshire region from our colleagues at Chambers UK, who commend the firm's strengths in lower mid-market corporate/M&A, IP, planning, restructuring/insolvency, banking and finance, and real estate.
"Leeds has always been a strong legal sector and it still attracts quality candidates."
In the legal scene and beyond, Leeds is a city on the rise.2017 research showed the Leeds legal sector is growing faster than that of any other UK city, outperforming London and Manchester. Findings in 2018 predicted the city's £64.6 billion economy to increase by 21% in the next decade, with the city among the strongest in country for urban growth. And as of 2020, research found that the region has seen 48% growth in digital sector employment over the last three years, outstripping London and all other regions in the UK. These figures and more have prompted many commentators to suggest the London-centric tide might be turning. "Leeds as a city has previously undersold itself for a variety of reasons," finds Stirk, "but excellent work comes out of Leeds and it is now starting to promote its successes."
"The city is constantly growing with new things regularly being built and opened," adds Kalischer. For Stirk, this evolution can be pinpointed to choices made in the mid-noughties. "Decisions were made to grow Leeds to be appealing for city living," he finds. "The development of Trinity Shopping Centre was a big moment in changing the fabric and image of the city." Ushering in big name brands and retail working opportunities, "the Centre grew the city's appeal for businesses coming to Leeds." Stirk also adds that the emergence of more dynamic industries and sectors, coupled with newer opportunities for skilled graduates, makes Leeds "100% more appealing" than when he applied in the late 90s. "The city didn't work back then; these changes have significantly shaped the make-up of Leeds."
As growth begets growth, Stirk finds "the development and investment in Leeds has been instrumental" in attracting headline-grabbing clientele to the region over recent years. 2017 saw the Cabinet Office announce plans to centralise HMRC in Leeds. Channel 4 relocated its operation to the Yorkshire city, as did Sky Betting and Gaming who launch their new HQ in Leeds in 2021. "There's so much going on in the city," adds Kalischer. "It's really growing."
"The city didn't work back then; these changes have significantly shaped the make-up of Leeds."
Coupling the advent of these new organisations and workstreams, both Stirk and Kalischer point to predominant sectors in the city and surrounding regions. "Retail and manufacturing have always been big here," Kalischer notes, with Stirk adding that the regional parts of Leeds have always boasted a strong manufacturing presence: "It's also known for its financial services and healthcare work, with all the main clearing banks, private equity houses and other types of funds maintaining a strong presence."  Intrinsic to sustained growth will be the city's relationship with forward-looking industries. A report from Leeds City Region last year highlighted 8,500 digital tech companies were prevalent in the region, with Tech Nation finding in 2019 that Leeds was the best place to work as a data scientist. Stirk highlights this ascent: "The rise of tech and innovative based businesses has significantly increased over the last five years, as tech will and continue to be at the heart of things moving forward."
Alongside these sectors, practitioners in the WBD Leeds office boast specific strengths. Both Stirk and Kalischer highlight the office's strengths in property, development, and infrastructure work, with its residential team practice growing through recent lateral hires. Stirk also points to a healthy reputation in the corporate/private equity space, with colleagues "doing some really strong work with the main private equity houses." He also highlights the restructuring strengths the team has in Leeds. "We now have two restructuring partners based in Leeds and the team is winning some great work from the local and national markets."
While Leeds may house these teams, WBD prefers to resource matters with colleagues from across the nation, as we've seen earlier in our series. "Take the corporate team," Kalischer says – "it's likely that you will need people from all sorts of practice areas and offices." She goes on to add that "just because someone's based in Leeds, it doesn't mean that they will solely work here as there are lots of national matters." Stirk similarly speaks to this balance: "We will staff matters with regional-based fee earners but with a back up of a 'one team approach', where we bring in sector experts from across the country." This interplay between the regional and the national colours much of working life for those in Yorkshire and the wider network. "There's a real mix of local and national clients here," Kalischer says. "It's a complete mix." So whether acting for HSBC in connection with Yorkshire County Cricket Club's acquisition of the freehold of a local pavilion from Leeds Beckett University, or advising ITV Studios with regards to its new filming location for last year's series of 'I'm A Celebrity', practitioners in Leeds benefit from national and regional staffing for national or regional clients. "It's a flexible model and we get the balance pretty right," Stirk finds.
"We will staff matters with regional-based fee earners but with a back-up of a 'one team approach', where we bring in sector experts from across the country."
The Leeds office welcomes between three to four trainees per year. According to Stirk, the training contract is a "two-way process" whereby trainees "put everything into it" and the firm "gives them the best and broadest experience it can." For Stirk, the evidence of success hinges on the shift to becoming an NQ; for him, "it's the key litmus test." He says that there should be a seamless transition between one's last day as a trainee and that of their first day qualified. "We will always treat trainees as NQs," he shares. "We give them lots of responsibility, with appropriate supervision, but we want them stepping up to NQ without it being a shock."  Kalischer thinks along the same lines: "During the later stages of the contract, you want trainees running their own matters with supervision." She cites a recent banking transaction as example. "One of our trainees drafted the banking ancillary documents and negotiated with fee earners on the other side of the matter." Eschewing fears of trainees being used as "resources for cheaper time costs," Stirk is keen to highlight the elevation of trainees during their contract: "We're really keen to make the last day of a training contract and the first day of being an NQ no different. We build the right foundation to develop their career."
In part, this foundational element can be drawn from the firm's approach to working life. "There's a perception at other firms that you have to be at your desk regardless of the time," Kalischer feels. "At WBD nobody wants people here at their desk for the sake of it." Hours will of course fluctuate dependent on teams and specific matters, but generally "working later is more the exception than the norm."
Stirk adds: "I think we have a great team culture here; we're an open-plan office and it's encouraged for trainees to integrate." With working from home during the Covid-19 pandemic naturally stripping back these office dynamics, Kalischer seems eager to return to the office. "It's a fun place to work," she warmly concludes. "I can't wait to get back as you realise how much you miss those daily interactions having been away." You and us both!