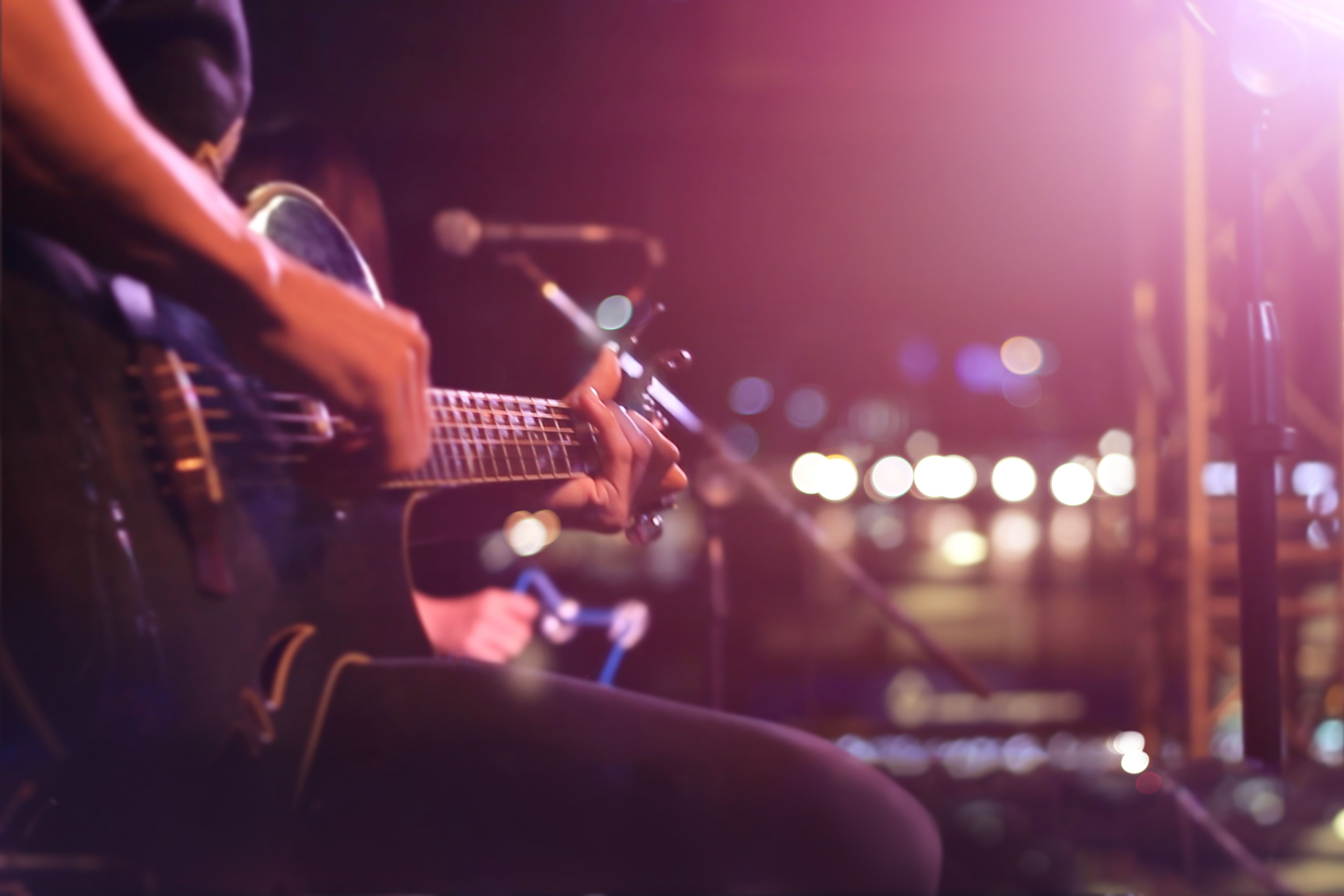 If you wanna be a (music) lawyer, you gotta get with the trends. Music is amazing, but the advice never ends…
In a nutshell
So, you love music. Like, love it love it. But you're a practical sort, and other than a short-lived garage band experiment and that slightly cringey acapella video you posted on TikTok, you've decided against pursuing a life as a musician. Instead, you're thinking about law and wondering what happens when you combine your passion with your career? We spoke to three music lawyers from two of the three top-ranked firms in Chambers UK; Gavin Maude, from Russells, and Will Everitt and Liv Lyons, from Lee & Thompson, to find out about a life at the top of the music lawyer charts.
"...music lawyers are dealing with contract law and IP law. If you're a commercial music lawyer, then those are the legal foundations."
The first thing to be absolutely clear about are your intentions, says Everitt, partner at Lee & Thompson. "There's a job in the entertainment industry and there's a job in the legal profession," Everitt explains, "and sometimes there is a subtle line between the two."
With that cleared up and our gig gear returned to the closet (for now), what's music law like? At its most fundamental level, Everitt explains, "music lawyers are dealing with contract law and IP law. If you're a commercial music lawyer, then those are the legal foundations. Within IP, you're mostly dealing with copyrights and trademark work and related issues around that. Another broad foundational base is dispute resolution and litigation." On a broader note, Everitt highlights that "we're often part of a wider advisory team which exists around our clients, and we give legal and also strategic advice to them."
From the general to the specific, for every recording, Maude explains, "there is the copyright in the master recording, the music and the lyrics and from the exploitation of that there are multiple revenue streams payable to multiple individuals and entities. And that's just one area of music law." There are, of course, so many others, adds Maude, including "touring, which we get involved in with things such as visas, tour sponsorship, private jet hire, crew agreements, live broadcast deals, bus companies/trucking, and equipment hire, for example, stage and lighting." There's also "merchandise, endorsement, management contracts and any other area the client takes us including film, TV and modelling."
It is for this reason that former musician, Lyons, a senior associate at Lee & Thompson, suggests that while legal knowledge is important, understanding the industry is crucial.
"Although having a deep understanding of the law and its application is fundamental to any practicing lawyer, much of what we do day to day focuses on applying commercial music industry know-how," says Lyons. "So, for example, knowing the average major label record royalty rate and how this is impacted in various scenarios is the type of knowledge you acquire on the job and is a valuable aspect of the advice we give alongside a rigorous application of the law." Lyons adds that "getting to know what the music industry commercial 'norms' was one of the biggest challenges in the early stages of my career." For her, "such knowledge can only be acquired through practicing."
"Lots of people love listening to music, but if you can show you have a genuine commercial interest in the music industry, and can demonstrate your real commitment to it and why it interests you, that will help."
Maude partially agrees: "I think it helps to give proper advice to understand the mechanics of the business," he muses. "That's not law. How the A&R people think and operate, which labels are the best labels currently, which are the best managers, agents, merchandisers, etc. These are all things clients will ask and none of that is learnt at law school." 
Everitt chips in: "Up-to-date industry knowledge and know-how is how we are adding value over and above legal advice," says Everitt. "You can read a book to understand things like a typical rate of royalty, but we can say 'At the moment, in real time, this is where the market is.'"
For those thinking of auditioning, gaining "experience in the area is key" for aspiring music lawyers, says Lyons. "Lots of people love listening to music, but if you can show you have a genuine commercial interest in the music industry, and can demonstrate your real commitment to it and why it interests you, that will help." Maude is more direct: "Please don't do a summer placement with a City firm," he exhorts. "Go and work for a management company, booking agent or a record label or publishing company. I don't want you to photocopy, I want you to book bands or help on an artist release."
The trick, says Everitt, is to "add to your value proposition. I went to gigs and read music-business journals, and if I saw an interesting article in a newspaper for example, I'd cut it out, and keep it. I was building a folio of interesting things." At some point, says Everitt, "you're going to end up in an interview against others and the decision will come down to someone who can show knowledge and a real interest of the industry."
Realities of the job
As you might expect, our sources work with top artists. At one point, in explaining how lockdown affected her clients, Lyons casually drops a household name into the conversation. It's a reminder of just who these lawyers speak to on the daily. But what are the realities of the job? "As a former aspiring musician in the music industry, I am passionate about helping an artist tread a less-precarious path to success and strike the best deals they can in order to guarantee a shot at long-term success," says Lyons. "Clients I took on in the early stages of my career are now starting to break through internationally and it's a privilege to see that. But the reality is clients need support to achieve this level of success and it's not unusual to be on the phone late at night navigating them or their team through the challenges." Maude agrees: "The only time you really get a break is Christmas," he nods, "the rest of the year there is always communication. Most artists are cyclical and come in and out of cycle based on album releases. If they are out of cycle, they are often quiet but if you represent a big artist and they are coming into cycle…," he pauses, "then there can be a lot of issues to address in a short period of time and they are coming at you (and the team) in quick succession. It is often very exciting."
Maude notes that when "artists are used to people taking their calls at any time of the day, there's an expectation of your availability, and if you're representing big artists, many of them live abroad and may need to communicate in a different time zone to you." Maude highlights that that time is "willingly given most of the time," but would agree with Lyons when she notes that it's "not unusual to work 12-hour days. I think working as a lawyer in the music industry is also a lifestyle choice," she says.
Maude explains that "when you start out, you are focused on IP – recording and publishing contracts…When a client blows up or you get to work with a principle who has large clients you really need a good understanding of every aspect of law, contract disputes with builders, purchasing houses, employing staff, setting up touring companies, selling catalogue, getting divorced, road traffic offences, issues with the press, probate on death, tax…If a client gets themselves into serious trouble, they're usually calling their lawyer, or the manager first. If they phone the manager first, the manager is going to call me if it is legal." Maude says that when he was at university and law school what he "didn't appreciate was I would need all the disciplines I was being taught: wills and probate, corporate, matrimonial, employment…I used to think, 'I won't need that, I'm going to do IP.'" But, says Maude, you need it all. "And," he adds, "you need good intuition: about knowing when to push negotiations, when to litigate and when not to, when to settle disputes, knowing when to do things overtly or discreetly… These are all very important."
"There's the pressure of being on call and the pressure of getting the advice right."
Everitt notes that "being a lawyer at the higher end of the business can be pressurized. You have to develop a resilience for that." Everitt explains that "there's the pressure of being on call and the pressure of getting the advice right. Our job is to think and formulate advice and that time to think is getting shorter and shorter."
But just as you're starting to think that a nice quiet job in corporate M&A is just what the sleep doctor ordered, Everitt brightens: "It's a very exciting end of the legal profession. It's an interesting and exciting career if you can get it right." Lyons agrees and tells us that "it's a real privilege to help a gifted young person navigate their way through what is essentially a highly complex business when that person often has little or no experience. It's a very rewarding experience to watch success happen having assisted a talented artist reach their potential. Being a music lawyer is often fast-paced, and there isn't always a guarantee of being paid for all the advice you offer, but it's a privilege to play a special role in someone's career."
Current issues
As with every area of life and law, "Covid has introduced a lot of new realities," says Lyons. "Live music took a massive hit and many artists turned to digital livestream events in order to continue to be profitable." While for us, as consumers, this could be a nice bit of distraction from whichever lockdown we were currently in, for Lyons and her colleagues "these events gave rise to complex rights clearance issues including global PRO licensing and how ownership and revenue should be shared between the artist, their labels and publisher.  At the time it challenged many accepted 'norms' in the industry," she says.
Both her and Maude mention catalogue sales as an area of recent growth, along with a lot of players in the industry coming up with innovative and entrepreneurial products like NFTs (non-fungible tokens). "Most lawyers will tell you that in the last 18 months has been the busiest they've ever experienced!" Lyons exclaims, "But it's great job and new challenges presented every day."
Another major issue, says Maude, is "diversity. As an industry we're cognisant of the influence Black artists have had in music, consequently it is absolutely acknowledged that there needs to be more representation and opportunity within it." Encouragingly, Maude says, there's a "real desire within the business to do better in the workplace."
Everitt, highlights "a DCMS committee that reviewed the overall economics of streaming and the findings showed that there are still a number of areas of concern." In addition, as with every practice area, "climate issues are increasingly important to our clients," thinks Everitt. "Sometimes the conversation gets buried in day-to-day industry issues, but the climate crisis is big and important." For example, "is streaming is a better use of energy compared to shipping vinyl around the world. It will require more investigation." Finally, Everitt says it'll be interesting to see how the pay-per-view model (so prevalent during the height of the Covid crisis) will adapt in a post-Covid world.
Researched and written by Nikolai Viedge, February 2022.