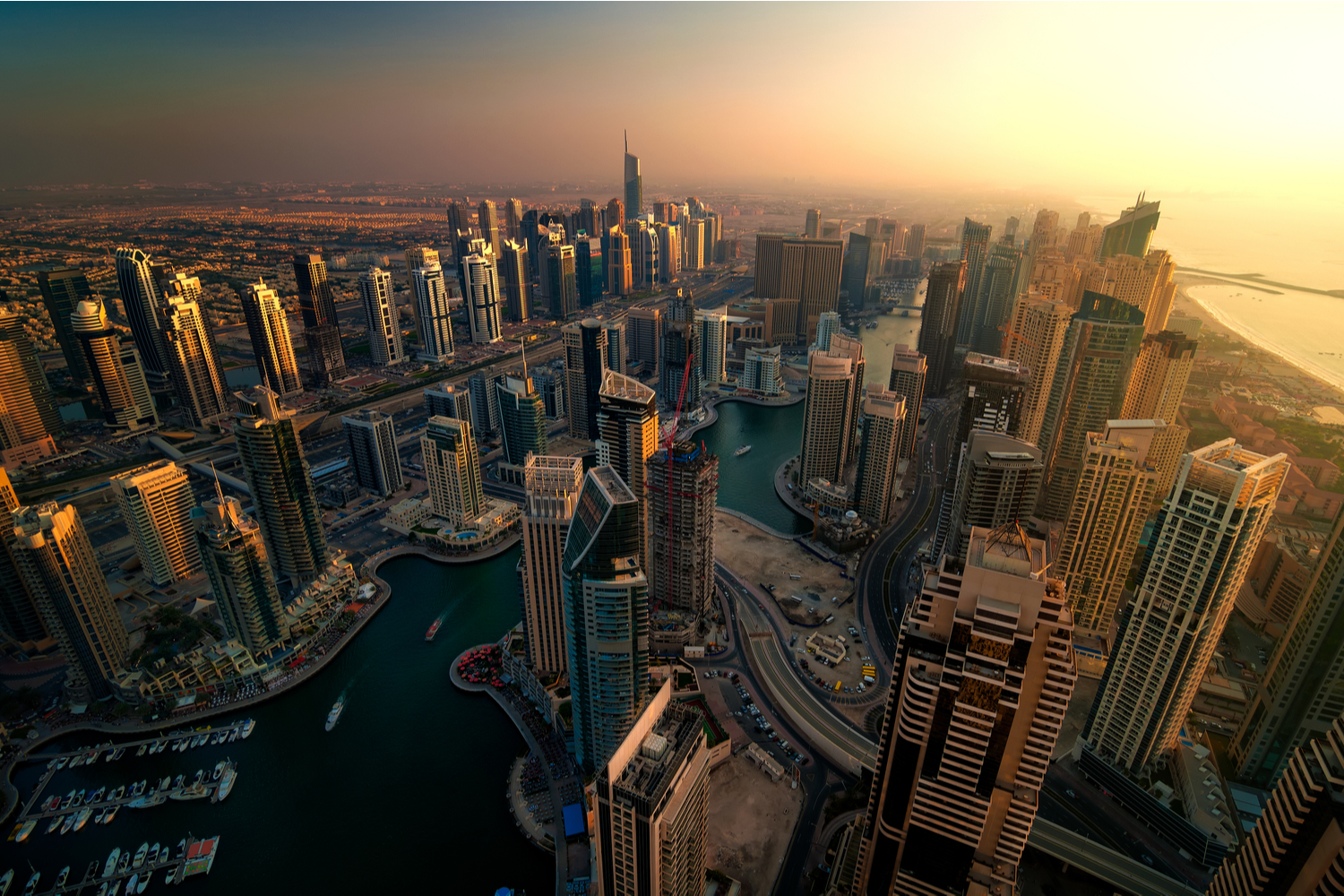 The Middle East is an essential hub for many of the world's largest international law firms. We spoke with lawyers at elite global law firm, White & Case, about its rich history in the region, as well as secondment and post-qualification opportunities.
The Middle East is a region that has undergone a huge transformation over the past fifty years. Part of its rapid growth has been driven by the region's huge abundance in fossil fuels/natural resources, which has seen certain locations evolve into global economic centres. Qatar and Kuwait, for example, now have among the highest GDP per capita of any country in the world, while the UAE has transformed itself from an economy reliant on fishing and pearling into one of the world's wealthiest countries in just half a century.
White & Case was one of the first firms to spot the potential, having been active in the region for nearly 60 years. The first of its offices in the region opened in Jeddah, Saudi Arabia in 1989, followed by Abu Dhabi (2007), Doha (2009), Dubai (2013), and Muscat (2021). In total, the Firm now boasts over 150 lawyers in the region, incorporating associates from all over the world. Chambers Global recognises White & Case as one of the top firms in the region for its corporate, Islamic finance, capital markets and projects & energy work. 
"There's a massive capacity for growth here given the sheer wealth that's in the region…"
White & Case has experienced tremendous growth across the Middle East over the last five years. Hugh Brünjes, an associate in the firm's Abu Dhabi office, explains: "There's massive capacity for continued growth here. The UAE is increasingly a key financial market and is supported by a growing service industry. This is all underpinned by the significant resources that, for example, sovereign wealth funds are looking to deploy as the local and regional economy diversifies."
New Money
For trainees in the UK, a hallmark of a training contract with White & Case is their guaranteed overseas seat. Trainees typically spread their wings during their fourth seat with opportunities to second to both the firm's Abu Dhabi and Dubai offices, amongst plenty of others. "The firm's amazing secondments to the Middle East was one of a number of factors which attracted me to White & Case," Brünjes recalls, adding: "White & Case is a great firm if you're looking to complete legal work out there." The Firm allows its trainees to qualify in the region, subject to business need, and permanently work there as an NQ. Sonia Abdul-Rahman, local partner at the Dubai office, explains why the Firm invests so heavily in its trainees going abroad during their TC: "White & Case wants to build lawyers up with a global mindset so they're able to work seamlessly across offices and provide insights to clients from a well-rounded, cultured perspective."
"White & Case wants to build lawyers up with a global mindset so they're able to work seamlessly across offices and provide insights to clients from a well-rounded, cultured perspective."                                                             
Reviews of those with experience of overseas seats are almost universally positive. Cassy Raby, a capital markets trainee on her overseas seat in Dubai, tells us: "My secondment has been a really great experience, particularly after being cooped up in London during the pandemic! It feels great to travel and to be working in the office with my team." Although lawyering in a completely different country, Raby felt quite at home in Dubai, citing the strength of White & Case's consistent firm culture: "The firm's core values are the same in Dubai as they are in London: everyone is very entrepreneurial; the teams are as just as, if not more leanly staffed; and the work you get is just as international and innovative. The transactions I have been working on are very similar to the ones I was working on at home in the UK." As for differences, due to the Dubai office and teams being smaller, trainees typically found themselves working across a broader range of practice areas day-to-day.
As befitting their position, trainees often take on a supporting role to the rest of the team. For Raby, this meant a lot of transaction management. "I am personally responsible for making sure the transaction runs smoothly, including ensuring all the documents are saved and formatted correctly. I've also helped draft regulatory disclosures and assisted with business development." They added that "through supporting the team, I'm also learning about the law and the transactions as I go."
Greener Pastures
For some, the experience – including the lifestyle on offer – is such that it motivates a permanent relocation. Brünjes is one such individual, who after visiting the office as a  trainee on his overseas seat, qualified into the corporate department in Abu Dhabi. "A key motivation for my move was the ability to work on matters that have both London centric elements and Middle East aspects too. The lifestyle out here is also a massive bonus." Newcomers can typically expect to receive language lessons, compensated flights, and very convenient accommodation to house them while they work.
Working in comparatively smaller offices, trainees and junior associates also have the chance to integrate more deeply into their teams and get involved with business development. As Brünjes tells us: "It's great to be forging part of the UAE corporate team in the Abu Dhabi market," Expanding on the remit of the firm's practice in Abu Dhabi, Brünjes explains that "a core part of our business is sovereign wealth fund work, which is hugely varied in itself, but we also work for a variety of clients in different regions." He emphasises that "cross-office work is a distinct feature of White & Case. I work with many of the offices on a regular basis, from London to Brussels. It's very typical to have both partners and associates logging in from all over the world for the same deal – it allows us to cover different practice areas and time zones in a way that best suits our clients." Raby adds that "sometimes I'm working quite closely with an associate and then find out they're emailing me from halfway across the world!"
"Our cross-office work is a distinct feature of White & Case.... It's very typical to have both partners and associates logging in from all over the world to pitch in on the same deal."
Qualifying into a new office with a new title naturally comes with a big learning curve, but Brünjes elaborates that "it's a gradual process which doesn't happen overnight on becoming an associate." He continues... "there's clearly an expectation that you will assume more responsibility, but this is of course a trend that continues all the way through your career."
Like Brünjes, Abdul-Rahman was similarly attracted to the lifestyle and opportunities on offer in the Middle East. After training in London at a magic circle firm, Abdul-Rahman is now a local partner in the Dubai office and mainly advises clients on acquisitions, divestments, and joint ventures within the corporate realm. The wider team covers debt and equity capital markets, projects, Islamic finance, and restructuring transactions. The office's location in the Dubai International Financial Centre signals its status as one of the country's preeminent legal outfits, with a long list of enviable clients on its books including: Saudi Arabian Oil Company; The Red Sea Development Company; and Dubai Islamic Bank.
Abdul-Rahman runs us through some recent work highlights coming out of the Dubai hub: "As of late, I advised the United Arab Chemical Carriers, an international shipping company, on its merger with United Overseas Group. This deal won the M&A deal of the year at the twenty-twenty-one IFLR awards. I also worked with Saudi Aramco on its long-term infrastructure deal with a consortium led by EIG Global Energy Partners. It was very rewarding; the deal involved a lease-and-lease-back arrangement of Saudi Aramco's stabilized crude oil pipeline network which is the first of its kind in the Kingdom of Saudi Arabia, it was hard work but definitely worth it!" The firm is also representing The Red Sea Development Company, on the signing of key finance documents for phase one of The Red Sea Project, a revolutionary tourism project involving the development of 16 luxury hotels, residential properties, and state of the art leisure facilities in the region. Though White & Case's focus remains on the transactional side of law, the firm also has a private wealth team based in New York which assists high-net-worth individuals and families (including many clients in the Middle East) on their money management.
Worldwide and Unified
A robust firm culture is essential for any global outfit to work effectively across multiple jurisdictions and time zones. But what does White & Case's 'one firm culture' mean day-to-day? Brünjes tells us "when I first moved to the Middle East, I noticed immediately that the White & Case ethos runs through the firm across regions and practice groups. This supports seamless cross-office and cross-practice work." Abdul-Rahman expands upon this, emphasising that "the firm really encourages us to collaborate across offices and practice areas in order to meet our colleagues and build genuine relationships. Over the last five years I've met colleagues from London, Paris, Milan, Frankfurt, Abu Dhabi and Cairo." She adds that "everyone is working towards the same goal – to drive the business forward." White & Case's culture is also underpinned by what sources described as an "entrepreneurial mindset," a quality bolstered by the fact that "the firm is surprisingly un-hierarchical for BigLaw," Abdul-Rahman states. "There aren't any of those traditional barriers between trainees and partners."
"There aren't any of those traditional barriers between trainees and partners."
Abdul-Rahman is also optimistic about the firm's trajectory regarding the representation of women at the partnership level: "Over the next five years we will see a lot more women rise up the ranks to senior positions and partnership across the Middle East. It's a super exciting time to join the UAE teams as a woman; the Firm is staying committed to supporting talented female lawyers and achieving greater gender parity." 
"It's a super exciting time to join the UAE teams as a woman; the firm is staying committed to supporting talented female lawyers and achieving greater gender parity." 
Those interested in the prospect of working as a trainee or associate in the Middle East should seek to get experience as soon as possible. "I would encourage anyone who is looking to qualify in the region to take up the secondment opportunities at the Firm," Abdul-Rahman stresses, adding that "if a secondment is not possible, lawyers can also request to work cross-office on Middle East transactions in order to get themselves out there." Brünjes also highlights the importance of understanding the market: "You need to look at the broader picture of the region and take a genuine interest. There's no science behind it really, the internet is very useful and can help you form a view on what direction the region is going in and tailor your application off the back of that." Cassy adds that "having a clear understanding of why you're interested in the region and the type of work you want to do is important. Then it's all about making those interests known and networking with the right people. Everyone is just a phone call away!"
"Any views expressed in this publication are strictly those of the authors and should not be attributed in any way to White & Case LLP."