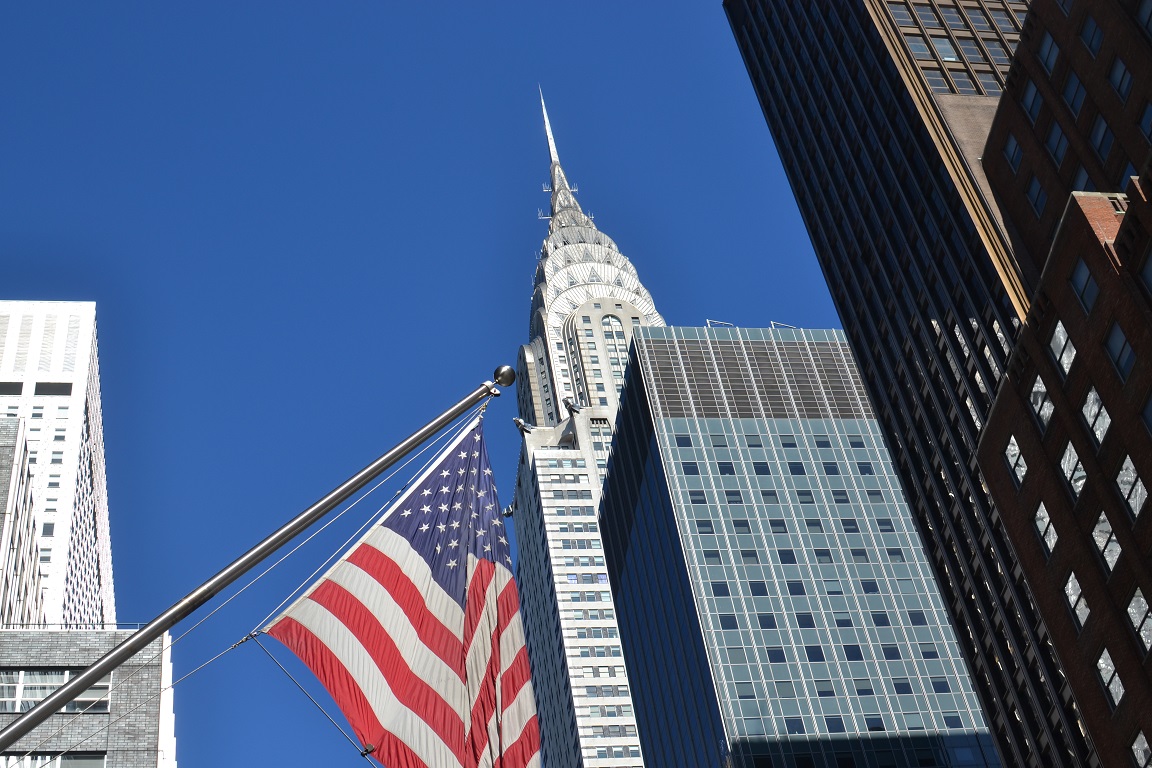 Americans and Brits go their own way on so many topics. But on the London legal scene, are US firms really so different?
Training to be a solicitor at a UK law firm is never going to be a 'cakewalk', as our American cousins would say. But the US firms in London do get lumped together and somewhat maligned as they pass through the gossip mill. Since American firms are busier than ever in our capital and beyond, we thought it's time we stepped in and sorted fact from fiction with the help of a few trainees at Covington & Burling's London office, who spoke to us about their daily lives.
If you believe the hearsay, trainees in the UK branches of American firms have it tougher than most: excessive hours, scant training, being hurled in at the deep end and left to sink or swim... Word has it that US firm trainees are treated with about as much regard as the disposable robots in sci-fi drama Westworld. Though at least those poor androids had their memories regularly wiped. But is any of this accurate?
"I wanted loads of contact with senior lawyers from the start, without sacrificing prestige."
"I know US firms have a reputation for being tougher than their UK counterparts, but I don't think that's fair," one Covington trainee retorted. We found that whether you look at salaries, hours, cultural imports and the kind of work you're doing, the experience at US firms as a group is not as homogeneous as you might think.
An American werefirm in London
Most US law firms in the UK tend to recruit trainees in small numbers – Covington offers nine places each year. (A quick note: US firms that arrived here by merging with a London firm often have larger headcounts and trainee intakes.) These small cohorts and the smaller overall headcount – think below the 100 mark – prove attractive to future trainees at firms like Covington. "I was targeting US firms as I didn't want to have to stand out among a swarm of trainees. I wanted loads of contact with senior lawyers from the start, without sacrificing prestige," one Covington trainee told us.
< Covington's London office is on the corner of the Strand and the Aldwych.
Sure, the smaller teams may mean greater exposure to partners but doesn't it restrict the type of work you can do? It's true that a large number of US firms have a laser focus on finance. At some firms private equity might infuse nearly every area of the firm, or at others the seat options might be restricted to quite specific areas of finance, such as investment management, financial regulation or high-yield debt. But don't take this to mean that all US firms are finance focused. Covington & Burling offers seats in corporate, dispute resolution, life sciences, tech and media, employment, project development and finance; and tax and real estate. Both the specialisation and mix of practices appealed to trainees. "We have free-standing regulatory practices focused on technology, media and the food and drug sector." At a large UK firm these practices may only exist as support functions, but at Covington they are key drivers of the business.
"One of the beauties of working in our corporate department is that the work tends to be quite generalist."
Covington offers seven seat options to trainees. Doesn't this limit the experience? "One of the beauties of working in our corporate department is that the work tends to be quite generalist: I dealt with public and private company matters, capital markets work, M&A deals and commercial contracts." So smaller teams means you're less pigeon-holed than trainees on bigger teams. We heard similar stories from the litigators: "The department doesn't just handle one type of dispute. I've been a trainee for four months and I've already been involved in a huge variety of things." Our source had worked on a dispute for an international media company, drafted civil procedure documents for a tech company, been involved in an anti-corruption and compliance probe and attended a symposium exploring current trends in investor-state arbitration. The symposium had been jointly organised by the International Centre for Settlement of Investment Disputes and the School of International Arbitration at Queen Mary University of London.
Empire state of mind
"I have friends who are part of a 30-trainee intake and their first year largely consisted of filing and bundling. That won't make you a great lawyer by the time you qualify," one Covington trainee believed. Instead, rookies at US firms like Covington are more likely to be tasked with "more substantive work" like meaty legal research, drafting and client contact earlier than their peers elsewhere."It was my third day and I was still working out how to turn on my computer," one C&B source recalled. "One of the life sciences partners came into my office and asked me to look at a brief outline of a client's project and check whether it would be caught out under the upcoming Medical Supplies Bill."
< Covington London sits next door to the church of St Clement Danes and the Royal Courts of Justice.
Our Covington sources spoke like they had been put up a few years at school: "My first seat was in corporate and I'd often be liaising with a one to two year PQE solicitor at an English firm on the other side." And because US firms that venture abroad tend to be very good at what they do, the law firms across the table are the heavy-hitting City and magic circle firms. Good exposure to senior in-house counsel and the firm's partners is a reality that larger outfits can't boast about: "I spoke with the client directly. During the negotiation process one of the associates asked me to look at what the other side had drafted, mark up what I thought was wrong and push back. The other party took almost all my suggestions."
"Mould your own path and develop your own career at an early stage."
Instead of being daunted by this, our Covington interviewees were thrilled to be able to "mould your own path and develop your own career at an early stage." One tech and media NQ relished "being encouraged to take the initiative" to "become the team's 'expert' in a certain area: Brexit's mine but others do intellectual property and artificial intelligence. To be working on a topic like that at this level is brilliant." A word of caution though: "If you want a career where everything is nicely laid out in front of you, then a US firm like Covington may not be best for you. If you're willing to be flexible and engaged in developing your own career and taking up opportunities and challenges as they come, then you couldn't find a better place to train than Covington."
"I think one stereotype which gets discussed a lot is that US firms don't get much formal training," one Covingtonian pointed out. "Because of the nature and size of the firm we don't have the most extensive formal trainee-specific training programme out there," a trainee admitted, although each department has regular training sessions to which all trainees are invited. "You also get excellent on-the-job teaching – you're challenged and learn quickly." One source was quick to stress: "I don't think of it as a negative. The training contract at Covington is not highly structured, but I like the fact that we're flexible as it allowed me to go out on a client secondment which materialised out of nowhere – my supervisor put me up for it as he knew I was really interested in the work."
The special relationship
Being plugged into an international network guarantees most trainees at US firms like Covington a steady flow of cross-border matters and collaboration with colleagues around the globe. "A lot of the transactions we handle are international in scope so it's quite common to be seeking input from colleagues in the US, Europe and Asia on corporate, regulatory and employment matters," one Covington trainee told us. The firm's international network consists of a nicely manageable 13 bases, making it relatively easy to build cross-office connections: "I've continued to work with people I worked with on my vac scheme, even though they've since transferred to the US." Trainees are also encouraged to join the firm's global working groups which "put you in contact with people around the firm working on similar issues to you or in the same jurisdictions. It enables you to develop relationships with lots of different lawyers."
< Covington is headquartered in Washington DC.
With all this cross-office action, it's unsurprising that elements of US culture seep over the Atlantic. Salaries at US firms are often more closely linked to the American market, resulting in payouts which far outstrip those of UK firms. When starting salaries for junior lawyers in New York were bumped up to $180,000 in 2016, a round of hefty pay rises followed in London thrusting a whole whack of NQs onto £100,000-plus pay. Covington pays £43,000 to first-year trainees and £100,000 to NQs.
"I have friends at City firms and magic circle firms and I don't think the hours are that different."
With a hefty salary on the table, it's also assumed that long hours are part of the package. The picture here is a nuanced one: yes, trainees at US firms do work very hard, but they are generally on par with the hours at large City firms. A trainee at Covington told us: "I have friends at City firms and magic circle firms and I don't think the hours are that different." Note the comparison there: it is to large firms like the magic circle. Salaries alone tell us that these firms identify and compete with the top of the UK market, while mid-sized, mid-tier British firms – those of a similar size to the American offices – often have shorter working days. "I've had the worst hours in my cohort," one trainee reflected. "I've worked three weekends in a year and a half, never had to do an all-nighter and my latest finish has been 1am." Busy stints aside, 7 or 8pm exits are pretty standard at firms like Covington. One trainee reasoned: "Everyone goes into this career understanding you're going to work hard and fulfil client needs."
"They're super hot on diversity in the States"
Another hallmark of US firms is the focus on pro bono work – state-provided legal aid is pretty scant in the US, so commercial lawyers are left to pick up the slack. While some UK firms embrace pro bono too, formalised pro bono policies tend to be the preserve of US firms over here. Covington's lawyers, trainees included, are set a target of achieving 50 pro bono hours a year. We heard of newbies working on a policy for aid delivery in conflict zones and conducting research into human rights issues to help a charity challenge the National Institute for Health and Care Excellence's rejection of a cancer drug.
Another definite US influencecan be seen in diversity initiatives – "they're super hot on diversity in the States" and UK-based lawyers at American firms like Covington benefit from being automatically linked into wider, multi-office diversity initiatives or affinity networks. A source at Covington told us: "We recently attended an LGBT panel discussion at which three speakers talked about LGBT issues in law, politics and business." The firm also provides training on cognitive bias and hosts a women's forum and diversity committee. Trainees can attend events or even sit on the committees where they'll "discuss various ways of making the firm more diverse and how to recruit more diverse candidates."
While common tropes may exist there's no such thing as one type of US firm – Covington offers a training contract focused on interesting areas like regulation, technology and media, and there are plenty of unusual experiences up for grabs at an early stage for young lawyers.