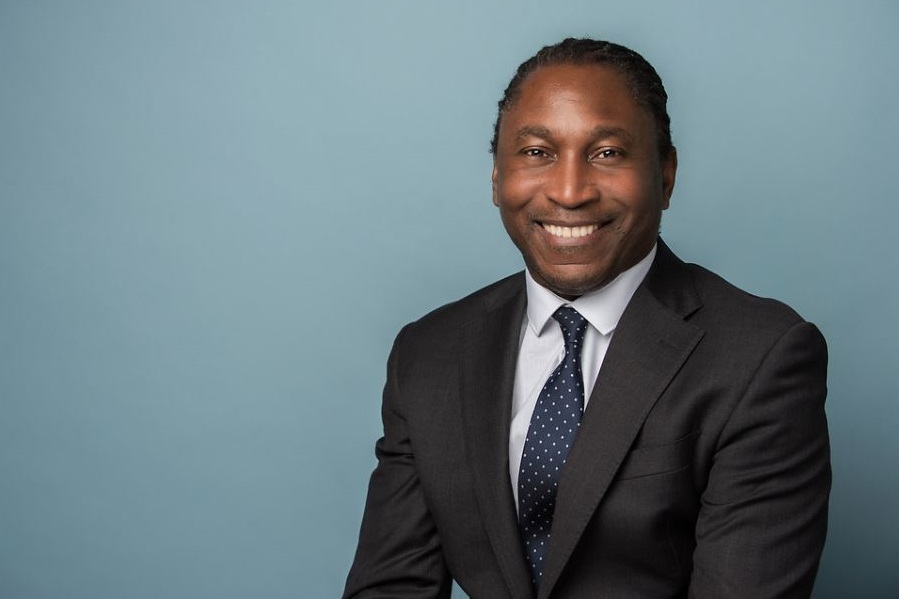 Leslie Thomas QC is representing the families of Grenfell victims and working to protect land rights in Barbuda where "the fate of a whole island is at stake." In our interview with him, he reminds us that a lawyer's duty is to justice above all else.
The heart of a heartless world
"I'm preparing to give my second statement on behalf of the victims at the Grenfell Tower Inquiry tomorrow," Leslie Thomas tells us as we sit down to speak with him in June 2018. It's just a friendly preliminary to our interview, but also a clear indicator of the type of lawyer Thomas is. Called to the Bar in 1988, he has spent three decades standing up for the little man and is considered by Chambers UK to be one of the country's leading lawyers for claims against the police and other public authorities as well as inquests and public inquiries related to abuse of state or corporate power. His manner is direct and serious but he also speaks with the sincerity and empathy appropriate for a line of work that is often steeped in controversy and can lead to heated responses. If you remember the aftermath of the Grenfell Tower fire in summer 2017 or have watched any of the Inquiry proceedings you'll know what we mean.
Some of Thomas' career highlights include representing 11 families of the 96 people who died in the Hillsborough disaster; representing the family of Elizabeth MacDonald who was murdered by the Glenanne Gang in Northern Ireland during the Troubles; and representing the family of Mark Duggan, whose death sparked the 2011 London riots. More recently Thomas has been representing inhabitants of the Caribbean island of Barbuda over moves to abolish a centuries-old system of communal land ownership by the government following the devastation wrought by hurricane Irma. "It's somewhere I felt I could do a lot of good for a group of very vulnerable and dispossessed people," Thomas tells us. "It's incredibly stressful: the fate of a whole island is at stake." He also tells us of "the difficultly of dealing with the grief of the bereaved when I'm doing an inquiry or inquest like Grenfell, especially when the responsibility is at the hand of the state – that is the toughest part of the job."
Given the anti-Establishment slant underlying much of Thomas' work, you might confidently take a punt on his political sympathies, but the label of 'radical' is not one he readily embraces: "For me that comes with connotations of being on the left which does not necessarily sit right with me. I see myself as being on the outside, a challenger. I don't accept systems blindly – that might seem strange given I'm a lawyer." Leslie does acknowledge the term 'renegade' resonates with him, pointing to his involvement in the online documentary series Meet the Renegades. So while you might not find Leslie Thomas calling for a Marxist revolution, it's fair to say he is an advocate for a more egalitarian society and legal landscape. He alludes to this in a recent tweet:
"There are some lawyers who only think of their own self interests. Then there are others who help others achieve great/meaningful things. Why not choose the latter? The modest costs are worthwhile. Let's all do more to promote more diversity, fairness and other great causes."
When we ask him to elaborate on the types of lawyers he would place into the 'self-interest' category, this is how he responds: "I can't, but they know why they are." He does clarify: "I'm not just talking about all the corporate boys and girls who are in that category. I know many corporate lawyers who do really good pro bono work."  Thomas goes on to point out some of the initiatives in place at his own set, Garden Court Chambers, which include "putting a small percentage of our income into a special fund which is built up over the years and is then used to give donations to worthwhile causes such as NGOs and law centres. That particular tweet actually came about when I reflected on all the good that could be achieved if all commercial sets committed to a system like that."


A thousand cuts
Thomas is outspoken on legal aid: "It has got to the point now that even if you want to and have the opportunity to do legal aid work, the rates are so low it's really hard to earn a decent living doing so." Specifically Thomas labels the cuts at the junior end of the Bar as "shameful: we now see people going to court for a day's work and earning just £30. I don't want to devalue the work of tradespeople, but that is significantly less than an electrician or plumber would earn, when we as barristers are dealing with people's liberties."
For Thomas legal aid is "a system in need of a complete overhaul. I don't do crime and I don't have all the answers to all this – I'll be the first to admit that – but from what I see there has been an increase in the number of criminal cases where defendants are unrepresented which is making trials longer; defendants are cross-examining their alleged victims in rape cases because they can't get access to legal aid; the system is imploding in on itself – this cannot continue."


"I found my pupillage during the day quite soulless. I wanted to help people and [the law centre] was a good way of having contact with humans instead of corporate entities." 
Thomas is one of the few black lawyers to have ever headed a chambers in London, however he describes his route to becoming a barrister as "pretty traditional." After completing his A levels he attended Kingston Polytechnic, (now Kingston University). "I managed to get a pupillage because my professor saw promise in me, had a word with a friend at the Bar and got me a place – I didn't even interview!" he says. Thomas spent his pupillage at 13 King's Bench Walk, a common law and commercial set which has since been absorbed into 42 Bedford Row. "It was black letter law and I spent most of my days drafting documents," he recalls. This, he says, did not suit someone who "wanted to spend time interacting with people," but he does concede it was "fantastic training on the discipline of drafting documents."
To compensate for his rather hum-drum pupillage, Thomas committed to working at four law centres a week in the evenings including the centres in Brixton and Clapham, as well as at the National Council for Civil Liberties (the NCCL, now Liberty). "Nowadays a lot of people do law centre work just to get it on their CVs," Thomas laments. "I was doing it because I found my pupillage during the day quite soulless. I wanted to help people and it was a good way of having contact with humans instead of corporate entities." It was at an NCCL Christmas party that Thomas met Tony Gifford QC, who after a short conversation invited him to work at Wellington Street Chambers. "At the time it was a radical set and had a completely different ethos to the rest of Bar. Back in 1989/90 they had a fee-sharing arrangement where barristers put all their earnings into a common pool and they would then take a salary out. They had paternity cover, maternity cover and sick pay. It was a set of chambers based on socialist principles and it was great because it meant that everyone was working towards a common good – I had the best years of my life working there." It was here Thomas began building a reputation for representing victims of state and police injustice, engaging in cases left over from the 1984/85 miner's strike and representing people who had been arrested during the 1990 poll tax riots.


Diversity matters
Thomas' career is no doubt an inspiration to aspiring BAME lawyers, but he realises his experience is by no means representative. "Let's face it," he says with opened arms, "the Bar is no different to any other walk of life. It's going to have people who are racist, who are prejudiced and who will discriminate. Anyone who tells you differently is not living in the real world." Looking at the current statistics of BAME individuals at the Bar, Thomas reflects "they are not good – not good at all. At the current rate, for the BAME population at the Bar to reflect the general population would take 100 years, so I do think diversity needs a helping hand up." A glance at the Bar Standards Board's Report on Diversity at the Bar 2017 shows that 13.2% of practising barristers are from the BAME population, dropping to just 7.2% at QC level.* As an answer to the problem, Thomas confirms he is a believer in diversity quotas, rejecting arguments based on equal opportunity:
"Equal opportunity is a very loaded concept and makes the assumption that everybody is starting from an equal position. However, it's well known that the BAME community are not starting from an equal position. Therefore if you have a system abiding by the principles of equal opportunity you're actually perpetuating a process whereby people of colour are being disadvantaged and discriminated against."
Thomas' career is undoubtedly brilliant, but he stresses that it hasn't progressed without impediment: "As a person with my colour skin doing the job I do, whether I want to or not, colour becomes an issue most days." Thomas draws on examples of discrimination he faced early on: "When you go court, especially as a young barrister, you will be everybody BUT the barrister – especially doing something like crime. The court staff will tell you: 'That's not the row for you, that's the row for the briefs.' When you reply, 'I am the brief', they might say something like 'Oh, are you the solicitor? Are you the defendant? Are you the defendant's brother?' And so on. There is an assumption that you are everybody else BUT the barrister. That's not because people are nasty, horrible or overtly discriminatory, that's just the unconscious bias everyone is affected by." He adds: "If this is happening at my level to me as a barrister, what must it be like at the level of the streets? I only shudder to think."
Thomas brought up the issue of diversity in a recent appearance in front of the Grenfell Tower Inquiry, lambasting the diversity gap between the victims and those representing the parties involved. He argued that such a discrepancy "affects confidence. And confidence – or a lack of it – affects participation. And a lack of participation from the very people who matter will affect justice. And a lack of justice is injustice." In our interview Thomas points out that all he was doing "was making everyone aware of the elephant in room. If you look at the dead and the displaced they are people of colour." He goes on to throw his support behind fellow QC Imran Khan who has called out the Inquiry for being too narrow and failing to consider the role that institutional racism may have played in contributing to the disaster. You can follow the proceedings of the Grenfell Tower Inquiry live on the Inquiry's website, and the BBC is bringing out a daily podcast about the Inquiry every day it sits.
Leslie Thomas QC is a reminder that a career in law is about upholding the rule of law, and the pursuit of justice rather than wealth. We hope many others follow him in sticking it to The Man.
* While the former statistic appears to be roughly in line with the 13% of the UK population who are non-white according to the 2011 census, it underrepresents the proportion of young people and aspiring lawyers who are from a BAME background – we'd estimate the latter is as high as 30%.
This feature was first published in July 2018.
It was written and researched by Chambers' Harry Cerasale.