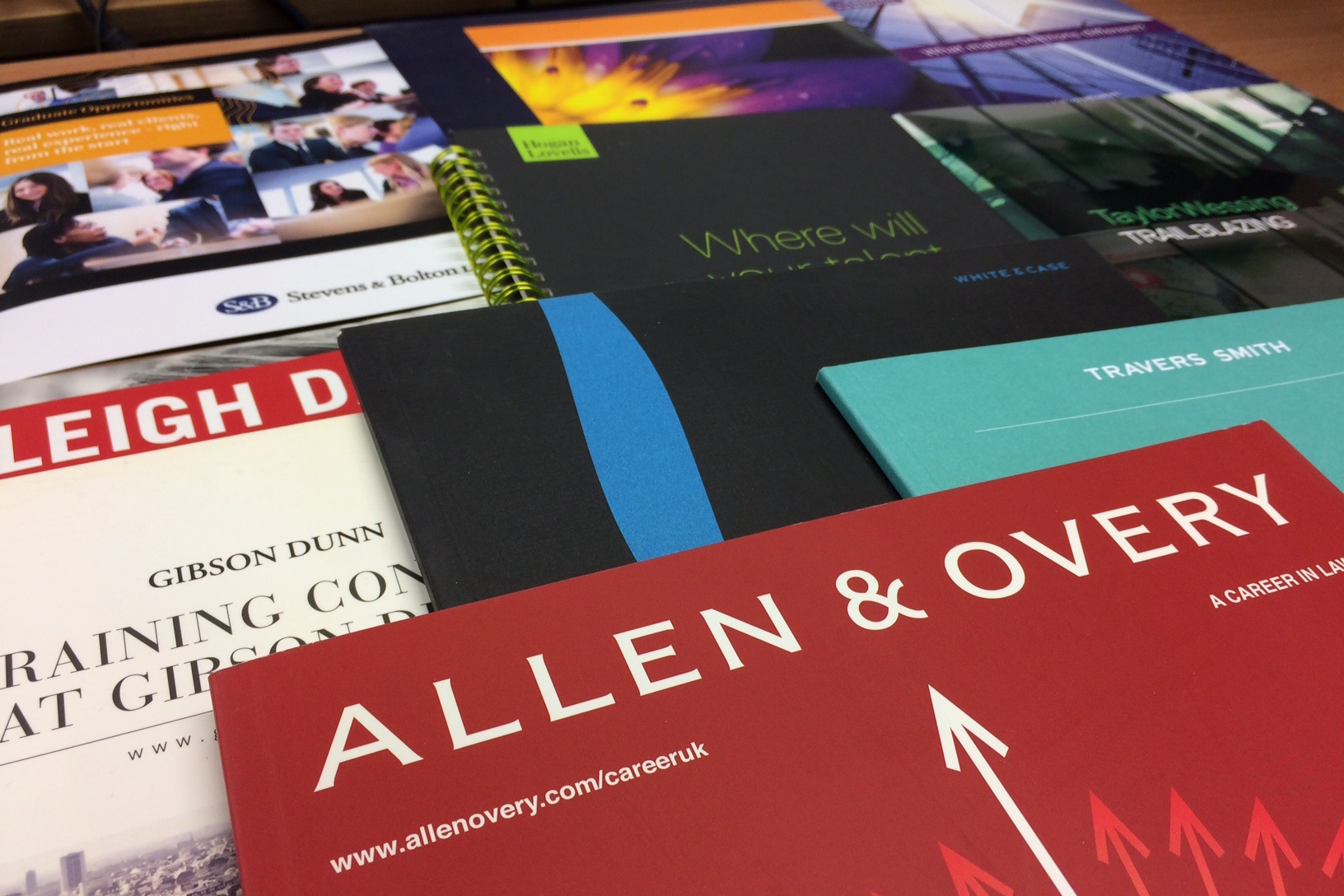 A 12-point guide to law firm marketing: the hidden messages every aspiring solicitor needs to understand.
In the 20 years we've been reviewing law firms, we've watched them splash their cash on increasingly sophisticated recruitment marketing campaigns. You'll be bombarded with slogans, and assaulted with images, videos and text, and it can all get a bit much, frankly. But instead of being seduced by them, you'll naturally approach them with a critical, lawyerly eye.
There are some common tactics that firms use; here we look at twelve of the main ones and how to interpret what truth lies behind the spin. In an age when a new recruit should expect to embody the firm's brand, analysing their branding is worth doing before you end up in an interview.
We referred to cash-splashing above: a lot of what we cover relates to those larger commercial firms that can afford flashier campaigns. But in this age of multi-media, multi-platform marketing we'd encourage you to bring a similarly analytical gaze to those firms that avoid – either through budget restraints or general contentedness – these tricks of the trade; by going against the grain, what are firms telling you about how they view themselves?
1. Shiny happy people
Smiling lawyers are everywhere, pointing at papers or gazing up at their mentor. Their joyfully-exposed and sparkling teeth will communicate this about being a lawyer: IT'S GREAT!
Firms pose their solicitors in social contexts, cheerily debating points and gesturing in meetings, merrily chin-wagging at the tops of staircases and sipping champagne together on rooftop terraces. And so to thrive many firms make it clear that you should be a heartened mingler, ready to confront the day's merry-go round of solicitors, clients, counsel, PAs and trainee buddies with the same unwavering grin. The litmus test so many partner interviewers use is: 'would I want to be stuck in an airport lounge with this person?'
In other words: if you're a misanthrope who needs an extraordinary amount of 'me time,' the bustling world of a law firm probably isn't going to bring you solace.
2. There's no 'I' in law
Law firms swear by teamwork. After all, it's the lifeblood of their business. Just one bad, uncooperative egg could send a deal south. Firms remind you of this by using the word 'team' at every opportunity, and for good measure throw in a dozen images of collaborative activities: lawyers knuckling down to a game of table football, or a graphic of circus acrobats successfully linking hands mid-air.
< Herbert Smith Freehills' trainees enjoying the use of the firm's teleport device
This doesn't mean you should join a trapeze troupe to impress at interview (although it probably would go down well). But if you're at university and finding that your list of team-oriented endeavours is alarmingly threadbare, then it's high time you summoned your collaborative talents for a charity fundraising five-a-side or an impromptu production of A Streetcar Named Desire. Don't rely on 'that time I contributed to a power point presentation in my seminar group' to see you through.
If you're eyeing up a global firm bear in mind the teamwork stakes are even higher. Firms will convey this to you by emphasising how seamless they need their service to be. Herbert Smith Freehills does this by stitching together footage from two offices in one frame: lawyers in one office hand over a file that magically passes through the split screen and instantaneously ends up in the clutches of their colleagues on the other side of the world. Seamless!
Fail to grasp the need for swift global cooperation at your peril – and be aware that your ability to work in a team will be under extra scrutiny, as these firms size up your potential to gel with lawyers from various countries and cultures.
3. The world is (probably) enough
Being global is kind of a big deal for the legal industry's heavy-hitters. And letting you know just how much of a global wallop they pack is a marketing priority. Take Kirkland & Ellis, for instance, which niftily projects its strength and scale in just one image. It shows the Gherkin – its London base – majestically towering over the landscape. But wait – is it us or does the tip of the Gherkin bear an uncanny resemblance to the nose of a space rocket? And is the Gherkin about to blast off into that expanse of dawn-lit sky above? Does Kirkland have intergalactic ambitions? Not quite. But the image does succeed in suggesting both a sturdy base and supremacy in the London market, as well as a pilot's-eye view down on the new horizon. Clever.
< Kirkland & Ellis towers over the landscape like a brooding colossus.
Watch out for phrases like 'leading global law firm', which are as common as aerial footage of skyscrapers, shots of lawyers gazing out across their concrete realm, and maps of the world revealing ever-growing empires. This is plain old bicep-flexing but it poses an important question: 'What interests you about working on this scale?' If you find that your response doesn't go beyond 'the prestige' you may find yourself in hot water at that assessment centre. Successful candidates will have something more concrete: a beginner's knowledge of certain countries; an interest in political developments that affect global commerce; or the ability to speak a foreign language that's in demand.
4. What's in a slogan?
If there's one certainty that came out of the EU referendum, it's that the power of a catchy slogan shouldn't be underestimated. 'Take back control' struck a chord – but as Boris Johnson's ashen face revealed on the day after the vote, it's one thing to be attracted to power and quite another to actually be handed it.
Many firms also opt for slogans that centre on giving you control. Linklaters encourages you to 'live your ambition'; White & Case says it's all about 'you and your career in law'; Mishcon poses the question 'to be shaped or to shape?'; Higgs & Sons prompts you to 'grow your future'; and RPC confidently says 'over to you'.
But before snapping up the invitation, pause and consider what firms are expecting of you. On the one hand, you must be the 'team player,' cooperative and resolutely set on achieving the group's goal. But on the other, firms also want ambitious individuals who thrive beyond their comfort zones and are focused on self-progression. So ask yourself this: are you the ashen type that baulks when given control, or do you grab the opportunity with both hands?
5. Innovation, innovation, innovation
Regardless of the scale of a firm's ambitions, they all want to be seen as innovative. They're a bit like sharks in that respect: stop moving forward and they'll stop breathing, go all shrivelled up and die. So they're often keen to let you know what a ground-breaking force they are by covering pages with trendy decorative lightbulbs and overexposing photos to convey the sheer clarity of transformative thought. But despite all the boasting of pioneering cultures and ideas, firms often stumble at explaining precisely what it is that makes them so darn innovative.
< White & Case: well, what about me and my career in law!?
Why so vague? Maybe they're passing the buck to you, reader, with your fresh, youthful gaze that's more attuned to discerning the way forward: those who boast of innovation might be the most desperately in need of innovators. So pay attention to what's going on and show that you have your finger on the pulse: what are firms doing to evolve? How are they using technology to become more efficient? What challenges lie on the horizon and how can they be met? Ready, set, get googling – but don't just regurgitate the FT in your interview – evidence of independent thought matters.
6. A model trainee
Law firms love a good trainee testimonial. Their message – 'I made the right choice by training here, and so will you' – is effective, and the more you identify with these better-groomed versions of yourselves the more powerful they are.
No matter how choreographed they are, we can learn much from testimonials (although you can learn far more from the independent interviews compiled in the True Picture). Take note of where a firm's young mascots went to university – often this info is footnoted – as it's a rallying call to students from that university and others of its calibre.
But more than education, the standard is being set for character. Step forward Serena, a first-year trainee at DLA Piper. In her photographic 'day in the life' account we see Serena up and exercising by 7am every morning, before starting a jam-packed day of doc review, research, court hearings, meetings and some jolly socialising with her fellow trainees in the evening – and she looks just as unruffled and fresh-faced at 7.30pm as she does at 7am. Now, we tip our cap to Serena: it takes some stamina to haul yourself out of bed for an early morning run every day, but that's the point DLA Piper is making. They won't ask to see your morning exercise schedule of course, but they will be looking to see if you can bring a similar amount of energy to the table.
7. Life in the fast lane
And boy oh boy will you need that energy – especially if you're looking to join a commercial powerhouse with global coverage. Want proof? Then just watch the video content they produce.
Check out 'Experience Allen & Overy' for a fine example. It starts with Allen & Overy's letters flying across the white screen before plunging us into Hong Kong then New York then London then back to New York; the camera pushes forward, through busy streets, over bridges and past cyclists then time is sped up; boats zip down the Thames while clouds are whisked over St Paul's, leaves flutter rapidly by the Shard and the sun rises in a blink of an eye above the Brooklyn bridge; contracts are signed, lawyers stride around their offices, deals are completed and lifts are shown going up, up, up and up!
Well, you get the point.
A&O is just one of many firms to use fast cuts, constant movement and accelerated time in videos to convey the swift pace of life in their portion of the market. As a technique it packs far more punch then a static piece of text, and will either make you feel excited or queasily apprehensive – those who feel the former are the ones in the firm's sights. You may be seduced by the glamour, but is this pace of life truly your thing?
8. Work by design
If a firm makes a feature of its office in its recruitment materials, have a good snoop around. You'll find the principles of Scandinavian minimalism at play: simplicity, functionality and über-cool sparseness. Think of it as an expression of the perfect lawyer: perpetually focused, organised and efficient. Good lawyers keep distractions at bay; a couple of stems in a vase or a tiny abstract painting is permissible – feature wallpaper or baroque murals are totally out of the question.
But what if firms start pushing all of their facilities, as many of the City's hotshots do? Hold your horses, we say. Admittedly it can be pretty exhilarating to discover that a firm has all the amenities required for a small town – but the hidden message is: 'you have no need to leave'. Look out for canteens, dentists or gyms in particular, as they're loaded with associations of optimum health: trainees tuck into hearty salads and burn off all that lettuce on treadmills. Get into the habit of looking for the double meaning: the surface message might shout 'look at all our perks!' while the one lurking beneath whispers 'we need you in good shape to get this deal done and this deal done and this deal done and this deal done...'
9. More than a lawyer
It's fair to say that lawyers haven't garnered the most positive reputation over the centuries – just read Bleak House. Perceptions of get-rich, scheming-types who are work-obsessed and (worst of all) boring are rooted in our collective imagination. This is inconvenient for law firms. No wonder they have a hang up about presenting their lawyers as 'well-rounded,' nice and definitely not boring. Their websites are crammed with images of lawyers doing anything but work or billing clients: they are kayaking; touring flower markets; scaling mountains; mixing cocktails; rolling pizza dough; or doing gardening for charitable causes.
Higg & Sons trainees are a loss to the West End >
In the era of corporate three-dimensionality it's no good to just to rock up to interview armed with your 2:1 and ardent ambition to bestow legal advice. If recruiters catch just one whiff of a potential drone they'll show you the door. They want interesting people with the potential to draw in clients. Corporate social responsibility is a big deal these days, and not recognising that will be costly for you: community spirit is everything. You know those nauseating people on Facebook who list their achievements and hobbies in that intro box? Well, take a leaf out of their (face)book. From today you are: 'Aspiring solicitor. Strudel enthusiast. Volunteer. Sagittarius. Travel junkie. Dressage champion.'
10. The colour test
Firms have chosen a colour scheme for a reason – and they will have agonised over the hues like a new homeowning couple with a Dulux chart. No need to go all art-history here, but interpret the message behind the tint. Take Slaughter and May's opulent purple or Allen & Overy's blood-pumping-yet-classy burgundy; consider Macfarlanes' recent change from its former greyscale to arresting scarlet. Each shade reflects what the firm wants to tell the world. Caught between showing their human side and the need for a buttoned-up, professional veneer, firms normally opt for a compromise with a few bright accents on black, grey or white. Yawn. But there are also some firms who just say 'screw it! We've got a personality and that's that!' Yes Muckle, we're looking at you, with your wonderful rainbow colour scheme.
11. Strike a pose
Colour's just the beginning of the culture test: look out for all the other clues that place a firm's culture somewhere on that scale between slick formality and unpolished camaraderie. How do the trainee testimonials present themselves? Does the website picture lawyers in serious, assertive positions, or do they look like the cast of a Broadway show – jazz hands and all – like Higgs & Sons' are? Is the language they've chosen restrained or humorous? Do they make you or the firm the focus? Check out Muckle's jokey, reassuring description of its interview process.
Instead of appearing as just another mammoth firm with an ice-cool gloss, Eversheds' video office tours are refreshingly lively and knowingly daft. They look like they've been filmed on a video camera from the 90s, carrying the firm's message that being global doesn't mean cutting local roots. The same can be said for Withers, a firm that you might initially plonk in the 'stuffy private client' box. But watch Withers' 'Day in the Life' series, filmed entirely on trainees' phones. The footage is of trainees unguarded and relaxed. The firm appears in tune with the social media age and captures a truth that other firms couldn't hope to match with their professionally-produced, HD videos.
12. There's no night without day
Just as it's hard to define night without reference to day, law firms often try to tell you who they are by pointing to firms they're not like. Some, like RPC, will just come right out and say it in a banterous way on their website: 'It must be very hard for trainees in some traditional law firms, checking in their personality along with their raincoat every morning.' Ouch! Others, like Harbottle & Lewis, leave it to their trainees to make the differences crystal clear: "I did a couple of work experience placements at some really big magic circle firms," says Sarah Lazarides in a video testimonial, "and I realised it was not at all for me – it was just much too impersonal and intimidating." These firms are seducing the top talent with the promise of some individuality.
Why bother?
You've got two challenges ahead of you: the first is shortlisting the right firms; the second is convincing them to hire you. Observing the subtle messages gives hints to a firm's true personality. Once you've rounded down by location, perks, practice areas and career opportunities, the deal-clincher is always the firm's culture. As much as firms are picking you, it's also about you picking them – you have more power than you know, and understanding the firm's personality gives you confidence.
There's perhaps a more important reason to do this: the most powerful advertising campaigns don't sell the benefits of a product; they reinforce a brand. In an industry where people and personality sell legal services better than raw legal knowledge, recruiters are looking for people who have grasped the firm's culture and understood its mission. They want people to carry the brand.
Instead of getting bogged down deciphering fact from braggadocio, it's far simpler to witness the firms for yourselves. Go on an open day, meet them at law fairs, apply for a vac scheme, and definitely read independent reviews in the True Picture.
This feature was first published in November 2016.