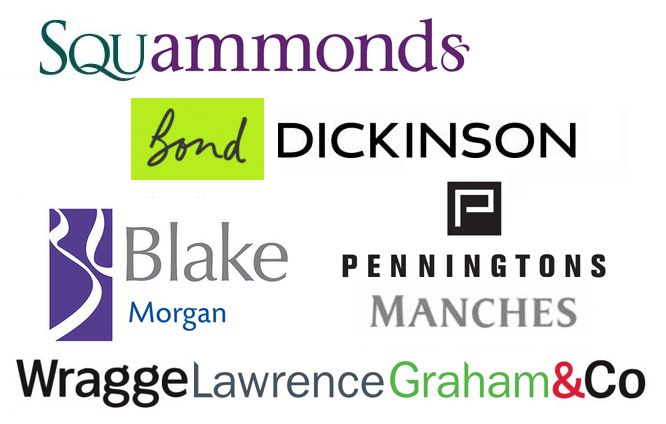 There have been over 70 significant law firm mergers in the last three years. But why do law firms bother getting into bed with a stranger? And why does it matter to you?
Merger mania
Since we last visited the topic of law firm mergers back in December 2011, the UK legal market has seen a further profusion of firms get hitched. According to consultants Jomati, in 2011 there were 21 mergers involving UK firms in or around the top 100. This number was trumped in both 2012 and 2013, when 26 and 28 mergers occurred respectively. And while there were only 19 tie-ups in 2014, that figure is still more or less on a par with the 2011 number. The conclusion? Firms are no less fond of walking down the aisle now than they were three or four years ago. (No more marriage metaphors from here on, we promise.)
And it's not just the quantity of mergers which impresses; many tie-ups have been very high profile and international in scope. Take Dentons, for example: a series of four major mergers in 2010, 2013 and 2015 have transformed it from a 600-lawyer City outfit into the largest law firm in the world with 6,500 lawyers in over 100 offices.
A big part of [commercial awareness] is understanding the market conditions that a firm operates in, and what strategic business and financial challenges it faces.
Why does all this matter to you? Recruiters love talking about commercial awareness. Firms want you to show you have this quality by the bucketful in your applications and interviews. A big part of that is understanding the market conditions that a firm operates in, and what strategic business and financial challenges it faces. In short: showing you understand a law firm as a commercial entity. And one of the biggest strategic/commercial activities firms are undertaking is mergers.
Mergers also matter because they affect the experience you have as a trainee: if the employer you have an eye on merges with a big American corporate outfit, this is likely to affect trainee work, internal structures and office culture. If you want to find out more about this for any specific firm then read our True Picture reviews.
Why oh why?
Any particular tie-up will be the result of mash-up of reasons, discussed and debated (in secret) by a law firms' partnerships. We don't pretend to have access to the most secret concerns of firms' top brass, but in our view there are five broad reasons why law firm mergers happen: going global, going national, entering new markets, practice expansion, and financial pressures.
There are five broad reasons why law firm mergers happen: going global, going national, entering new markets, practice expansion, and financial pressures.
Firms can merge for one or more of these reasons. Ultimately all of them boil down to this: in the current challenging economic environment law firms want to be able to offer a better, more financially sound, and broader service to their clients.
1. Going global
Law firms follow where business leads. The competitive urge sends businesses looking beyond national borders, and the same is true of law firms. Clients, opportunity, ego and cost-saving are the reasons firms do it, and firms find mergers a convenient way of elevating themselves to 'international' or even 'global' status. It's expensive and time-consuming to build a network of homegrown offices from scratch, so a large-scale, transnational tie-up provides a quick, easy way of earning the 'global' tag. Some more complex markets like London, however, have no truck with this imperial-style invasion, which is why so many US firms are starting training contracts here in a bid to be taken seriously. 

An international merger gives a UK firm easier access to new markets and provides a conduit for any English law questions from overseas to flow back to the UK. Our international business community relies a lot on English law, so this is a valuable link to have.
Many international mergers are structured as 'Swiss Vereins'. A Verein is a structure which sees a firm work together under a single international brand, while the profit pools and local management of each part of the Verein remain separate. Technically, such tie-ups are not 'mergers' in the strict legal sense; the term 'combination' is often used. In some countries the local bar standards prevent the invasion of foreign start-ups or mergers, allowing only for Verein-style networks or nominal combinations. This underpins the international success of DLA Piper and Baker McKenzie. For more on Swiss Vereins read how Baker & McKenzie did it.
Example: King & Wood Mallesons + SJ Berwin = King & Wood Mallesons (1 November 2013)

The motives in this first merger between a UK and Asian firm were clear: for legacy KWM, it was a chance to take the big step into the European market; for SJ Berwin, it was an opportunity to transform itself from a mainly European, UK-originated network into a global brand. Crucially, it enabled SJB to get a big bite of the Asian market. "It was a completely unique proposition," UK graduate recruitment partner Nicola Bridge told us in summer 2014. "The growth potential in the Asian market is incredible."
Other examples: SNR Denton + Salans + Fraser Milner = Dentons (28 March 2013) • Norton Rose + Fulbright & Jaworski = Norton Rose Fulbright (1 June 2013) • Dentons + Dacheng = Dentons (announced 22 January 2015)
2. Going national/regional
This is essentially reason number 1 but on a smaller scale. A national merger allows two firms to extend their combined practice across the country and cut expenditure on support staff, marketing, and office space. Strength in numbers and all that. At this level, practice area dominance is a more frequent reason to merge; globally, branding takes greater priority. National mergers can sometimes be large in scale (see the example below), but sometimes involve a bigger firm gobbling up a smaller single-site operation.
Example: Bond Pearce + Dickinson Dees = Bond Dickinson (1 May 2013)

Although both legacy firms served national clients, their operations were largely based in one part of the country: Bond Pearce in the South West and Dickinson Dees in the North East. As an ex-Dickie Dees trainee noted: "Bond Pearce was an ideal firm to merge with, because our locations worked so well together." Bond Dickinson has already reaped the benefits of its more discernible national make-up, securing a spot on the panels of big-name clients like Colgate Palmolive and Suffolk Life.
Other examples: Pinsent Masons + McGrigors = Pinsent Masons (1 May 2012) • Shakespeares + Harvey Ingram = Shakespeares (1 September 2012) • DWF + Cobbetts + others = DWF (6 February 2013) • Mills & Reeve + George Davies = Mills & Reeve (1 June 2013) • Cripps + Vertex Law = Cripps (30 September 2013) • Slater & Gordon + Pannone = Slater & Gordon Pannone (17 February 2014) • CMS + Dundas & Wilson = CMS (1 May 2014) • Blake Lapthorn + Morgan Cole = Blake Morgan (1 July 2014)
3. Entering new markets
The lucrative opportunities in booming and emerging markets provide the impulse for countless mergers. This explains the presence of US and UK firms in Russia and China. A recent fad has seen UK firms pairing up with Australian outfits: Herbert Smith, Ashurst, Bird & Bird and K&L Gates have all pursued this strategy. Equally, overseas firms positively lust after the opportunities a merger with a firm in London might offer. Even huge American firms can't get enough of the London market and frequently merge with with a UK firm with the added bonus of getting a European hub.
Example: Herbert Smith + Freehills = Herbert Smith Freehills (1 October 2012)

The aim of this merger – between a member of London's elite 'silver circle' and one of Oz's 'Big Six' – was plainly (if boldy) laid out when it was first announced. Joint-CEO Gavin Bell told The Law Society Gazette: "The merger will give Herbert Smith Freehills the platform to become the leading global law firm across Asia-Pacific, a region likely to see continued substantial growth and to become an increasingly important part of the global legal services market." The tie-up also afforded HSF the fire-power to open offices in other competitive markets like Frankfurt, New York and Seoul.
Other examples: Ashurst + Blake Dawson = Ashurst (1 March 2012) • K&L Gates + Middletons = K&L Gates (1 January 2013) • Bird & Bird + Truman Hoyle = Bird & Bird (3 November 2014) • Ashfords + Rochman Landau = Ashfords (1 March 2012) • Wragge & Co + Lawrence Graham = Wragge Lawrence Graham & Co (now Gowling WLG) (1 May 2014) • Cooley + Edwards Wildman Palmer [in London] = Cooley (10 January 2015)
4. Practice and sector growth/expansion
Some firms choose to strengthen their existing practice areas or branch out into new ones through a spate of lateral hires, but a merger ensures a speedier transformation. By bolting on a new team or teams, a firm wins new clients, allowing it to cross-sell services between the two legacy halves of the firm. And as firms move towards a more sector-based approach, a tie-up can help widen a firm's ability to offer a comprehensive service to existing sector clients, or appeal to clients in sectors it may not have served before.
Example: Charles Russell + Speechly Bircham = Charles Russell Speechlys (1 November 2014)

Charles Russell and Speechly Bircham were both best known for their top-notch private wealth practices. Their merger created the world's largest private client-focused firm, and managing partner James Carter was keen to tell us about CRS's "complementary practice areas" when we spoke to him in summer 2014. At the same time, Carter remarked, the merged firm "will end up with significant practices in a number of commercial areas." Charles Russell had a large litigation department, for instance, while Speechly Bircham was big on commercial real estate. So the new merged firm can now cross-sell litigation services to legacy Speechlys property clients. Plus, CRS can attract new commercial clients who might not previously have looked twice at a mid-size private client outfit.
Other examples: Wedlake Bell + Cumberland Ellis = Wedlake Bell (1 April 2012) • Kennedys + Gates and Partners = Kennedys (1 June 2013) • Penningtons Solicitors + Manches = Penningtons Manches (14 October 2013)
5. Financial pressures
The UK economy may have picked up since the 2008/09 recession, but some law firms still emerged wounded, with high debt levels and sluggish profits. As mentioned above, a merger allows for economies of scale, making it an attractive prospect for any firm that can't make ends meet. Mergers of this kind essentially involve the bailout of a financially troubled firm by one which is more secure. In practice, some are between nominally equal firms, one of which is in a spot of financial bother (eg Wragges + LG), while others consist of one firm buying the other out of administration in a pre-pack deal (eg Penningtons + Manches).
Quite a lot of mergers happen for financial reasons, although for obvious reasons firms are usually keen to keep quiet about it. The True Picture will often lift the veil here, but still: be careful what you say in interviews or applications – a firm will not look kindly on an applicant who starts questioning its past financial performance.
Example: DWF + Cobbetts = DWF (7 February 2013)

DWF's takeover of Cobbetts was just that – a pre-pack purchase of the firm within 24 hours of it going into administration. Functionally, it took the form of a merger though with ex-Cobbetts trainees moving over to DWF. The two firms had flirted with a merger a year previously but called it off due to 'the current uncertainty in market conditions'. Cobbetts had mountains of debts and standing costs which DWF didn't want to go near. Purchasing the firm out of administration was a much more appealing prospect.

As this article in The Law Society Gazette documents, Cobbetts had been in decline since 2009: profits and revenues had fallen sharply and the firm was lumbered with pricey office leases. The cost of hiring office space often becomes a burden for a firm if revenues and profits start to tumble. Both before and after Cobbetts' demise, there have been firms which went into administration or ended up merging (partly) as a result of office lease costs.
Other examples: Slater & Gordon + Pannone = Slater & Gordon (17 February 2014) • Wragge & Co + Lawrence Graham = Wragge Lawrence Graham & Co (now Gowling WLG) (1 May 2014) • Penningtons Solicitors + Manches = Penningtons Manches (14 October 2013) • CMS + Dundas & Wilson = CMS (1 May 2014) • Squire Sanders + Patton Boggs = Squire Patton Boggs (1 June 2014) • Akin Gump + Bingham McCutchen [London] = Akin Gump (24 November 2014) • Cooley + Edwards Wildman [London] = Cooley (10 January 2015)
Won't somebody please think of the trainees?!
First off, the good news: when a merger goes ahead, the firms involved normally honour the training contract offers made pre-merger. But in such a scenario, new recruits may well be joining a firm with a completely different look to the one they initially applied to.
This was the case for those who had secured a training contract at Scottish firm McGrigors in London before it became a part of Pinsent Masons in May 2012. "The two firms did have similar cultures, but McGrigors was tiny in comparison and so its attitude was really different," a source told us in 2014. "People chose to join McGrigors because they wanted to work somewhere not quite as large as Pinsent Masons." Still, most other insiders described the move as "a pretty smooth transition overall."
Many post-merger firms put quite a bit of effort into integrating all their new employees, plus maintaining pre-merger office culture. Legacy SJ Berwin trainees told us this after the King & Wood Mallesons merger: "It would have been awful if we'd applied to work at one firm and ended up at another as a result of the combination, but that hasn't been the case at all. The firm hasn't lost the feel of SJB."
Over at newly-formed Wragge Lawrence Graham & Co, trainees in London remarked on the number of getting-to-know-you events laid on so the two legacy groups of trainees could become acquainted, as well as "loads more seat options" which are now on offer post-merger. Other benefits can include extra client secondments (see Bond Dickinson) and an added helping of overseas opportunities (see Ashurst).
Because of the impact a major merger can have, it's imperative that you keep tabs on whether or not the firms you're targeting are on the hunt for a partner. Dentons, Eversheds and Olswang are just a few of the firms to have recently renewed their interest in a merger. More will no doubt throw their hats into the ring over the coming months and years.
This feature originally appeared in our February 2015 newsletter.