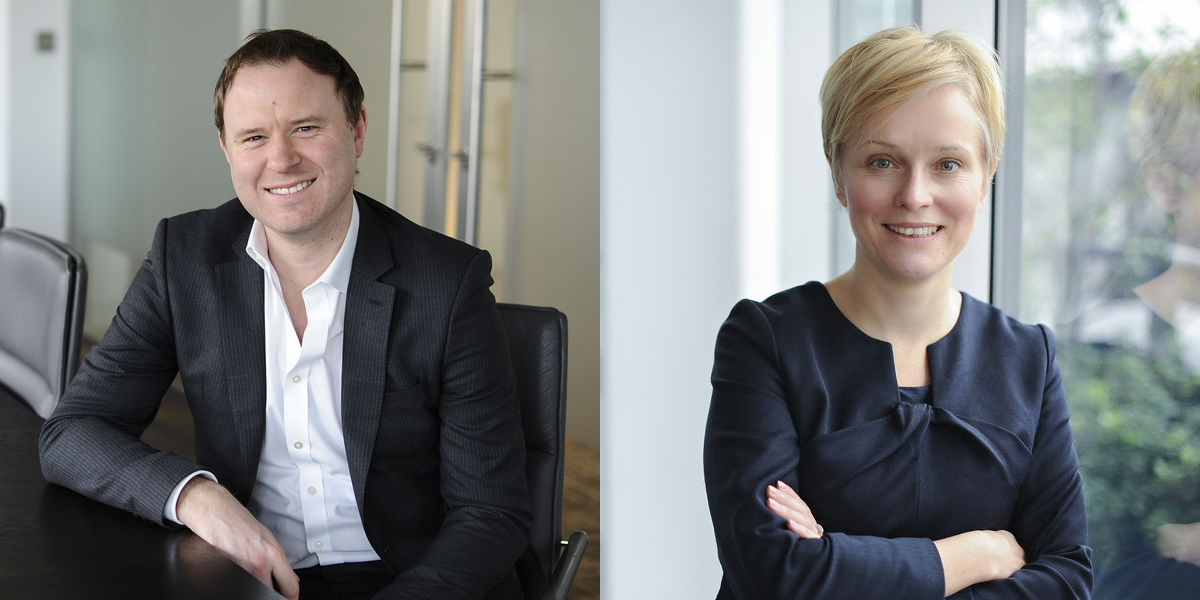 Danny Peel and Hannah Manning are co-heads of graduate recruitment at Travers Smith, and partners in the finance and tax practices respectively.
Are there any highlights from the last year you think are important to mention?  
Danny Peel: We're not looking to make significant changes in the training contract. We're still looking for similar number of trainees and we don't intend to increase the numbers radically at this stage. We still require all trainees to do one seat in corporate. The only other compulsory seat is one of either disputes or employment. We used to allow people to do the litigation course, but we stopped that because we felt that with the growth of the disputes team, It would benefit both the trainees and us to have them do their training within the team.   
From the wider business perspective, we have the mantra that 'if it ain't broke, don't fix it,' and our model has served us well over many years now. Having said that, we move with the times and are a lot less conservative than we used to be in terms of outlook. The last five to ten years has seen heavy growth in the disputes team. It was a positive decision on our part – in 2009 after the financial crash, we realised that an overreliance on transactional M&A work could leave us exposed if market conditions resulted in that work dropping off, so we looked to hedge our position by further broadening the range of work that we do. One thing that helped massively in that time was the strength of our advisory practices – regulatory and pensions. They produced great numbers in both good times and bad and remain extremely strong today. But one area that we sought to grow in and to bolster was disputes. We now have ten partners in our dispute resolution team, plus a specialist competition team who work on disputes in their area, and we work on some of the most high-profile cases in Europe. It's been absolutely pumping for the last five years. We're now coming up to the end of the HP trial, which is Europe's biggest fraud case.  
Overall, our performance over the last few years has been fantastic, with record year after record year. We're increasingly known now as being not only a corporate powerhouse but a disputes powerhouse as well, and many of our other practices are leaders in the market. Undoubtedly, there are challenging times ahead, but we are in a strong position to respond to those challenges.  
You recently upped trainee and qualification salaries – what's the thinking behind that? 
Hannah Manning: The salary increase is in part a response to the market. We are always mindful of what's happening in the market, and clearly there's been a lot of press devoted to NQ and trainee salary as it's one of the most visible markers in terms of comparison. We always need to be on market as much as we think is right in the circumstances to attract and retain the best junior lawyers, without being led into a price war with other firms. I think our approach has always been that we recognise that salary and remuneration is important, and it's a factor that affects people's decision to join us and impacts their satisfaction once they do join. 
Having said all that, salary and benefits are part of a much larger picture. Competing on salary alone ignores many other things that make for a satisfying career longer-term. We compensate people fairly, but also try and achieve a balance between that and other factors that make people want to stay with us in the longer term.  
DP: We're not going to compete with US firms on pay. But we genuinely believe that we are at all levels a credible alternative to the magic circle and other top City firms.  
HM: In practice, we don't lose many people to firms that pay extremely high salaries. It's interesting because it suggests that most people at Travers are motivated by a variety of things that go beyond purely achieving the highest possible salary. I think that the training, the ability to make an impact in a firm where people are recognised individually and the culture all play a part in that. 
Where will the firm be in three or four years' time, when our readers will be ready to join? 
HM: I would say that in five years' time, Travers Smith as a business will not look radically different from the outside than the Travers Smith we have today. I'd like to think that although we may make some changes and, in particular, we will make further progress towards a more diverse partnership, we will continue to follow our current model and grow in the way we have been growing. 
We've got interesting times ahead, but I believe that we will continue to do what we've always done, which is seek out opportunities to really engage with difficult law and complex commercial issues. Our strength lies in having very high-quality entrepreneurial lawyers all the way through the firm who are creative in looking for opportunities to grow and reach a larger client base, as well as meeting the changing needs of our existing clients.  
We have a great strength in financial services at the moment; it's where many of our clients are and will continue to be. I think that we will continue to find new ways of working with them that may lead to new specialisms and new projects. The clients in this area are highly sophisticated and agile in pursuing new opportunities, so as legal advisers we need to keep pace with them.  
DP: We'll still be fiercely independent. I cannot possibly see that we'll merge. From a people perspective, the focus will continue to be on diversity and inclusion and on our people. We're doing a lot better from a D&I perspective than 15 years ago, but we're on a journey and we acknowledge there's a lot more we need to do. It's a work in progress, but there is a strong will across the firm from senior leadership downwards to accelerate the pace of change over the next few years. We're also focusing on our people and their mental health and general wellbeing, which links to a changing attitude in the new generations coming through in how they want to work and balance their work with other elements of their lives. Not everyone wants to make partner, so we're working on providing alternative career paths, alternative ways of working, and offering people what they need to keep motivated and happy, whatever career path they follow.  
How has Covid-19 affected your practices? 
DP: On the business front, we're holding up very well and better than expected. It's too soon to see what the short to medium-term impact is going to be. Transactional activity in general did initially slow down when the pandemic took hold but is increasing again, and the fact that we are now well hedged, with a number of teams whose work has remained at pre-Covid levels or even increased (for example, our employment team with furlough and longer-term restructuring enquiries), has meant that we've weathered the last few months pretty well, although conditions over the next few months still remain very uncertain and the wider economic climate is extremely challenging.   
The situation has been challenging in terms of the training contract experience too. Working remotely as a trainee can be difficult because key to the experience here is the room sharing, and all of us including the trainees have found it very different to do all of our work from home. Sitting in a room on my own at work is something I've never done! We try to stay connected with our teams and people have been very creative in doing this, but at times it can be a lonely experience. So one of the things we're looking forward to is getting back to the office to rediscover the easy interaction with the team that we all really miss.  
What measures are you taking to protect jobs and your staff during the Covid-19 pandemic? 
DP: Despite our hedging, we aren't naive enough to think we won't be affected and we have to take sensible decisions to protect the business longer-term. So we've deferred partner distributions and reduced partner drawings for the time being. It embodies the response of the partner group to what's happened. Our determination is to not lose anyone if we can avoid it. We want to protect people and protect jobs and then bounce back. There's some pain to be taken – but partners get the upside when times are great, especially over the last few years, so it's the partners that have to take a big chunk of the downside too. And this has the support of all the partners at the firm. 
HM: I completely agree with all that. The decisions have been motivated by a feeling that we as a partner group want to do the right thing by each other and by our people. It's been the motivating factor. We've tried to make sure that is the priority. I think the other thing that we do recognise is that hopefully this is a short-term crisis, and that we will soon find ways of working around the changes and will need our teams to be as strong as ever to meet the challenge. It's dangerous to react in an extreme way if you don't have to. We're always thinking about the long term, especially in our graduate recruitment and incoming trainees. We are very much trying to balance the long-term wish to bring on board the best people with the immediate challenges of this situation. All being well, we want to continue as we normally would. None of us can predict in these uncertain times whether circumstances may ultimately lead us to re-evaluate that, but at the moment we're hoping we can proceed with all of our normal recruitment processes as we usually would. 
How has the firm approaching the hiring process this year? 
HM: We have anticipated not being able to have a physical vacation scheme this year, by taking our schemes online, having a virtual vacation scheme. It's taken a huge amount of work from a team of people across the firm to make it happen, but we've had great feedback from the students who have attended, and it does seem that we have been able to give them a flavour of something that's authentically Travers Smith from their living rooms, which we're really pleased about. We expected to be attending many of the law fairs in the autumn virtually, and we're continuing to work hard to adapt to this and show Travers to best advantage in this format. It's different from what we're used to and we're learning as we go, but we think that it's absolutely the right decision to engage fully with the new formats for events, and we're finding out a lot in the process that may enable us to make beneficial changes to what we do in the future.  
Learn more about Travers Smith with our True Picture of the firm.