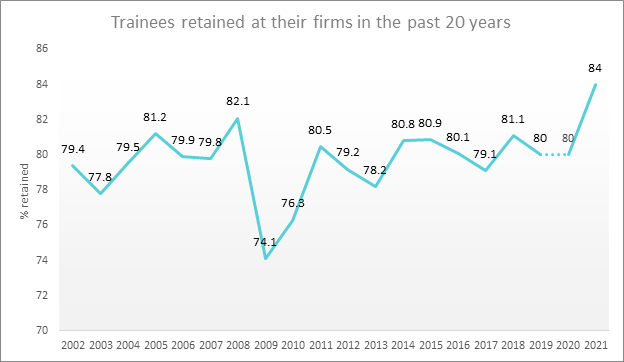 How likely is it you'll secure an NQ position at your firm?
Retention rates are at a record high. 

Offering a higher NQ salary doesn't guarantee that a firm will keep hold of its trainees.
99 problems but retention ain't one
It's been a year of increases for the UK (NI tax, energy prices, inflation...) but if you're a trainee due to qualify soon, you'll be glad to hear that trainee retention rates also on the rise. Law firms have shown resilience in times where other industries may be struggling; our research shows that revenues are up across most of the board, while the ongoing salary wars indicate that the legal sector is thriving. Newly qualified trainees are now being paid more than ever.
Around 84% of qualifying trainees from the (just over) 100 firms we surveyed in 2021 secured NQ roles at the firm they trained at. This represents an increase from 2019's market-wide retention rate (80%) and sets a new record for the highest retention rate in the past 20 years. Twenty firms boasted 100% retention records and there were more firms who retained 90% or more of their trainees (39) than there were firms who retained less than 80% (27 altogether).
 Who's done the best? 20 firms scored an impressive retention rate of 100%, on par with the number in 2019. Here's the full list:
City: Boodle Hatfield, Druces, Fox Williams, Kingsley Napley, Leigh Day, Lewis Silkin, Maples Teesdale, Marriott Harrison
Regional: BP Collins, Michelmores, Russell-Cooke
National: Ashfords
US: Akin Gump, Curtis Mallet-Prevost, Davis Polk, Fried Frank, K&L Gates, Morrison & Foerster, Ropes & Gray, Sullivan & Cromwell
Run this town
It's also worth comparing the difference between average retention rates across the various types of firms covered in Chambers Student.
| | |
| --- | --- |
| Type of firm | Average retention |
| City | 86% |
| International | 85% |
| National | 85% |
| US | 85% |
| Regional | 77% |
Regional law firms are at the bottom of the league, sitting below the market average at 77%. Why? you ask. It could be collateral damage from the pandemic which although saw market retention rates rise, also contributed to the drop in revenue of regional firms in the last year. Some trainees may have also relocated to the city in order to seek out better work opportunities at larger firms.
Money, cash, woes
You'd think there would be a clear correlation between NQ salaries and retention rates – the more a firm pays, the more likely trainees would want to stay on, right? Wrong. Our next graph shows that, on average, firms offering their qualified trainees upward of £110,000 are less likely to retain trainees than firms offering between £40,000 to £49,000. There is little overall correlation between NQ salary and retention.
We hear time and again in our surveys from trainees and NQs that pay is far less important to them than work quality, culture, work/life balance and long-term career prospects, hence the relatively flat correlation here: salaries don't have the bargaining power you might expect once you throw in the question of hours.
Why NQs leave law firms

- There are no NQ jobs in the trainee's favoured area of practice. Rather than stay in a second-choice department, they look towards other firms.

- The firm has more qualifying trainees than jobs available. This is especially likely to happen at a firm which has recently undergone a major merger or is in some financial difficulty.

- Maintaining a pyramid-shaped workforce. Large firms need a lot of manpower at the junior end, but can't provide long-term careers and commensurate salaries to all their recruits. 

- Personality clash. For some personal reason you don't gel with the firm or its people. No biggie. Move on.

- Personal reasons. Trainees might fall out of love with the firm, with the law, or the city they work in. 
Work-life balance or bank balance?

You're a student. NQ retention is an abstract thing that's several years in the future. The important thing is that you get a training contract at a decent firm, right? Perhaps, but a fulfilling, successful career is governed principally by the culture of the firms you work at, and retention rates offer a window into a firm's culture. Firstly, you can tell whether a firm is investing in you and recruiting future partners or just hiring for low-level grunt work. Secondly, high retention rates mean you're not spending two years competing with your fellow trainees like some job interview from hell, so the culture is likely to be more collaborative and less back-stabby.
Market trends will only tell you so much, but retention rates are important to consider when you're looking at training contracts. Long-term job security is, for many, worth more than any amount of money.