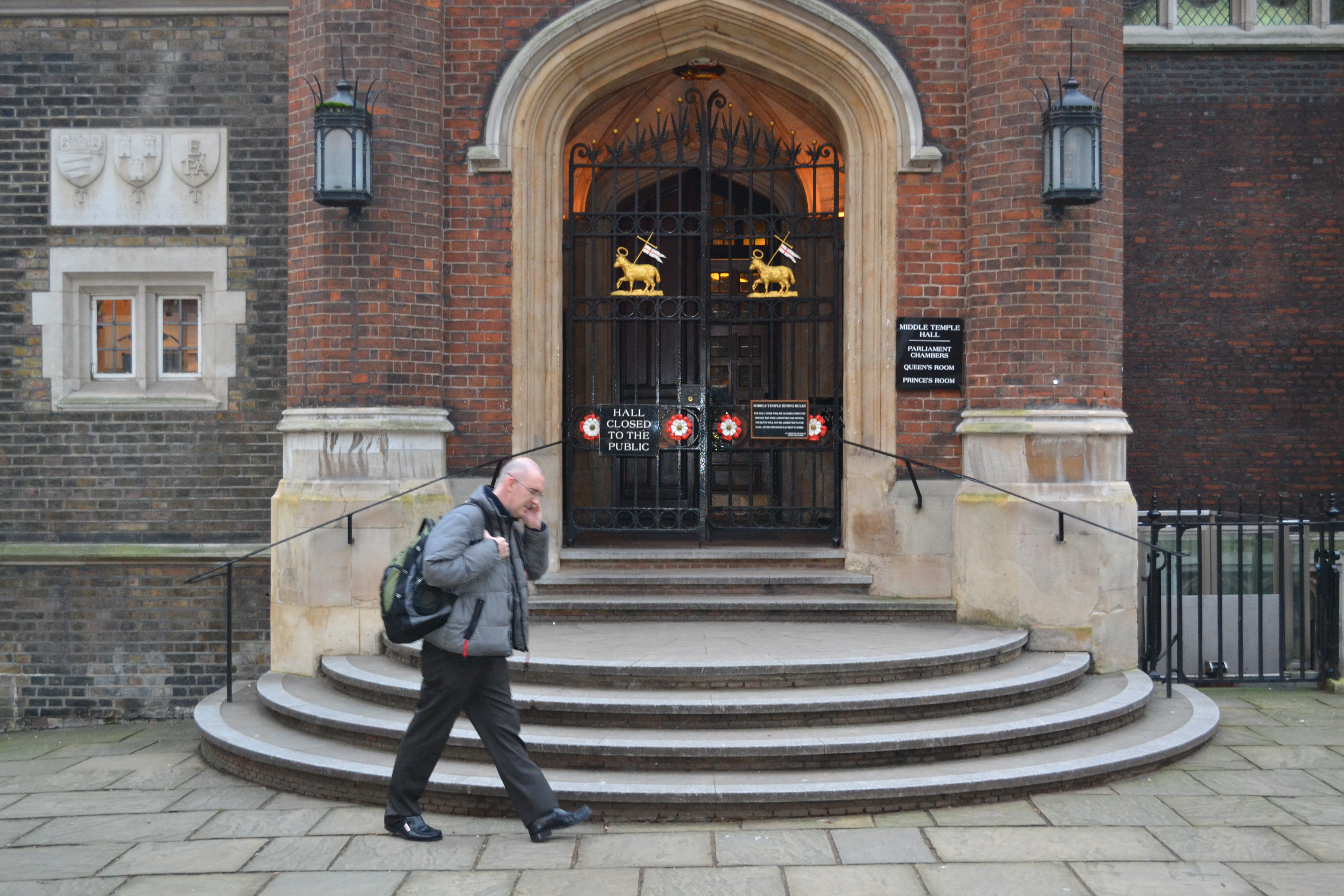 Middle Temple is a leafy oasis of calm just south of the hustle and bustle of Fleet Street. Its cobbled streets and medieval architecture prompted one of our interviewees to start spouting Harry Potter similes – a quick look around Temple Hall could certainly leave you spellbound.
Lincoln's is the biggest Inn; Gray's is the smallest. Middle Temple falls appropriately in the middle in terms of its size. It currently has about 5,000 practising barristers on its books, with roughly 600 student members admitted each year.
Tucked down an intricate maze of alleys and narrow cobbled streets, Middle Temple would be hard to find even for former member Walter Raleigh, famous though he was for his navigational exploits. (Middle – if you were wondering – is the western half of the Temple; Inner Temple is the eastern half. Look at this colour-coded map if you're confused.) Besides old Walt, other illustrious alumni include Charles Dickens, William Blackstone and William Makepeace Thackeray. If you can see yourself joining this esteemed company, then read on for more information.
Scholarships
Middle Temple awards around £1.25 million in scholarships annually. The majority of that cash is granted to students undertaking the Bar Course, with some going to those on the GDL, and other smaller awards provided for post-Bar Course activities. There are also overseas placements, essay prizes, five spots on the Keble Course, and a pupillage hardship fund. The most prestigious award is the Queen Mother Scholarship. "That shouts excellence," says director of education services Christa Richmond. You can find a full list of scholarships and prizes on Middle Temple's website.
The Inn interviews all scholarship applicants who get a place on the Bar Course. Candidates face a panel of three during a 15-minute interview. "I had a High Court judge and two benchers lead mine," a junior member recalled. "And they asked me some pretty challenging questions!" The focus isn't on legal knowledge, but on an aptitude for a career at the Bar. Four criteria are taken into account: intellectual ability; motivation to succeed at the Bar; potential as an advocate; and personal qualities such as self-reliance, independence and integrity. "Some of that is difficult to assess in interview," admits Richmond, "so we rely on references too."
The first criterion for making an award is invariably merit, but financial circumstances are taken into account when fixing the amount. Middle tries to ensure that those with the greatest need receive the largest (though not necessarily the most prestigious) awards. "If you're bright and tick all the boxes but don't need the money you will still get a token sum of £1,000," says Richmond.
Education, training and careers advice
Every year Middle hosts the Rosamund Smith mooting competition for its student members. The knock-out contest sees students compete in teams of two. While the initial heats are held in camera (i.e. in private), the semi-final and final are in Hall. The four students who reach the final take part in a mooting visit to the United States, alternating between the University of North Carolina at Chapel Hill and Pepperdine University in Malibu, California.
Any student member can be set up with a sponsor to help them understand how the Inn and the Bar operate. A current sponsor told us: "They try to match you up with someone in the practice area you're interested in, as it's really valuable to have that insider's input." Of their role, they added: "I give honest feedback and advice. Whenever I sponsor someone I ask them to send me their CV so I can tell them the areas they're falling short in."
Middle organises residential advocacy weekends at Cumberland Lodge in Windsor Great Park and at the Royal York Hotel in York for students on the Bar Course. These include an intense programme of workshops but also the opportunity to meet with barristers and judges in a social setting. "They're really outstanding," exclaimed a current member. "I learnt more about advocacy on that weekend than during the entire BPTC." These weekends also include a healthy dose of careers advice chats.
Middle's training the trainers course sees Bar Course students act as guinea pigs being taught by new trainers who themselves are teaching under supervision. This counts as one qualifying session, while a residential weekend counts as three.
Qualifying sessions and networking
Aside from those mentioned above, most qualifying sessions take the form of a collegiate event in Hall, combined with a talk, debate, moot or other educational element. These include bench calls, private guest nights and music nights. "There are lots of fun and exciting things to do," chirped one member. "The qualifying sessions never feel like a chore." Click here for the full fixture list.
All Inn dining – where high table is done away with and benchers eat among the students – is a great opportunity for youngsters to chew both the food and the fat with some esteemed barristers. "You can make contacts and hear some really interesting stories," says Christa Richmond. Should students use such sessions to cosy up to big-shot barristers in the hope of securing a pupillage? "It's hard to say," ponders Richmond. "Networking should happen naturally so my advice to students is: don't be too obvious about it."
Attendance at these events usually sets students back between £14 and £18, although Middle won't charge those from outside London for most qualifying sessions and there may be a supplement for the most expensive nights. Students often rock up to many more than the required 12 sessions. "Three courses and a glass of wine for £18 is a good deal in London after all," chuckles Richmond.
Culture
The traditional aspects of life at the Inn (don't you dare wear trainers at any meal!) and the sheer ornateness of Middle Temple Hall can give off an air of snooty grandeur. Christa Richmond denies that Middle is a stuffy or snobbish place: "We want people to feel part of the Inn from the moment they join. We don't want to intimidate those who haven't been groomed to be a barrister from the age of 12!" According to our sources Middle Temple leaves no stone unturned in allowing students to make something of themselves regardless of circumstance. "It gives you all the opportunities you could ask for," asserted one member. "I took advantage of everything on offer – if you do that you'll find more doors will invariably open."
Facilities and location
Our visit was accompanied by a brisk chill and overcast heavens, but even that couldn't distract us from Middle Temple's immaculately-kept gardens. These award-winning plots provide a lovely location to munch some lunch or relax with some reading (when the weather's nice, at least) and barbecues often sizzle away here in summer.
We found warmer climes in the spectacular Middle Temple Hall, a magnificent Elizabethan creation bedecked with Van Dyck-style paintings. Shakespeare's Twelfth Night enjoyed its first performance here during the Candlemas feast of 1602, and the high table is a whopping 29 feet of single oak, reputedly donated by Queen Elizabeth I. Students are eligible for a 30% discount on lunch in Hall, and the grub certainly had us salivating as we sidled by.
Middle no longer offers any accommodation for students. The money it makes from letting the rooms commercially is redirected into the scholarship fund. The Inn's two-floor library provides a lavish and spacious environment to hit the books and, for the cartography buffs among you, Emery Molyneux's terrestrial and celestial globes can be found here.
Middle Temple's Access to the Bar Awards provide two weeks of funded work experience every summer for up to eight undergraduate students from disadvantaged backgrounds. One week is spent marshalling, the other with a barristers' chambers.