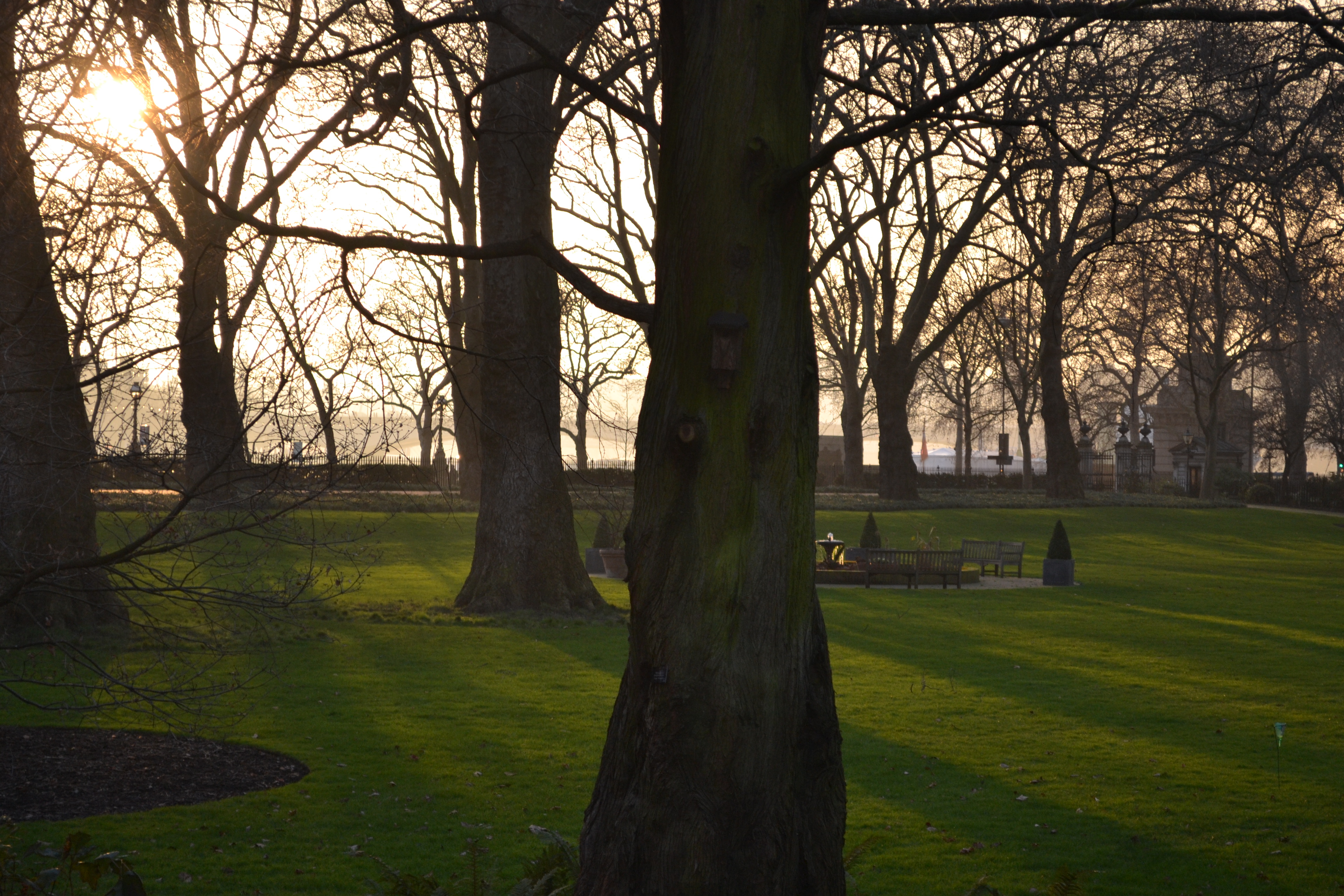 Jealous of all those glamorous-looking people who sit on the sunny terrace of the Temple's Pegasus Bar every summer? Join Inner and you can be one of them.
Inner Temple has been responsible for a number of notable female firsts. Ivy Williams, the first woman called to the Bar (in 1922), was a member, as was Elizabeth Lane, the first female High Court judge (in 1965). More recently Inner member Elizabeth Butler Schloss was the first female Court of Appeal judge (in 1988) and Rosalyn Higgins – an Inner Temple bencher – became the first female judge elected to the International Court of Justice in 1995.
There have been notable male members too, including one of the most famous people ever to be called to the English Bar, Mahatma Gandhi. He practised at 8 King's Bench Walk and the chef in the Inner Temple dining room is said to have designed a vegetarian menu especially for him. India's first prime minister Jawaharlal Nehru was also a member, as were all three of the most recent Labour Lord Chancellors: Derry Irvine, Charlie Falconer and Jack Straw.
Inner is the second largest of the Inns and has around 300 student members. Keep reading to find out why you too might want to become one of them.
Scholarships
Inner had a £1.88 million scholarship pot for 2020 – a higher amount than any other Inn. In 2021 it awarded Bar Course scholarships to 129 individuals of the 493 who applied. There's £1.7 million on offer for Bar Course students including 25 named scholarships and prizes ranging in value from £100 to £22,000 (!) – the average Bar Course scholarship is well into five figures. For GDL students the Inn has two named scholarships, plus a further £183,000. Then there's the £29,250 Joseph Priestley fund for junior barristers wanting to gain experience outside the Bar, nine small pupillage scholarships/prizes and £15,000 for pupils with a disability. The named scholarships are for a fixed amount, but all other scholarships are means tested once awarded.
Everyone who applies for a scholarship is interviewed. This – along with the size of the scholarship pot – is what first attracted several of our interviewees to Inner. At interview, expect to face a panel of three or four members. One of our interviews recalls being sat in front of "four very distinguished-looking people" – one junior member, a judge and two QCs. Among other things, expect to be asked about a piece of case law and/or a topical legal issue, such as anonymity in rape cases. "Giving a good answer is about showing your advocacy skills," says education outreach manager Struan Campbell. "We're looking for how someone constructs an argument, not their knowledge of case law."
You may also be asked about current issues affecting the Bar, such as legal aid cuts. Or something else entirely – "When I was interviewed the first question related to one of my hobbies which I'd listed on my CV – I had to give an argument convincing the panel to take up that hobby," one member recalled. "I was also asked to tell my interviewers about a law-related article I'd read in the news recently. I spoke about housing law." You'll be judged on a bunch of criteria listed here, but we're told what matters most is advocacy, academic ability, commitment to the Bar and an interest in case law. Oh, and don't be surprised if you're challenged. "One of the interviewers was quite short with me," recalled one member. "They tried the whole 'good cop/bad cop' routine on an article I'd written."
Education, training and careers advice
Students can request to be assigned a mentor and mentoring dinners count as a qualifying sessions. In addition, you can participate in a marshalling scheme or – more unusually – a police liaison scheme, which sees students go out on the beat to shadow a police officer. The education department provides careers help by means of mock interviews, pupillage application advice days, and a service to review pupillage application forms. According to one aspiring pupil, the education department "is very active and very good at promoting its activities. They're so helpful and really lovely!"
Inner Temple administers the Pegasus Trust scholarships, which are named after the winged-horse emblem of the Inn. The scholarships are for barristers from any Inn with at least five years' experience for secondments to law firms abroad; there are also scholarships for lawyers coming to the UK from overseas.
It's also worth mentioning the Pegasus Access and Support Scheme (PASS), which helps students from a non-traditional background obtain a mini-pupillage. Eligibility criteria can be found on the PASS website and include such things as having been taken into care, received free school meals, or been the first in your family to go to uni.
Qualifying sessions and networking
Qualifying sessions include debates, moots, lectures, talks and dinners. At talks you're expected to attend drinks afterwards too, which sounds like a chore but is actually "really good for networking," says one of our sources. What're drinks like? "Benchers are really good at coming up to you and asking questions," a recent student member told us. "They try to make it easy for you and they take you seriously – it's not up to you to make the effort." Another QS option is to do a residential weekend at Highgate House in Northamptonshire, which counts as three qualifying sessions – there are three residencies on offer focusing on different practice areas (eg family) and skills (eg advocacy).
All qualifying sessions have an educational element to them –  in the past few years Inner has refocused on offering more lectures and content-based activities rather than just dinners. Even those now often start with a short talk by an external or internal speaker. There are dinners where you can sit where you want and mixed dinners with assigned seating to make sure you mingle with the benchers and members in attendance. "All events are an opportunity for students to meet our members," points out Struan Campbell. Dinners are pretty formal, as you'd expect – "there are all kinds of odd rules about when you do and don't sit down!" laughed one student member.
The cost of qualifying sessions is modest, even by the standards of the Inns. Mixed dining will set you back £16.50, a lecture night £5 and a residential weekend £60 including accommodation and meals.
Culture
While the approach to dinners is "very traditional" and it may take you some time to get used to oldy-worldy terminology ('Hilary term' anyone?), a student source said the Inn is "not traditional in a negative sense – the traditions simply allow you to feel part of something." Another interviewee said of their experience that "everyone was polite, helpful and didn't try to intimidate me," while a third felt that "the benchers are really welcoming" and noted that the Inn was "more diverse ethnically and in terms of women than I had expected."
There are several social clubs you can join – including a drama society – and one member commended the "good music scene" on offer. Another source told us of an enjoyable Burns Night supper put on by the Inner Temple Students' Association and a raucous boat party on the Thames – "it was mostly students, but some benchers came along too!"
Facilities and location
Inner's precincts contains three acres of gardens plus the famous Temple Church. The latter featured heavily in The Da Vinci Code so it attracts a fair number of bemused-looking American tourists, but we recommend it for the wonderful Christmas carol concerts. The buildings around Temple Church were heavily bombed during the Second World War and are now 1950s reconstructions, but they still imbue a sense of old London.
Inner Temple library is opposite Temple Church and dates back to either 1440 or 1506, depending on who you ask. It contains 75,000 volumes including King Edward VI's device of succession naming the ill-fated Lady Jane Grey as his heir. Controversial plans for a major redevelopment of the library and Treasury Building were approved and took place over between 2019 and 2021. The library also runs an excellent current awareness blog which we recommend you keep tabs on.
The Inn's Pegasus Bar has lovely views across the gardens out to the river Thames from its terrace. We'll admit that many times when we've been traipsing round the Temple for our research in the summer, we've longer to take a seat on that terrace for a nice cold G&T. If you become a member of Inner then you can; and students get a 25% discount!
The Rawlinson Cup is a particular highlight of Inner's debating calendar. In 2015 it saw two teams battle it out over the contemporary relevance of the Magna Carta, in honour of the 800th anniversary.