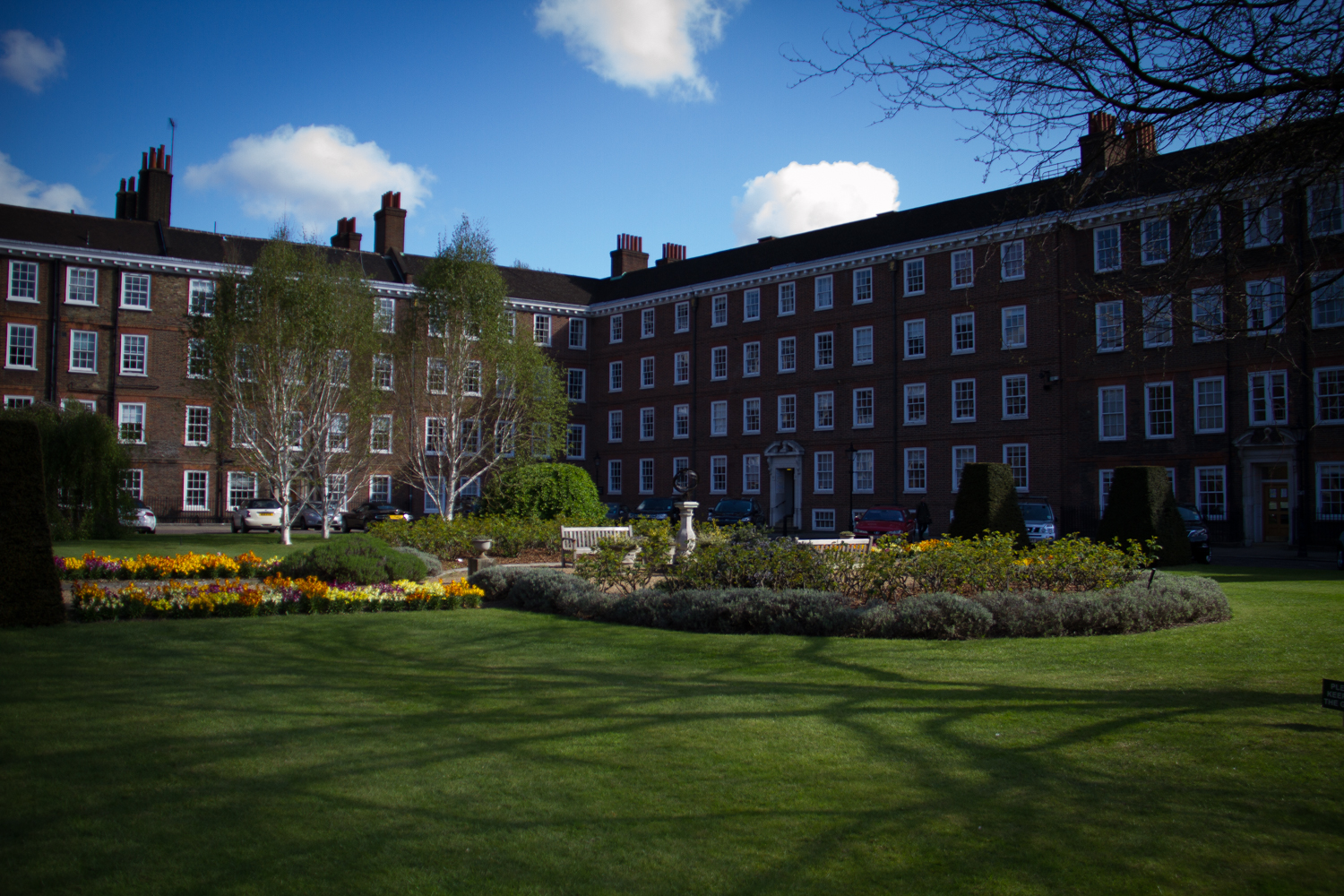 Join for the croquet tournament and pop-up restaurant in The Walks, stay for the cosy atmosphere and one-on-one careers advice.
Gray's is one of the two smaller Inns (Middle is the other) and offers a more intimate atmosphere than Lincoln's or Inner. It's so snug you may find yourself rubbing shoulders with Baroness Hale – former President of the Supreme Court – who is a bencher, or Britain's most experienced legal commentator Joshua Rozenberg who has an apartment here. Going back a few years, previous members include Rose Heilbron (the first female QC) and former Lord Chief Justice Tom Bingham.
Around 300 students join Gray's Inn each year. Of those roughly 225 are Bar Course students – the remainder are law undergrads and GDL-ers. "Because we're small we can provide an awful lot of events and support to each member," says education director Tony Charles. Keep reading to find out what's on offer.
Scholarships
Gray's scholarship fund of £1.3 million may appear small, but per head it's actually pretty generous. In 2022 Gray's Inn expects to award 25 to 35 GDL scholarships worth £2,500 to £12,000 and 75 to 85 Bar Course scholarships which start at £5,000 and can increase up to £30,000 when factoring in a residential scholarship. The Bar Course scholarships are relatively high, and for one member – now a junior barrister – this was a key reason for joining Gray's. "Their scholarships are the most meaningful – those at the other Inns wouldn't have gone as far towards paying my Bar Course fees." There are also a dozen pupillage scholarships – including awards for undertaking publicly funded work, as well as scholarships to support internships and the Hebe Plunkett scholarship for disabled students.
After an initial paper sift of applications, scholarship hopefuls face an interview panel of three barristers. In one instance the panel consisted of a commercial silk with 40 years' experience, a retired government lawyer, and an employment barrister of 25 years' call. The interview process assesses applicants against five criteria: academic ability, problem solving, drive and determination, advocacy and motivation to succeed. Tony Charles was keen to stress the importance of motivation: "The panel is looking to see if they can visualise you in practice. Are you committed to a career at the Bar? Can you convince the panel that you have what it takes to succeed?
Interviewees are given two questions 20 minutesbefore the interview starts, usually on topical issues like court operations during lockdown, privacy rights, or the necessity of a written constitution. A discussion on one of these questions forms part of the interview. The questions aren't too legalistic, but you are expected to use your answer to show off your legal knowledge and advocacy skills. These skills are examined in other ways too: "If someone has done a moot, the panel might dig into that," says Tony Charles. There may also be questions about non-legal extra-curricular activities – "being involved in a drama club or holding down a job at university," are the examples Tony Charles gives. And one of our sources recalled being asked this tricky question at the end of their interview: 'What achievement outside academia and the law are you most proud of?'
Education, training and careers advice
"The education department is very good and really helpful," recalled one member of their student days. "My impression is that you get more one-on-one help and advice here than at other Inns." The department offers careers advice including CV-checking sessions, mock interviews, and a 'pupillage speed-dating' event – essentially a clinic at which students chat to barristers about their backgrounds, CVs and careers plans. The rest of the year students can use an online system to request a one-hour mock interviews or CV chat with a practising barrister.
Students are also assigned a mentor who's usually around seven to eight years calls. One junior member we interviewed complemented the opportunity mentoring provides to network and socialise with practising barristers. Mentors are assigned for 18 months, but the relationship can last longer. The Inn also organises training sessions, covering topics like professional ethics, witness handling, and case analysis, and helps set up marshalling.
Qualifying sessions and networking
Most activities put on for students count as qualifying sessions: moots, lectures, debate nights, advocacy exercises, a residential weekend and Prep4Practice knowledge and skills sessions. At dinners in Hall students and practising members sit mixed together – one source estimated there are perhaps three students for every practising barrister present. "The dinners are great as you get to know other barristers – that helps your career development and is also good for camaraderie," said one student member.
 In addition, there are 'mixed messes' at which two students sit with a bencher and one other member. "The benchers and barristers are there to have their brains picked on all parts of the profession," says Tony Charles – so it's a thumbs up for networking fans. One student member commented: "The barristers are very helpful: you can ask about mini-pupillages and in written applications and interviews you can refer to the fact you've spoken to that person." Another source added: "The experience you get at qualifying sessions also helps when making applications. For example, I did a moot on family law, and in my pupillage interviews I referred to the way I prepared for it and read up on the case."
 The cost of qualifying sessions is fairly modest, from free to £60, and we deliver some Qualifying Sessions online to reach more members. Tony Charles estimates you can experience a varied 10 sessions – including the call ceremony – for £275. One satisfied junior member commented: "If you get stuck in at the Inn, you get your money back a million times over."
Culture
"Gray's is smaller and that means there's more interaction between students, benchers and the education department," observed one student member. Another source agreed: "The small size means you start to recognise faces quickly." Gray's has a reputation for being somewhat more traditional than the other Inns, but we'd urge you not too pay too much heed to this preconception – we didn't pick up a more traditional vibe here than at the other Inns.
 Like all corners of the Bar Gray's has clubs and societies – Miscellany, Football, Netball and the LGBT+ Societies, for example. However, a look at the rules for dining and other events shows a distinct lack of fustiness. One student member reported little in the way of hierarchy or stand-offishness: "To me the process of networking and meeting people came quite easily because of the way qualifying sessions are organised. You just stand around with a drink and a canapé and enjoy a nice normal boozy conversation." And booze should be in plentiful supply – one interviewee shared with us the rumour that Gray's has the highest per capita spend on alcohol of any of the Inns.
Facilities and location
We visited Gray's on a somewhat rainy day in January but it didn't dampen how impressed we were by its charming chapel and Great Hall. The latter boasts the newest hammer-beam ceiling in Britain – the hall and chapel were gutted during the Blitz but later painstakingly rebuilt to their original splendour (the ancient stained-glass windows had been kept in storage). The rest of the Inn was largely levelled during World War Two but then rebuilt in the 1950s in Georgian style. One of the few buildings not demolished by the Luftwaffe – number one South Square – was where Charles Dickens first worked as a solicitors' clerk.
Two doors down from Dickens' old workplace you'll find commercial/insolvency set South Square. Above it is a flat with four bedrooms reserved for Bar Course students. Candidates shortlisted for a Bar Course scholarship can apply to live in one of these rooms during the course. There is a separate interview for this 'residential scholarship' after the Bar Course scholarships are awarded. Next door at number five South Square, the education department houses a suite of rooms for training sessions, meetings and moots as well as a smart double-height library.
Going from South Square to Gray's Inn Square you'll pass under the new Bridge Bar, which was opened in 2011. Head down the passageway on the left and you'll be facing towards City Law School (which is on the Inn's estate) and Gray's Inn's gardens: The Walks. In summer you'll find a pop-up restaurant here and a traditional ice-cream vendor.
Every Christmas, Gray's members write and perform a comic 'Miscellany' – a cross between a panto and a cabaret show. In one recent year the show was titled 'A Night at the Cinema' and featured Charlie Chaplin (not the real one) and Baroness Hale.