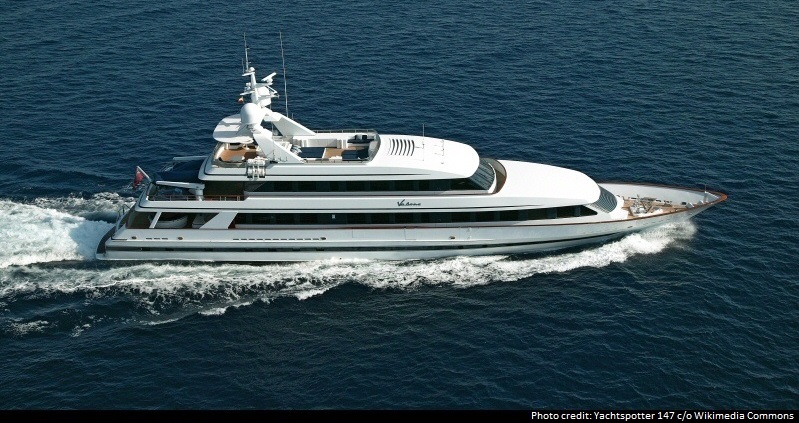 Yachts, fine art and mansion-loads of cash: it's a private client lawyer's world.
Keeping it in the family
When Gerald Grosvenor, 6th Duke of Westminster died in August 2016 and left his 25-year-old son Hugh a £9 billion fortune, the media became curiously interested in inheritance and private wealth laws. The obituaries and character profiles introducing 'Britain's newest most eligible bachelor' had barely done the rounds before articles on the fate of the Grosvenor estate emerged: instead of being exposed to 40% inheritance tax, the 7th Duke's inheritance was protected from the tax-man by some savvy estate planning.
The Grosvenor estate (and all its assorted businesses, land holdings and fine art collections) is held in trust and while the Grosvenors have access to the estate's benefits, it's the trustees, not the Grosvenors, who technically own the lot. Inheritance tax is applied when there's a transfer of wealth, but because the fortune belongs to the trust and not the late Duke, the assets aren't being transferred from one person to another, even though it's now the 7th Duke who stands to benefit from them. Thus, the estate has – all perfectly legally we should note – avoided coughing up an estimated £3 billion in death duties and that's largely down to a bunch of very clever private client lawyers.
When rich people do anything at all – like buy a picture or sell a boat, get a cheque from Nanna, give to charity, die – their activities tend to be high-stakes, high-risk and in desperate need of a lawyer who appreciates what they stand to lose. Private wealth is an international growth industry under which lawyers are joined by private bankers, accountants, estate agents, and investment managers. click here to read more on the day-to-day life of a private client lawyer.
Lifestyles of the rich and famous
Estate planning is the largest area of private client law. Also known as wealth planning, tax planning or inheritance tax planning, it aims to minimise capital gains and inheritance tax liabilities on an estate and ensure the correct succession of assets. Wealth management (or wealth structuring) and business succession planning go hand in hand with estate planning.
"Writing first drafts of wills and last powers of attorney are classic trainee tasks."
At its simplest, estate planning covers the drafting of fairly straightforward wills, granting powers of attorney and appointing executors. "These are classic trainee tasks," one Charles Russell Speechlys trainee told us. "It gives you a lot of client contact," added one Boodle Hatfield source. "I went to a ton of client meetings and later fed back to the clients on how we'd address their needs." Things take a more complicated turn when complex tax structures come into play. These involve the consideration of the likes of international assets, cross-border tax issues and tax exemptions on things like heritage property. Charles Russell Speechlys recently had to deal with this trio of factors when it advised French professor Jean Christophe, Baron von Pfetten on the conditional exemption of heritage buildings from UK inheritance tax after he bought 15th century, historic sprawl Apethorpe Palace in Northamptonshire. "There are a lot of tax points to consider in a private client seat," one Macfarlanes source told us; leafing through the statute books to research domestic and international tax law often falls to trainees. As one Farrer & Co trainee explained: "Many clients have very old trusts that raise highly specific issues which need looking into."
"The work's often very international in nature and features a lot of offshore trusts."
The higher the stakes, the bigger the bun fight over the will. "This is essentially private client gone wrong," one Charles Russell Speechlys trainee helpfully explained. "We often see disagreements between beneficiaries and trustees. The work's very international in nature and features a lot of offshore trusts." There are plenty of cases concerning good old-fashioned squabbling over the distribution of assets: Withers recently helped settle a dispute between three siblings as to who was to inherit an entire village in Dorset.
Increasingly, private client lawyers find themselves dealing with immigration matters. Securing visas may be the most obvious issue called to mind, but when you're shifting a very rich person across the globe, the private client lawyer also has to advise on topics like tax exposure, the effect of an individual's domicile status on succession planning and cross-border asset transfer. "I drafted a lot of memos on non-domicile residency tax issues for clients relocating to England," one Withers trainee told us. Tax disputes also crop up, with one trainee source conducting "really hands-on research into tax disputes where HMRC are disputing a client's claim of residency."
Charitable planning covers the philanthropic urges of the rich, whether that's plain old charitable giving or going one further and establishing their own charitable foundation. Withers recently assisted tennis ace Novak Djokovic in launching the Novak Djokovic Foundation to support disadvantaged children. Tax efficient structures are just as common in the charities sphere as they are in personal wealth management; Charles Russell Speechlys lately helped a UK-based Nordic family to create a charitable foundation with a Norwegian corporate holding structure which had to take into account Norwegian tax issues, the UK/Norway double tax treaty and HMRC's treatment of the holding structure.
Let's do yachts!
Then we come to services on the edge of the private client sphere; we're talking yachts, private aircraft and islands, and fine art collections. Although trainees at Boodle and Farrer can get a look in on art law work, don't expect to come across these areas in a typical private client seat.
Art law encompasses tax planning on the sale, ownership disputes or the purchase and loan of artworks. Perhaps the most highly publicised area of this practice involves professional negligence cases arising from misvaluations and contested auctions. Boodle Hatfield recently represented a client who sued Sotheby's after the auction house mistakenly identified a Caravaggio painting as an imitation and then sold the masterpiece at a price considerably below its true value. Meanwhile, contested auctions might see firms advise a prosperous individual who's just bought or sold a priceless piece of art only to find their ownership is being contested after someone claims the painting was looted from their ancestors by the Nazis – an area called spoliation. You can read more about art law here.
Purchasing the finest art works might be one way to splash your cash, but what about buying your own private jet? You'll need a lawyer for that. Thinking about buying your own private island complete with dazzling white sand beaches, airstrip and planning permission for a colossal super-villain lair? You'll need a lawyer for that too. Plus Vladi. He sells islands.
Or maybe you're having trouble with your yacht? Perhaps you shelled out £32 million to your boat builder but incessant construction delays mean you want that money back? Or maybe you're not satisfied with the gold paint finish on your 394-footsuperyacht and you're suing Dulux's owners to the tune of £64 million (including £2.5 million monthly payments to cover the costs of a replacement yacht while the original is out of action being repainted.) You'll need a lawyer for all of that. Check out the hot new Chambers High Net Worth guide to see which other services the super rich call upon, from private banks to yacht brokers.
Sheikh your booty
So who are these mega-rich bods keeping a roof over private client lawyers' heads? Wealthy or blue-blooded Brits feature heavily on the client rosters of UK firms but non-domiciled or international clients now make up the bulk of those seeking advice. Think Russian oligarchs, Middle Eastern oil sheikhs, Asian magnates and even wealthy Latin Americans (though most of the final group tend to use lawyers in the US). "I didn't realise how much international work I'd end up doing," reflected a Macfarlanes trainee of their time in private client. "About 10% of the work I handled was domestic but the rest was for very wealthy foreign individuals."
Macfarlanes' private client team recently represented a Russian billionaire who was keen to protect his businesses from potential nationalisation by the Russian government. The firm hit the books and developed a cutting-edge solution that guaranteed him market-rate compensation if the government chose to go ahead with its plans. On the tax front, one client required advice on the tax implications of moving $100 million worth of art in and out of the EU. During another matter, lawyers had to demonstrate to the Italian tax authorities that a multi-million pound tax structure was not a sham.
"We have clients from all over the world, including non-domiciles and international clients, so we have to be aware of various tax regimes where they were born or raised."
The international scope of the work requires the private client teams to remain aware of the intricacies of local law: the different rules affecting government behaviour in Russia and the precise definition of a 'sham' under Italian law would've been scrutinised closely in the examples above. As one trainee put it, "we have clients from all over the world, including non-domiciles and international clients, so we have to be aware of various tax regimes where they were born or raised."
The increasing predominance of international clients is largely down to the high esteem in which English law is held, and to top it all off there's still a certain something about the stereotypical refined English lawyer which appeals to wealthy foreign individuals. The stereotypical image of a private client lawyer tends to conjure up three piece suits, mustard trousers, pearl necklaces and Saturdays shooting grouse. These types of lawyers still exist – in fact, you may have spotted Withers partner Bertie Hoskyns-Abrahall quoted in a recent Tatler article on the etiquette of wearing make-up during Grouse hunting season – but they're less prevalent than in days gone by and plenty of private client lawyers now sit comfortably outside of this mould. It's also an area which attracts a significant number of female lawyers and trainees from international backgrounds – for example, close to 40% of Withers' partners are female while 13% of trainees hail from an ethnic minority background.
The interaction between private client lawyers and their clients tends to be slightly different to that in the commercial sphere. Private client lawyers often adopt the role of trusted family adviser. "It's quite a personal relationship – some of our clients have been with us for generations," one Boodle trainee explained. In fact, Boodle was established by the Grosvenor family estate manager back in 1772 and still advises the family to this day. Where corporate clients might insist that their legal teams bust it through the night to hit closure, the nature of a private client's work as well as the personal relationship mean hours are usually more predictable. That said, international clients are becoming more demanding.
This profession once had a fusty image, primarily dealing with the predicaments of the tweeded classes. But just look at where Withers has offices across the globe and you'll see how the industry is in flux, increasingly catering to elite individuals as they swan around the globe. This has prompted a new term to emerge: where private client lawyers might have Downton Abbey-types for clients, the lawyers serving the Zuckerbergs, the Kardashians or the anonymous hedge fund manager might identify as 'private wealth' lawyers. Charles Russell Speechlys, Withers and Macfarlanes are increasingly framing themselves as private wealth outfits. The distinction revolves around providing additional services such as corporate, litigation, offshore and IP advice to wealthy clients and their businesses in a bid to become more dynamic than their tweedy peers. One Charles Russell Speechlys source told us: "We're continuing to focus on our strengths and build out on client demand so the private wealth sphere is a key driver at the firm."
The clients in the private sphere will be much more varied than in other areas of practice – in banking, M&A, private equity, or energy for example, differences between clients can be subtle – and for this reason the work of a private client lawyer will oscillate between the old–school and the Bollinger-quaffingly sexy
As a trainee, don't mistake this practice area for one massive yacht party. There are perks to be had in all high-end practices, but hard work and skill is expected first. If you're interested in working with international, entrepreneurial clients, then a private client law firm could well be the place for you.