What seats do firms offer?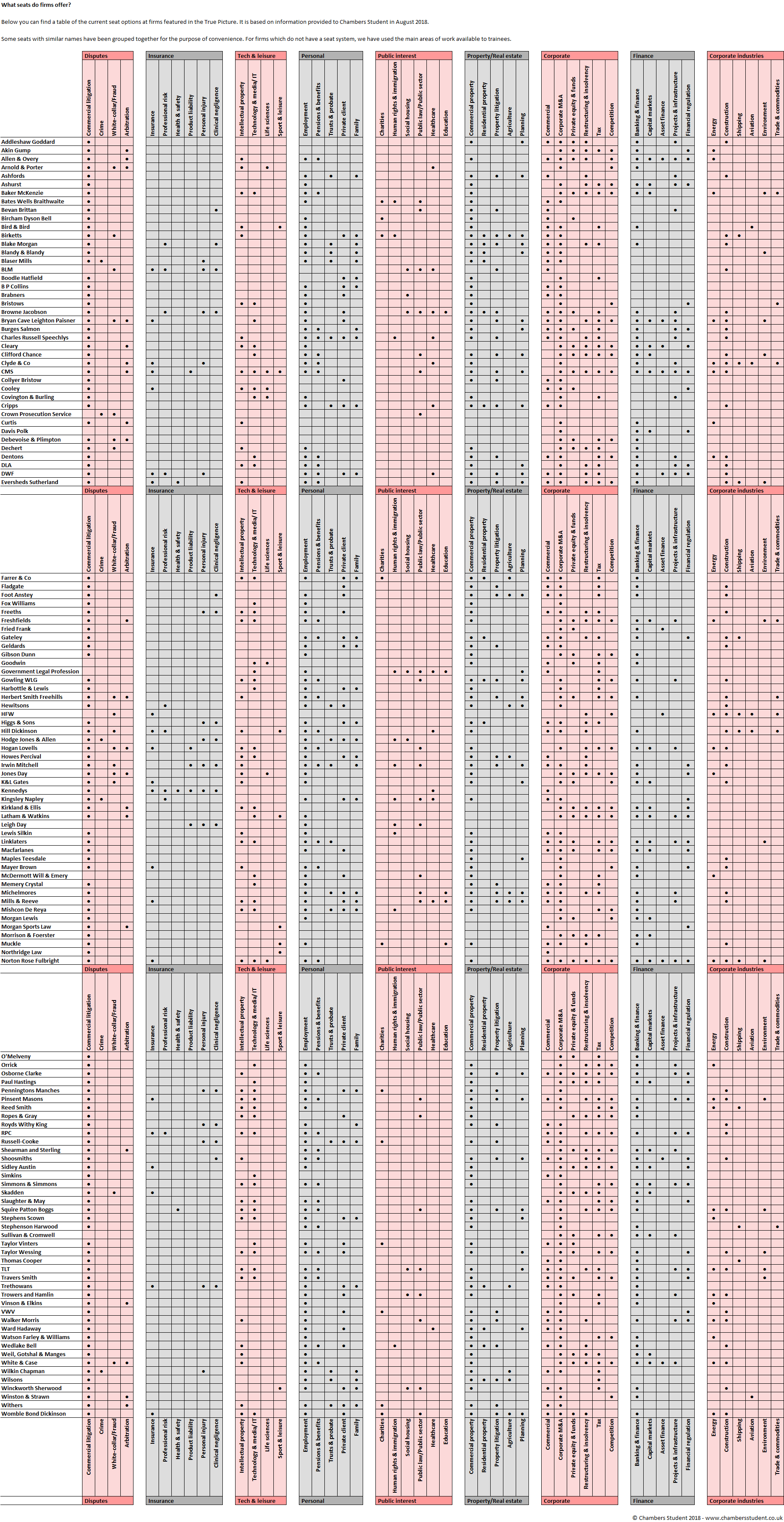 What seats does a firm offer? This is one of the first questions you should ask when looking for a traineeship.

Before starting that magnum opus of an application, before you tear ligaments genuflecting to recruiters, consider not what you can do for a law firm, but what the firm can do for you. If your heart's set on cut-throat capital markets, you should check if the closest a firm gets is helping Mr Dow Jones on the sale of his ten-hectare sheep farm.
As part of our research, all the firms covered in Chambers Student 2019 provided us with a list of their seat options. We've collated that information and put it into the table above for your perusal.
What is a seat?

At almost all law firms you'll spend time in several different departments during your training to become a solicitor. At most firms you'll spend four six-month periods in four different departments, at others it'll be six four-month periods. A few have more unusual bespoke arrangements.

Each of these periods is known as a 'seat' because historically it was exactly that: a chair in the office of a more senior lawyer who supervised you. Rest assured: these days you'll get a desk and computer to work on too.
A few things to note
A quick glance at a firm's seats will give a very rough indication of the work it does, but this is not a comprehensive indication of all the practice areas it covers or what the biggest or most important departments are – read the True Picture features for a better insight.
Some firms lump a range of work into one seat. For example, don't be immediately disheartened if you see a mark in the banking and finance seat, but not one in asset finance when all you've ever wanted is to work on the funding for a fleet of new Airbuses. It may simply mean there isn't a specific asset finance seat; a broad banking and finance seat could provide work across asset finance, project finance etc.
Competition for certain seats among trainees is often fierce. Though a firm says it offers a seat, it may only be for one trainee per rotation among a trainee cohort of 100. Take heed and try a pinch of realism: at most firms not every trainee can get every seat they want. Take family – an area of law popular with many for its human interest value – which is only offered by a quarter of the firms we cover.
The exact seat options available at a firm can change at relatively short notice because of business needs, but usually the options on offer are pretty stable. So while the listing above is just a snapshot, we think it's a pretty good guide to which firms have what on offer for the years ahead.
Many firms provide exotic, super-specific seats in subgroups of broader practice areas. (How about ecclesiastical law at Winckworth Sherwood or asbestos-related disease claims at Irwin Mitchell?) Unfortunately, we don't have room to list all of those here. To keep our wonderful table nice and neat and tidy, we've grouped some of these niche seats under more general headings.
A few firms don't have seats at all: trainees are assigned work in different ways. In these cases, we've given an indication of the main types of work trainees can get involved in.
And now for some stats
The most common seat is commercial litigation. A whopping 93% of firms featured in Chambers Student this year offer this seat. Those not offering a catch-all contentious seat include niche shipping firms, but also a number of American outfits. Sullivan & Cromwell

, 

McDermott Will & Emery

 and 

Davis Polk

all steer clear, and both Sullivan and Davis Polk have no contentious work at all in their London offices.

Commercial litigation is followed by corporate M&A, with 88% of firms offering this seat to those who want to dive into the world of business transactions.
There's then a slight gap as we see that 78% of firms offer a stint in commercial property: no surprise given the localised nature of the enormous UK real estate market. Our readers will be glad to hear that employment is an equally common seat: it's a perennially popular option which often mixes contentious and advisory work. Like property, 78% of firms (four of five) offer a spell aiding companies with employment policies or fighting on either side of employment cases.
Rounding out our top five is banking and finance. 64% of firms offer a seat here, from the predictable City slickers like Allen & Overy and Clifford Chance to national and international number-crunchers like Womble Bond Dickinson and Addleshaw Goddard, and everything in between and beyond.
At the other end of the scale, dedicated seats in certain insurance sub-fields or stints with a less common industry focus (life sciences or sports for example) are offered by a scant number of firms. If you fancy devoting time to these niche seats you'll have to choose your firm wisely.
Getting experience in a specialised area could mean hunting around for the right work while doing a seat in a department with a broader remit. (For example, trainees in a disputes seat at Collyer Bristow can get exposure to libel law cases.) That's very achievable at firms which are willing to accommodate your preferences (and which actually have the work you're looking for), but less likely when trainees are the smallest of small cogs. Once again, reading our True Picture features will give an indication of whether firms take the Victorian view that trainees' preferences should be seen but not heard.
What about year-on-year trends? Well private equity has become a more common seat this year 

–

it's now 13th most common rather than 16th, and is offered by a third of firms. Conversely capital markets has become a slightly less common seat. This is a reflection of the broader state of the financial markets, as private equity investments have become more common since the 2008/09 financial crisis. Property litigation, public law and arbitration also seem to have become more common seats this year, though we don't think this is part of a broader trend.
The most common seat options
The percentage of firms featured in Chambers Student offering the most common seats:


* Includes with which offer a seat in "dispute resolution", as this usually refers to commercial (rather than personal) litigation
** Includes firms which offer a seat in "litigation and arbitration"