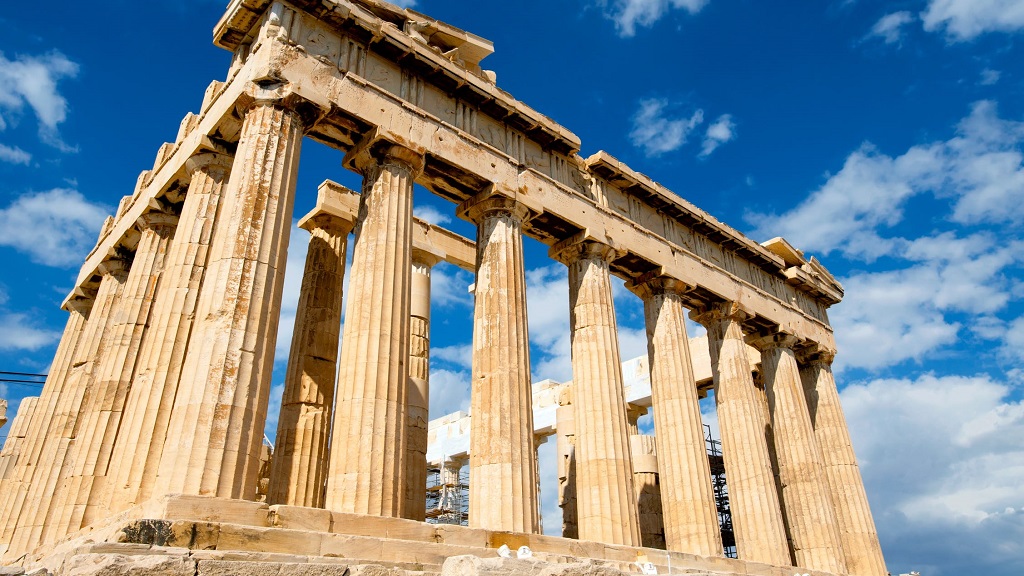 Six of the ten million people in Greece live in the metropolitan area of Athens which includes the port of Piraeus. This makes for a huge, sprawling city, centred around the ancient buildings and temples of the Acropolis. While Athens can live up to its reputation of being loud, crowded and unbearably hot during July and August, it's very pleasant most of the year. The remains of the ancient city easily rival those of Rome, and the jewels of the classical era aren't all Athens has to offer. The food is excellent, the sun is invariably out and the bars and tavernas in districts like Kolonaki and Psyri fizz with life well into the night every day of the week.
Piraeus, on the other hand, has all the charm you'd expect from one of the world's largest passenger ports. It is essentially a giant transit lounge and you're unlikely to find yourself there unless you're off to one of the islands... or on an overseas seat at a UK law firm. Still, it's only a 25-minute metro ride from Athens, within easy reach of some of Attica's best beaches and ideally placed for a bit of island hopping.
Legal market
Ever the sick man of Europe, the Greek economy hasn't strayed far from the headlines in the past six years. Years of tax evasion, rampant nepotism, corruption and overspending have meant the government has had to go begging for not one but two 12-figure IMF/EU bailouts. Current haggling over a third bailout, with Greece led by a new far-left government, appears once again to be bringing the country close to existing the eurozone (a so-called 'Grexit').
For lawyers, the Greek financial crisis has been good and bad news. Although there's been a boom in work for criminal defence lawyers specialising in tax law, the government has identified lawyers as some of the worst tax dodgers in the country and introduced a 21% levy on legal services. Cue an increase in the price of legal work and complaints from lawyers that their clients are unable to pay their bills. The bailouts have forced Greece to sell off many state-owned assets, including the state lotteries and its share in Athens International Airport. This created more work for corporate and commercial firms, while banking lawyers saw a boost after the National Bank undertook a share-swap with Eurobank, and private equity funds started moving money back into Greece.
Down in Piraeus it's largely still business as usual. International firms like Holman Fenwick Willan, Watson Farley & Williams and Ince & Co remain active in core areas like shipping, insurance and ship finance. Depending on which firm you go to you may do finance or litigation during your overseas seat. We've heard that in previous years "it was all shipping litigation work" at Thomas Cooper, while Holman "throw everything your way," and trainees can expect "transactional work, as well as charter-party and salvage and collision cases." In addition to shipping matters, some firms have also begun to pick up instructions relating to Greece's nascent energy market and pharmaceuticals sector, though these don't amount to a sizeable portion of business compared to the shipping work.
Local business culture
Greek society is still all about the family and much of its business culture is based on precepts of trust, loyalty, honour and respect. Business is conducted formally (always prefix surnames with a personal title until invited to do otherwise) and you should offer a firm handshake and good eye contact, as you would in most Mediterranean countries. As a trainee at an English firm you won't be asked to deal in Greek (one source in Piraeus said: "three-quarters of the office is made up of English people and even the Greek partners started out in London"), but a few choice phrases will prove useful away from the office – even in Athens the level of English spoken by natives is lower than in most European cities.
While it might be tempting to blame the battered economy on indolence, a survey by the OECD found that Greek workers put in, on average, 2,037 hours a year, which is more than any other European country. However, the same survey also ranked Greece as the fourth least productive country in the EU, which may point to a prevalent 'face-time' culture.
Perks
If you're feeling flush, hit the bars and restaurants by Kolonaki, but don't complain if your personal finances resemble those of Greece the next day. One cheaper alternative is a trip up to Lycabettus, the highest hill in central Athens, which can be accessed on foot or on the funicular railway. The views are unforgettable, particularly as the sun sets behind the Parthenon, and it's never so busy that you can't find a spot to sit. Other highlights include the new Acropolis Museum (still awaiting the return of Elgin's Marbles from the British Museum), the ancient streets around Plaka and local football legends Olympiacos FC and Panathinaikos. If the noise and pollution get too much, take the Flying Dolphin ferry to Aegina which, in 40 minutes, will transport you back to Arcadia.