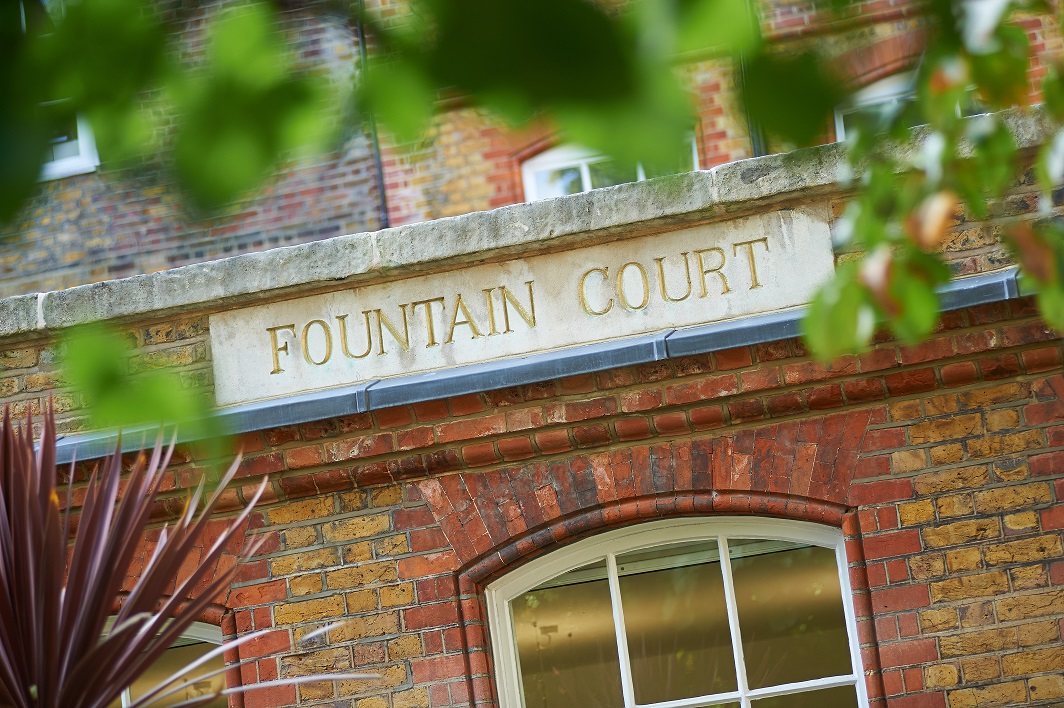 We visit leading commercial set Fountain Court to find out the truth behind the myths surrounding the Commercial Bar.
A pinstriped gent in an oak-panelled courtroom bounds to his feet, pocket watch swinging and wig slipping while he cuts down the opposition in his pithiest Latin. That's what being a barrister is all about, right? You only have to look at the stereotypes – the eccentric traditions, the splendid Inns that could be Oxbridge colleges, the academic excellence – to know this is an elite profession. Some of this may be true, but while the Bar doesn't compromise on excellence, Chambers Student knows it's not as impenetrable as you might imagine. The Commercial Bar – where sets demand the fiercest intellect from their applicants – is perhaps the most heavily and unfairly stereotyped. We visited high-flying commercial set Fountain Court Chambers to find out for ourselves what life as a commercial barrister was like, from the working culture and hours to diversity and entry expectations.
"Most of our time is spent strategising, working on documents and dealing with people."
Let's start with the basics: what skills does a commercial barrister need? Fountain Court's head of pupillage Rosalind Phelps QC (called 1998) names a few: an academic mind; the ability to assimilate large amounts of information; the ability to understand and persuade people; juggling different tasks simultaneously; written advocacy; the ability to strategise; and being calm under pressure. "Oral advocacy is important too," she notes, "but that's just the tip of the iceberg when working on a commercial case. Most of our time is spent strategising, working on documents and dealing with people."
Fountain Court junior barrister Samuel Ritchie (called 2012) gives an example of using his judgement and persuasion skills on a case: "It quickly became clear that the claim had been issued too quickly and had no merit. In addition, the relationship between the solicitor and the client had essentially broken down. It fell to me to get him to 'drop hands' in order to avoid having to pay the other side's costs. I had to make him understand that that was in his best interests." Phelps gives an example of the academic nature of commercial work: "One case involved the selling of assets at auction and the duty of our client to get a good price for them. In effect, the client was selling the assets to itself and a 19th century source suggested that this made the sale void, so we had to delve back into cases ranging from the 19th century to today in order to argue from first principles that the sale was legitimate."
"The modern generation can't provide a service like that."
There's the old cliché of the barrister – the brain – who spends his (we'll get to gender diversity later) days buried in antique books, pontificating and dishing out the leg-work to the clerks. Is this at all accurate? "The modern generation can't provide a service like that," says Phelps. "Being helpful to clients, modern in outlook and well-organised is part of what we offer." In fact the commercial sets we've researched at Chambers Student have more than a hint of businesslike polish: the glass panelling, the branding, and the management structures have more in common with, dare we say, corporate law firms than chambers. "Fountain Court, like other commercial sets, is corporate in the sense that we have a recognised brand, a swish website etc," says Ros Phelps, "but not in the sense that we are faceless or anonymous; we have 80 barristers which is not that many compared to how many lawyers a law firm has."
"You do work a lot, but generally you are able to do the work at the times that suit you."
Fountain Court barrister Tamara Oppenheimer (called 2002) – who was previously a trainee and solicitor at a magic circle law firm – feels our comparison between firms and sets might be skin-deep: "We are not like a law firm. People here are self-driven. For example, there isn't an expectation from those around you to stay working till late."
This is not to say that the hours at this end of the Bar are a doddle, but Fountain Court's barristers all "really appreciate the control you have over your hours," says Oppenheimer, contrasting the experience with her time as a solicitor. "You do work a lot, but generally you are able to do the work at the times that suit you. For example, I often don't get in until 9.30 or 10am as I take my children to school first. I usually go home around 6.30pm to spend time with my family and then work at home from around 9pm. When I have a trial on I do work at the weekend, but that is the exception. As a barrister you're not normally at the beck and call of your clients in the way that solicitors are."
"I am devoted to my job, but I have no interest in having no life outside work."
Fountain Court junior barrister Niamh Cleary (called 2012) recommends taking control of your time and the hours you work: "When I first started I had to learn that I did not need to respond to emails received at 10pm immediately. I had to learn that you can take on or refuse cases to suit your lifestyle. Of course, if someone sends me an urgent email I do respond, but I've learnt to manage people's expectations." Samuel Ritchie shares his view: "I am devoted to my job, but I have no interest in having no life outside work. I usually work from 8am to 7pm – it's important to me that I can spend time with my friends and my partner. While if something happens on a case you will need to be available to deal with it, you do have control over whether you take on the work in the first place. That also means that if you are really really keen you could work every hour of the week if you wanted."
Junior barristers at Fountain Court can expect to earn at least £65,000 in their first year of practice, and this soon rises to a six-figure sum. The excellent pay at the Commercial Bar makes a flexible lifestyle more achievable, say our interviewees. This contrasts with the top end of the solicitors' profession, where the highest salaries come laden with an expectation that you owe the firm every waking hour. This high pay makes it possible to take longer seasonal holidays – for instance in August when the courts shut down – and to afford high-quality childcare. Tamara Oppenheimer, who has young children, says: "I usually book off school breaks and a chunk of the summer as holiday – sometimes I will need to do some work for an ongoing case during those periods, but I tell the clerks that I am not available for any new cases."
"We are really not interested in which school you went to."
No surprise that academic achievements are "the number one thing we look at when we do a first sift of applications for pupillage," as confirms Ros Phelps. "Your degree result and academic ability are very important as a lot of the work we do is highly academic." Almost all barristers at Fountain Court – and other commercial sets – have a First as well as other academic achievements such as Master's degrees, prizes or further post-graduate study. But looking at the bios of barristers across the commercial sets, the range of university backgrounds is so narrow it's hard to suppress the cliché that the Bar is for the privileged few. "It is not an 'old boys' club'," contests Ros Phelps. "We look to recruit people with excellent intellectual ability – so we are really not interested in which school you went to and it would not be in our own interest simply to take someone on as a pupil because we know them or we know their parents." She reflects on her own background: "I had an ordinary upbringing; nobody in my family worked in the law; and I didn't know anyone who was a lawyer before I started Bar School." Does it matter which university you went to? "We do not limit ourselves to recruiting from a limited pool of universities," says Phelps. "We get a lot of applications from Oxford and Cambridge, but we also see excellent applications from other good universities. I would like to encourage more people from other universities to consider a career at the Bar and apply for pupillage."
But the more subtle skills a barrister needs – people skills, composure – surely come more readily to candidates raised and educated in privilege? Far from it, says Niamh Cleary, who offers a more progressive view: "People develop transferable skills from all sorts of experiences. For example, you might think that your part-time job working in a shop wouldn't give you skills that you need at the Commercial Bar. On the other hand, a good way to demonstrate that you can deal with difficult clients or opposing counsel might be draw on your experiences of dealing with difficult customers on the shop floor. Applicants need to think laterally and creatively about the transferable skills that they have."
A mini-pupillage at one or more commercial sets is a must, and debating and mooting are highly recommended. "Anything that demonstrates advocacy skills, for example volunteering for FRU or another free legal advice service is a good idea," says Tamara Oppenheimer. Specifically for the Commercial Bar "showing an interest in and awareness of commercial issues is necessary, but you won't be expected to know exactly how certain financial products work, for example." Both Samuel Ritchie and Niamh Cleary at Fountain Court worked as legal researchers before applying for pupillage, the former at a City law firm, the latter for a top barrister in Ireland. As for other pursuits, sources at Fountain Court advise against undertaking extracurricular activities just as CV fodder: you should be doing something because you are interested in it and want to get involved. "You notice if someone has done something to a high level," reveals Ros Phelps, whether that is acting, debating or choreographing stage fights (yes, that is a real-life example).
A significant minority of barristers working at the Commercial Bar were previously trainees and/or solicitors at commercial law firms. Tamara Oppenheimer reflects on the path she took, training at a magic circle firm first: "I wouldn't necessarily advise someone to intentionally follow the route I took by starting as a solicitor and then becoming a barrister," she says. "But we are increasingly seeing more applicants who've done other work or been in other professions before applying for pupillage and my experience as a solicitor has certainly helped me in practice and gave me more confidence in the workplace." Remember that the Bar looks for self-starters: so if you are someone from a less well-off background who's fought your way up the ladder or if you've paid your way through law school by working part-time, you're likely to be just the type of driven, go-getting candidate the Bar is looking for.
"We want to see more people from more different backgrounds applying and significantly more women applying."
Recognising the value in diversity, Fountain Court is making a deliberate push to recruit from more varied backgrounds. Ethnic minorities made up 8.5% of new silks in 2016, up from 5.5% in 2006, and 23% of 2016 QC appointments went to women compared to just 6% in 1996. "There's still a lack of senior female role models," notes Tamara Oppenheimer, but the overall numbers are headed in the right direction. Women and ethnic minorities remain under-represented across the Commercial Bar at all levels and Fountain Court is seeking to address this at the entry level. "Obviously we would prefer it if there wasn't such a gender imbalance in our membership, especially at the senior end, but we are working hard to try and change this" says Ros Phelps. "We want to see more people from more different backgrounds applying and significantly more women applying – at present fewer than 50% of applicants are women."
By "challenging assumptions about the Bar," Fountain Court believes progress will happen in diversity. Across the profession, retaining talent is at the core of the diversity problem, and effective mentoring is held up as one solution. The perception that "traditionally, there's not much support for junior barristers" is being met head-on with the set's new mentoring scheme for its most junior tenants, who are assigned two mid-level barristers as mentors. "My mentor has also become a friend," says junior barrister Samuel Ritchie. "Together, with my pupil supervisors and silks who I have worked with, this means that there is always someone to bounce ideas off or seek guidance from when needed." The Bar also lends itself naturally to mentoring more than you might expect. "The idea that at the Bar you just sit on your own in your room as cases come and go is wrong," says Oppenheimer. "There are a number of silks with whom I work regularly and I can always talk to them when I have a question." Samuel Ritchie goes further: "A massive advantage of the pupillage system is that you end up with a strong relationship with your former pupil supervisors. In addition, at the Commercial Bar you often work on a case with more senior barristers who you then have access to if you need help with a case or an ethical problem."
The Commercial Bar is a demanding working environment where hard work and brain-teasing problems are the norm. But from early on barristers can take control over their own timetables and caseloads, which – along with the handsome pay package – make this a surprisingly good option for working parents or those seeking a flexible career. The resounding message from our interviewees at Fountain Court is, if you've got brains and a bit of nous, don't be put off by the outdated stereotypes.