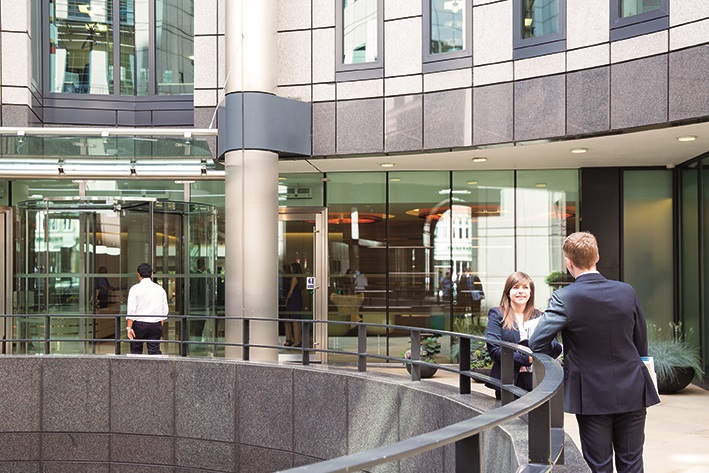 If you don't know your M from your A and scratch your head every time someone says 'corporate law', don't sweat it. We've asked some of Freshfields' transactional experts to explain what they do.
What is corporate law?
Anna Yeomans (former Freshfields associate): Corporate law means anything from large, complex, cross-jurisdictional transactions to advising businesses about the everyday running of their company (including the latest legal developments in their industry). Corporate law at Freshfields is extremely varied – often advising and assisting FTSE 100 and 250 companies on a range of matters including the sale and purchase of businesses and business assets, the reorganisation/restructuring of companies, and the financial arrangements required to complete these activities.
Keith Chapman (senior associate): As a corporate lawyer you'll spend plenty of time working on other things too, for instance issuing shares in publicly traded companies and general corporate advisory work (such as setting up a group structure for an investment fund, advising a government on the privatisation of a state asset, advising a FTSE 100 company on corporate aspects of its pension fund arrangements, or advising the board of that company on the best approaches to making tough corporate decisions).
What do the partners do?
Stephen Hewes (partner): The first thing for the partner to do is to win the work in the first place, often through a competitive pitch process. After that the partner is responsible for managing the rest of the transaction team to make sure the deal gets delivered successfully.
What do the associates do?
AY: We will regularly run several work streams during the course of a transaction and be the main conduit between the client and the other side. Depending on the experience of the associate they might: advise on the structure of a transaction; negotiate and draft legal documents; research and provide advice on legal issues; manage a due diligence process or coordinate a multidisciplinary team (ie tax, employment, intellectual property, competition teams etc).
KC: It changes as you get more senior. You will always be managing the legal risks arising from M&A transactions, but also managing various issues along the way. This might mean anything from explaining how the laws governing takeovers of UK listed companies restrict what bidders can do or say, to how best to deal with the risk that an antitrust regulator might not permit a transaction to happen, or how best to allocate risks of environmental contamination coming to light in the properties of a target business.
What do the trainees do?
Lucy Fallen (trainee): A trainee will help with coordinating the process-based aspects of a transaction, for example, running signing and closing checklists, drafting due diligence reports and liaising with local counsel. Since the Legal Services Centre opened in Manchester, Freshfields' trainees are less and less required to do extensive due diligence or verification of public documents and instead are expected to manage the process from afar – great experience to strengthen your delegation and leadership skills.
"You won't know with complete certainty how any given day will go."
Trainees will also be involved with drafting ancillary documents such as board minutes and sometimes can be involved with drafting main transaction documents such as the disclosure letter which would involve direct contact with the client.
What kind of work is involved day to day?
KC: It will vary, and you won't know with complete certainty how any given day will go. For M&A work you might be meeting with clients and other parties by phone or face-to-face, negotiating issues in a particular transaction and then recording the outcome of discussions in a unique set of contracts. As 'deal counsel' you will often be managing the wider processes of the deal for your client, for instance obtaining input from lawyers in other jurisdictions and synthesising it in such a way that you can deliver a coherent message to your client. You may be focusing on a specific point of law and doing some detailed research (we still open our law books from time to time and have detailed internal and external sources on tricky questions of law). You will be working in teams with a range of other trainees, associates and partners, juggling deadlines on separate projects. From day one, you'll need to learn how to manage your own time to work effectively.
AY: At Freshfields the work you undertake will usually involve working across jurisdictions, frequently with one of our network offices or local counsel from one of our 'Stronger Together' partnerships, so factoring in the time difference will influence how your day is structured.
What are the highs and lows?
LF: The highs are signing and completing transactions and knowing you have done the best job you could for that client.
"My experience is that when the hours are long, the work is often more exciting."
The lows are obviously the hours which can be long. However, my experience is that when the hours are long, the work is often more exciting work and you get an adrenalin kick which makes the hours suddenly seem a lot better. As a trainee, transactions which are busy are those which offer the greatest opportunity to be involved in exciting aspects of the deal and to take on responsibility for entire work streams. The busy periods are always followed by a period of calm and a great sense of achievement so it will be worth it in the end.
SH: Signing/announcing and closing a transaction, especially if it's one that will hit the front page of the papers, are always the natural highs. Working together in a high-performance team is also a great buzz. But lots of deals fall over before they get to the end, which is always a shame.
"Lots of deals fall over before they get to the end, which is always a shame."
KC: Often you might take pride in work that was tough but which may go under the radar – for instance working up elegant drafting or structuring solutions to complex problems. On a more general note, it is rewarding to gradually earn the confidence of your colleagues, and to become entrusted with increasing responsibility over time – you will likely look back after a few years of practice and be (happily!) surprised at the level of work you are doing.
The lows are usually when the commitment required to get things done cuts across commitments in your personal life, particularly when this happens unpredictably. This is rare because your colleagues, including partners, will do what they can to help you balance things where possible. But ultimately our business revolves around meeting the demands of our clients who are facing their own pressures, so when the team can't help it, unfortunately it does happen from time to time.
Where can trainees expect to be in five years' time?
SH: They can expect to be a mid-level associate. This is typically the phase where associates have now mastered the basics of the transactions we work on and are making the step change to leading on smaller transactions or distinct parts of larger transactions, with lots of interaction with clients, lawyers on the other side and other parties involved in the transaction.
KC: You may have joined our firm thinking you want to be an M&A lawyer, but find yourself drawn to a different area of practice during the training contract. So you may be doing something else entirely. That may be another transactional field (such as working on the financing aspects of various infrastructure projects) or dispute resolution/litigation or another specialism completely (such as tax law). You'll likely only want to commit to the career once you've seen the work in practice as a trainee and you might surprise yourself in what you ultimately choose.
And the reality is that not everyone decides to stay at one firm for their whole career, and in five years' time you may have chosen to move on from the firm at which you trained. But five years of M&A work at a firm like Freshfields should give you an excellent grounding in the commercial world, wherever you then choose to go.
What personal qualities make a good corporate lawyer?
AY: Being responsible, organised and being able to use your initiative; having the ability to see the bigger picture whilst not missing any of the finer details; (being able to work in a team and support others; remaining calm in pressurised, highly demanding situations; being adaptable, open-minded and diplomatic with good interpersonal skills and a sense of humour; and finally having the stamina and perseverance to continue producing high-quality work regardless of the situation.
LF: Beyond an interest in commercial transactions, a corporate lawyer needs to have good attention to detail, be a good team player and be organised and confident managing many tasks at once. You also need to be happy to help in any way you can and have the stamina to keep going when things get busy.
SH: Energy – always wanting to get instructed on the next big transaction. Confidence – for example being able to stand your ground in a room full of others. And an ability to get on and work collaboratively with a wide range of people – that includes the client team, other advisers and the rest of the home team, but also the lawyers on the other side of the table.
KC: Simply taking pride in getting things done, and done well; having your colleagues' backs, not letting the team down and stepping up whenever you can; being cautious before coming to conclusions ('kicking the tyres' of potential solutions) but also confident in your ability, quick to grasp risks and able to clearly explain them and to anticipate how your client should deal with them. You'll also need to keep your sense of humour and perspective when things get tough – this makes all the difference for yourself and for your colleagues!
What are the current trends in affecting M&A?
LF: The rise of protectionism is having a big impact on the way M&A transactions are being structured, the risks involved with transactions and the time it is taking to complete transactions. It is also having an impact on post-completion steps, with purchasers increasingly being held accountable for promises they made during the transaction for example with regards to employees and redundancies.
"The rise of protectionism is having a big impact on the way M&A transactions are being structured."
There is also a continued rise in Chinese outbound investment so we are increasingly seeing Chinese bidders in auction processes and Chinese purchasers in public M&A deals.
AY: Current M&A trends depend on the sector, especially as the impact of Brexit to businesses and the financial markets is still being assessed. In financial services diversifying risk between Frankfurt, London and Paris is being explored; in the oil and gas sector the focus remains on geographical diversification and locating primary energy sources (both renewables and gas); and in technology, media and telecoms interest continues to revolve around the consolidation of distribution networks.
KC: Recent political uncertainty (in the US and the UK in particular) may have had some impact on the thinking around deal planning by our clients. But, to some extent at least, negative factors such as uncertainty can be outweighed by other factors, like currency fluctuations making target businesses cheaper for some buyers. And ultimately our clients often need to invest and M&A is always going to be an option they consider for one reason or another. The commercial world moves in cycles, and one of the benefits of joining a large international firm is that it has a natural' hedge' against the risk of uncertainty in any one geography or practice area.
What would you say the future of M&A looks like?
KC: Many lawyers are waiting to see how technology (and artificial intelligence in particular) will disrupt the market for the delivery of legal services. Candidates for training contracts with us will know how Freshfields is investing in this, but in my experience we have not seen a fundamental change across the market as yet. The real change may come as the next generation of lawyers come through to lead these firms and indeed set up new firms or entirely new structures for delivering legal services. So it's an exciting time and the change is likely to be driven by the associates, trainees and training contract candidates of today.
"With increasing globalisation and industry consolidation, over time transactions get bigger and more complex."
But technology and AI is really just one aspect of the wider driver, which is that clients will increasingly expect us to innovate and provide better service at a lower cost. For firms like ours, that means we need to remain at the front of the pack if we are going to win the work that we want, and for instance organising ourselves to ensure we all work as collaboratively across disciplines as possible to provide a seamless product to our clients. The model and service delivery mechanisms may change, but if you join Freshfields you will be at a firm which has a history of being at the top for global M&A mandates, and it intends to stay there.
SH: The economic cycle brings ups and downs in terms of overall M&A activity, but M&A will always be a part of the business landscape. And with increasing globalisation and industry consolidation, over time transactions get bigger and more complex.
Could you describe the opportunities unique to Freshfields?
LF: Working at Freshfields at any stage of your career means working for high-profile clients who are involved with large-scale international transactions with unique aspects. For example, I was lucky to work on the ABInBev-SABMiller merger, the largest merger in UK history, in the first six months of my training contract.
"I was lucky to work on the ABInBev-SABMiller merger, the largest merger in UK history, in the first six months of my training contract."
As a trainee, Freshfields offers three-month seats which enables you to see more departments and a wider variety of work during your two-year training contract. The foreign secondments and client secondments offered to trainees in the final six months of their training contract is another attraction. 
AY: The firm's international reach provides the ability to work seamlessly on cross-jurisdictional transactions and the international and client secondments on offer (both during the training contract and once qualified) encourage career progression and provide a wealth of experience. The establishment of the Legal Services Centre in Manchester has enabled trainees to experience more advanced work and gain more responsibility at an earlier stage in their career.
What is your advice to students interested in this area?
SH: If you like fast-paced, complex, intellectually-stimulating work that involves lots of engagement with a wide range of other people, both inside and outside the firm, then this is the area for you. Read the business section of the newspapers regularly and get a feel for some of the twists and turns that can be involved in a typical M&A transaction.
"Gauge whether you have a genuine interest for the commercial world."
KC: Do your research. Get as good an understanding as possible of the work and the commitment required, and how technology may change things (Richard Susskind's work is a good start). Gauge whether you have a genuine interest for the commercial world (read the financial press – eg the FT, The Economist, the BBC Business page – and see if, over time, the narratives playing out there appeal to you).
Fundamentally, you need to be excited about the commercial world in general, and the prospect of advising clients about legal risks arising from transactions within that world. That may sound elementary, but candidates at interview don't always demonstrate this. Then, assuming you're still interested, treat each job application you submit with real care – don't just copy and paste but read the literature that each firm produces and make sure you are talking that firm's language. When you get to the interview refresh your memory about the research, and be careful to answer the actual questions you are given – don't give the answers you prepared for similar but different questions, as that could just seem evasive and you can expect the lawyers giving the interview to pick up on this. You can probably be more candid than you think; it is always refreshing to interview people who are open and have had interesting experiences (whether good or bad).
"Engage in current affairs and have an understanding of the financial markets as this will allow you to begin to establish an understanding of your future clients' interests."
AY: Try to gain as much work experience as possible – Freshfields offers very good vacation schemes that provide a genuine insight into the world of corporate law. Make sure you speak to people already working in the industry – at all levels of their career if possible – and ask lots of questions. Finally, engage in current affairs and have an understanding of the financial markets as this will allow you to begin to establish an understanding of your future clients' interests and how the economic and political environment may shape and affect their business motives.
LF: Spend time building up a commercial awareness which will help you to stand out from the crowd. This doesn't mean you need to know everything there is to know about the FTSE100 or understand everything there is to understand about the financial markets. It means you have a good awareness of the considerations which are driving a client and understand which will be the most important to them.
Make the most of any experience you can get, talk to as many people as you can and really think through why you want to work in M&A law so that you convince an interviewer you are making an informed and well thought through decision.
This feature was first published in November 2016.
It was extensively updated in December 2017.